By Chamatkar Sandhu
British boxing superstar Amir Khan has entered the world of mixed martial arts.
Late last year, Khan became a financial stakeholder and co-owner of the world's first MMA fight league—Super Fight League MMA—which will feature eight franchised teams from various locations in India.
Khan's love for MMA started many years ago when he was training with former UFC champions at the world-famous Wild Card Boxing gym owned by renowned coach, Freddie Roach.
"I become a fan of guys like GSP and Arlovski because I appreciated all the hard work they put into training. I just became a fan of it after a while," Khan said. "I love boxing but MMA is new and exciting. It's competitive to boxing now. The two biggest combat sports are now head to head and at the same level. MMA is giving boxing a good run for its money at the moment."
Khan was approached late last year to get involved with Super Fight League, and together with CEO Bill Dosanjh, started to compile the right team to help push the promotion to the next level—specifically, in India.
"[Dosanjh] is the one who started Super Fight League," Khan said. "We sat down, got some good people involved. You need a good matchmaker, a good promoter, you need to get everything set and do it in a country where they need MMA. We decided to go to India because of the population of over a billion people. There has to be a few champions coming out of a billion people."
Khan put his money where his mouth is with hopes of being able to rival the UFC one day, but for now, the priority is giving young, up-and-coming fighters an opportunity to showcase their talent on Super Fight League.
"Now, there's not only the UFC, but us too, and we'll give them a run for their money because we're going to give opportunities to young fighters," Khan said. "I've got money invested in this because I believe in our venture. I enjoy it and it's something fun but now it's getting more serious where we want to spend more time and push it further."
[tweet url="https://twitter.com/amirkingkhan/status/755822677504495616" hide_media="0" hide_thread="1"]
Khan said they built Super Fight League gyms all over India to not only find young talent, but help nurture fighters into world champions and hopefully create some superstars.
"The next generation of MMA fighters coming from India are going to be strong and going to be ready to go against the best fighters in the world," Khan said. "MMA is new to India. We give them the opportunity to learn and train and start at a grassroots level. We're not only going to get champions; we're going to get superstars coming out of SFL."
Khan believes the economically challenged environment in India and Pakistan will be the catalyst that produces the best fighters.
"In places like India and Pakistan, to get out of poverty, you have to fight," Khan said. "One thing about Indian and Pakistan people is that they are tough, coming from a third-world country. They have no money in their pocket, they're not as fortunate as us, so they will be really tough guys to beat mentally and physically."
A veteran of the boxing world, Khan is looking to leverage his relationships to help in this venture. Since his name is attached to it, he wants to make sure Super Fight League gets it right.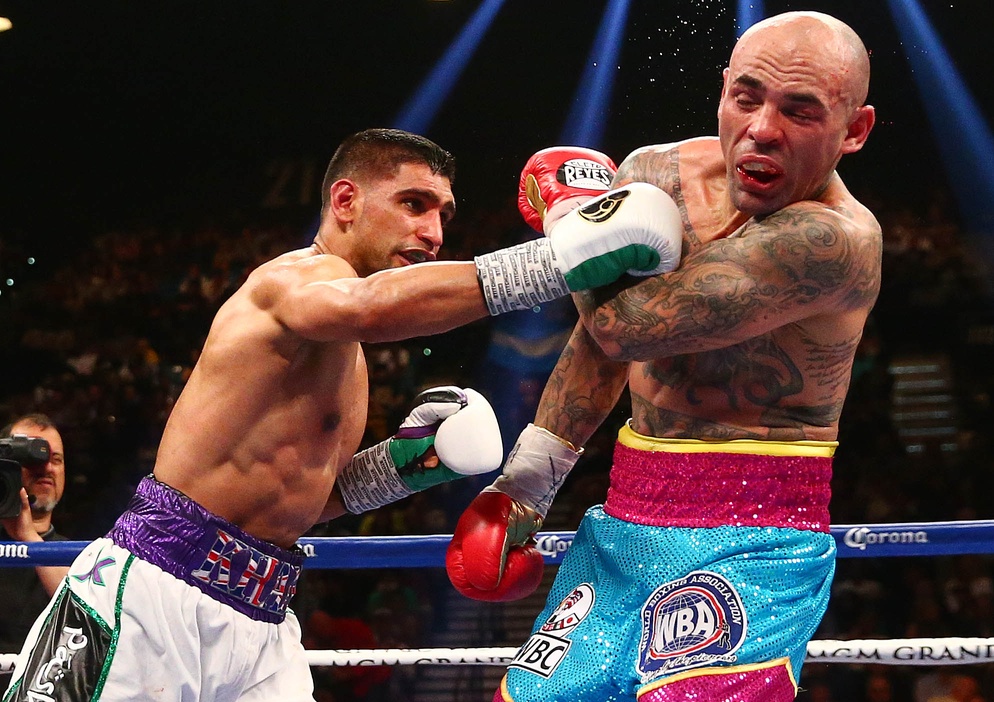 "I've got a great network with TV companies and the right sponsorship brands [for] our team," Khan said. "Making sure we have the right bodies involved and do things right—it's putting pressure on me because we have to do a good job here and give people their money's worth. I want to make sure that the crowd walks out of the events happy."
The Indian Premier League (IPL) is a professional Twenty20 cricket league contested once a year by franchise teams representing Indian cities that famous sports stars, celebrities from the movie world, and wealthy business folks have invested in. The Super Fight League is looking to use a similar model to attract people to the world of mixed martial arts.
"We're in talks with Hollywood actors to take this concept to America, with footballers in the U.K. and sports personalities and actors from Bollywood who are interested in being part of the SFL and owning teams," Khan said. "The super-rich are interested in owning teams. There's a few things we need to iron out and then we're going to do a big launch and I'm sure these teams will get snapped up right away."
According to Khan, there is already interest in owning these franchised teams, but he wants to approach all inquiries with caution.
"We've talked to a lot of influential businessmen in India who want to be involved," Khan said. "Millionaires and billionaires want to be involved. Selling teams won't be a problem. It will be first-come, first-serve, but we want to be picky on who we sell them to and be careful and smart."
[tweet url="https://twitter.com/amirkingkhan/status/755787962894454784" hide_media="0" hide_thread="1"]
Here is a brief breakdown of Super Fight League's MMA league:

-The roster consists of 96 men and women fighters from India and abroad.
-The franchisee‐based inaugural edition of the league will see these fighters represent teams from Delhi, Uttar Pradesh, Mumbai, Haryana, Bangalore, Punjab, Pune and Goa. Each team will constitute of nine Indian fighters and three international fighters that will be a mix of men and women.
-A total of 72 bouts will be played in the league stage that will be followed by two semifinals, a third-/fourth-place match and a gala final bout. Teams will be awarded points for fighters winning with a higher value of points attributed to knock outs and submissions.
-The prize pool will be just under £500,000. The league will run from August 26-October 1 of this year, and the fights will be sanctioned by the All India Mixed Martial Arts Association (AIMMAA).