Dustin Poirier: Take the Power Back
Dustin Poirier: Take the Power Back
Dustin Poirier has crafted an impressive resurgence to become a major player in the stacked UFC lightweight division.
Jul 3, 2016
by Duane Finley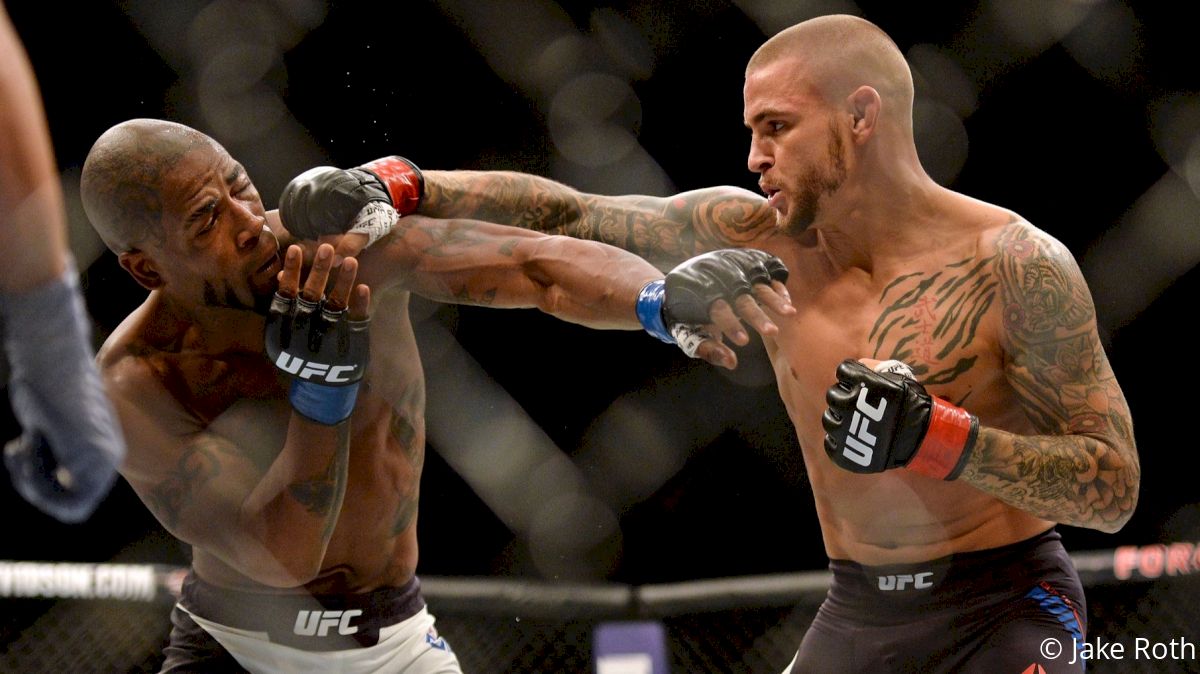 It's 9:30 a.m. but Dustin Poirier is already firing on all cylinders.
"Don't worry," he says in a tone that pre-empts the shot soon to follow. "I won't tell anyone you ordered carrot and mango juice."
Poirier's laugh punctuates the jab, but his eyes sharpen in a fashion strong enough to make anyone doubt their selection of the "Tropical Breeze" mixer from the menu. There's no doubt he's joking, but there is an intensity to Poirier that resonates even when kiwi and strawberry topped French Toast is on the table.
It's an impressive attribute to say the least, but there's very little about Poirier that hasn't been impressive for the past two years.
The Louisiana native made the decision to abandon his top 10 ranking in the featherweight division to test his skills in the ultra-competitive lightweight fold. That's the most passable way to describe it, but the more accurate phrasing would be: Poirier tired of draining himself to make 145-pounds and has hit a talent-stacked division like a tidal wave leaving a collection of tough competitors crumbled in his wake.
And while Poirier's current run at 155-pounds has made a resounding impact, it's been the details visible to those with keen observation that have signaled something much larger in process. This is where the aforementioned intensity factors in.
Poirier arrived to the big leagues back in 2010 as a street-wise 21-year-old with a chip on his shoulder and raw talent aplenty. Everything he threw was fierce, and his hard-charging striking attack was backed up by a slick jiu-jitsu game if and when the action hit the canvas.
Fast forward six years and 17 fights later, and he's an entirely different creature. The fighter and his killer instinct are still very much present, but there's an element of calmness which has never existed before. Poirier has evolved in every aspect of life and profession, and that maturation has bred a confidence that has him feeling unstoppable.
"I've always been an emotional fighter and that emotion fueled a lot of my early performances," Poirier says as he places his coffee back on the table top. "I would get angry because I'm about to step in there and go toe-to-toe with someone who is trying to hurt me just like I intend to hurt them, and that energy shifts gears into that kill or be killed mindset.
"I always saw it as a plus but the Conor [McGregor] fight was the turning point. I remember I was backstage getting ready to walk out and I saw him and he threw this smile and pointed at me. I don't know why but it really got to me, man. It really messed with my head. I mean I'm about to go out and fight this dude and he's back there smiling at me? After that fight I knew I had to find a different way to use my emotion."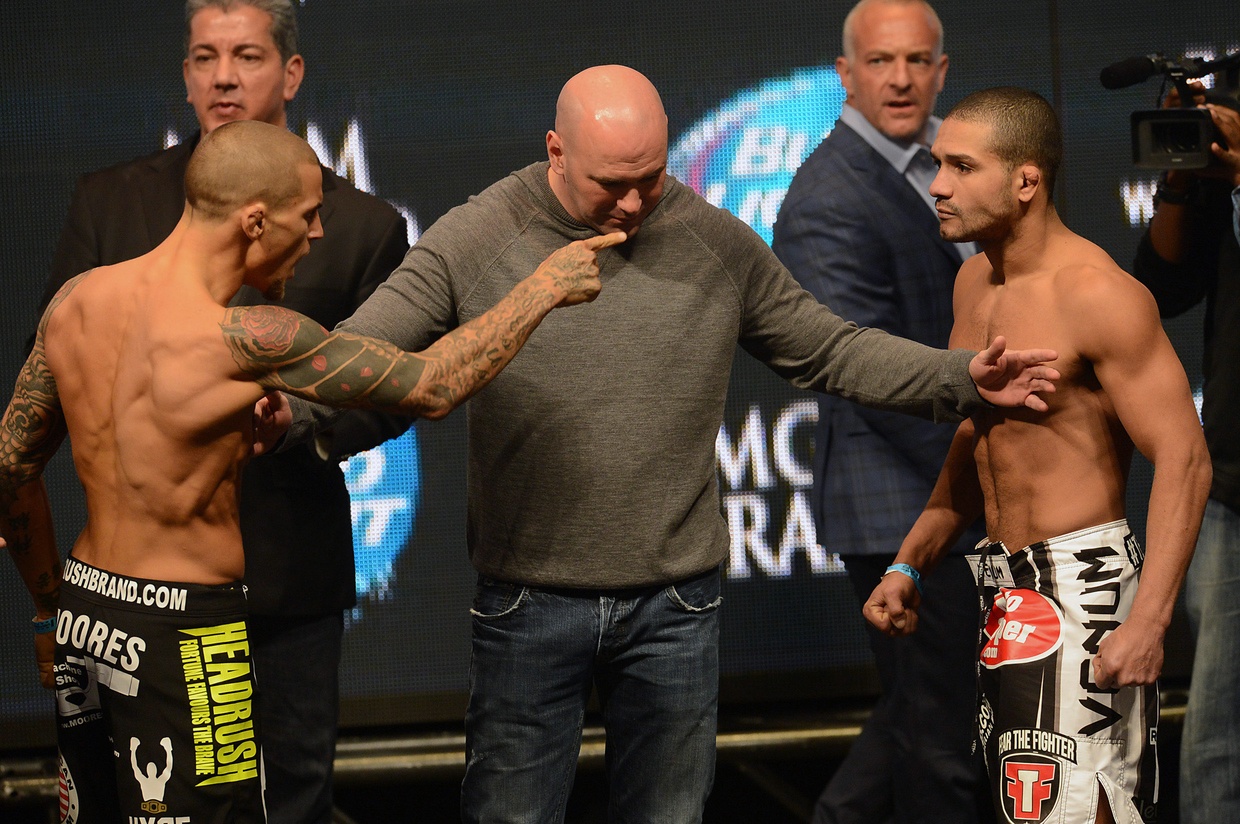 Any doubt as to whether or not Poirier figured out a way to smooth out that particular wrinkle can be found in the results he's produced inside the Octagon post-McGregor.
"Put it this way, Bobby Green tried to do the exact same sh**," Poirier says leaning back in the booth. "And it didn't work out too well for him."
The food arrives just as Poirier sets in describing how Green attempted to exact some mental warfare before making the walk. As Poirier stood backstage readying himself for battle, the notoriously verbal Green found a way into his eyeline and proceeded to taunt him.
From bouncing around with a smile plastered across his face to throwing a few choice words in Poirier's direction, Green was doing his best to get into his opponent's head. It had the opposite effect.
"Bobby is known for talking a ton of sh** both in and out of the cage," Poirier says. "The old me would have been raging to get my hands on him and would have fallen right into his game because f*** it, I'm there to fight. I've learned to be patient, man, and have realized that patience is one of my greatest strengths. I'm so comfortable in the fight, and I realize that's probably not normal, but that chaos feels like home to me."
After several exchanges and clean shots that staggered Green, it was clear Poirier was in control of the action. Yet, rather than swarm his opponent at the first sign of blood in the water, Poirier stalked Green down in methodic fashion and punished the California native at every turn.
"I was catching him with big shots and ringing his bell with everything I threw, but I'll be damned if he wasn't still running his mouth," Poirier laughs. "He was like, 'Is that all you got?' and it didn't have any affect on me because he was about to find out what else I had and it wasn't going to be good for him. I knew I had him hurt but I wasn't in any rush. The opportunity to finish him was going to open up and all I needed to do was fight my fight.
Poirier leans in and wraps his tattooed hands tightly around the hot mug of coffee as he recalls the sequence that brought his night at UFC 199 to a triumphant end.
"I dropped him with a punch and as soon as he hit the canvas he looked up," Poirier describes. "I jumped in for the finish and as I'm coming down to hit him again he's looking up but his eyes are all the way over here [points to the left] when I'm coming directly at him. Almost made me feel bad to hit him."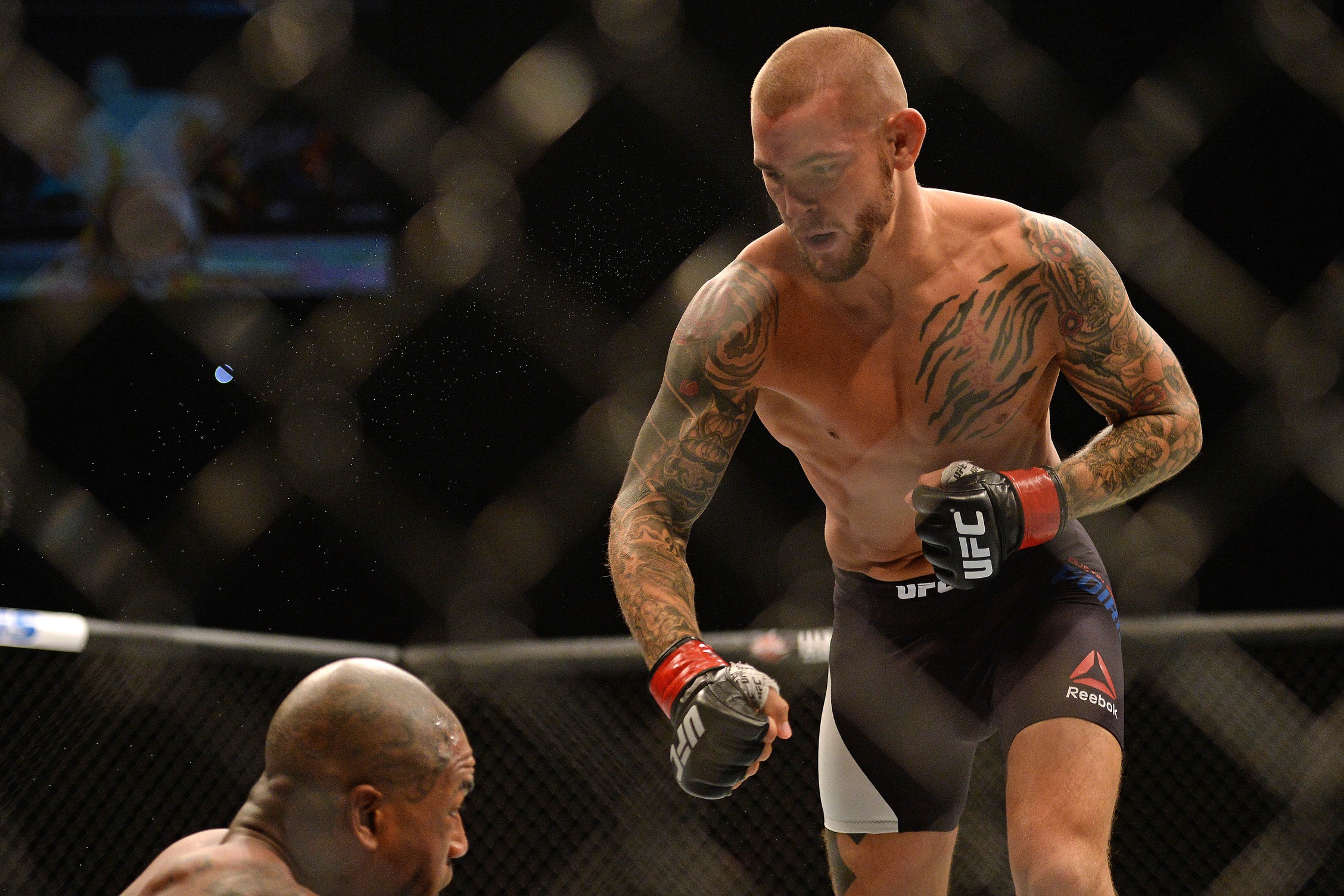 Shortly after Poirier connected with the finishing touches the referee waved off the fight and his fourth-consecutive victory was official. In less than a full round of work Poirier had dusted a savvy veteran in brutal fashion, and marked his passage into deeper waters of one of the most talent-rich divisions under the UFC banner.
Simply put: Poirier has never looked better than he has at UFC 199, and his run toward UFC gold is going to be something to keep an eye on.
While his arrival to the elite tier may be something new to fight fans, those close to Poirier have known he's destined for much bigger things for quite some time.
"Dustin is the truth," Muhammed Lawal, better known as "King Mo" would say two days later in St. Louis. "We have a lot of talented fighters at American Top Team but in my opinion Dustin is the best overall fighter we have at the gym. The kid can do everything and do it well, plus he has that fire in him. That's a great combination.
"His boxing is at a higher level than anybody I've seen in MMA. I've watched him step in and spar with legit, high-caliber boxers and not only survive, but hold his own. He also has a ground game that is slick and versatile. All he had to do is get his mental game to line up with his skill set and that's what you guys are seeing now. Dustin is scary good and he's going to be champion. Mark my words: Dustin Poirier will be a UFC champion."
****
"What do you mean you've never had crawfish? Oh that's gonna change...I'm gonna fix that."
If there's one thing to know about Poirier it's that he's Louisiana through and through. While he and his wife Jolie have relocated to South Florida for training purposes, the Poirier's hearts are still very much in Cajun country. Poirier is so proud of his heritage that he doesn't hesitate to provide a brief history lesson when the topic arises.
"A lot of people don't realize the term Cajun describes a region in Louisiana," he says. "The Acadians were forced out of Nova Scotia and went down to settle in Louisiana. Lafayette, the place Daniel Cormier and I are from, is kind of the center of that area. People think Cajun is like some other word for hillbilly or some sh** like that, but it's a term that describes an area and the people from that area."
And of that lot Poirier is certainly a member and extremely proud of his roots.
"Hell yeah I'm Cajun," Poirier says with a laugh. "I'm not rocking the rubber boots and toting around fishing gear but that's my blood right there."
Poirier finishes the sentence with a knowing smirk that circles back to stereotype, but the previous tidbit of information serves to show a few more of the cards he holds. Poirier may not have finished the ninth grade in high school, but he's whip-smart in the best possible curriculum: the school of life.
There was nothing easy about Poirier's upbringing and the same willingness to throw down inside the cage fans see today has been boiling over for as long as he can remember. While Poirier's history is filled with street fights and pointless troubles he could spin on and on about if he were a lesser type, he chooses to focus on the points of the struggle which ultimately produced better days.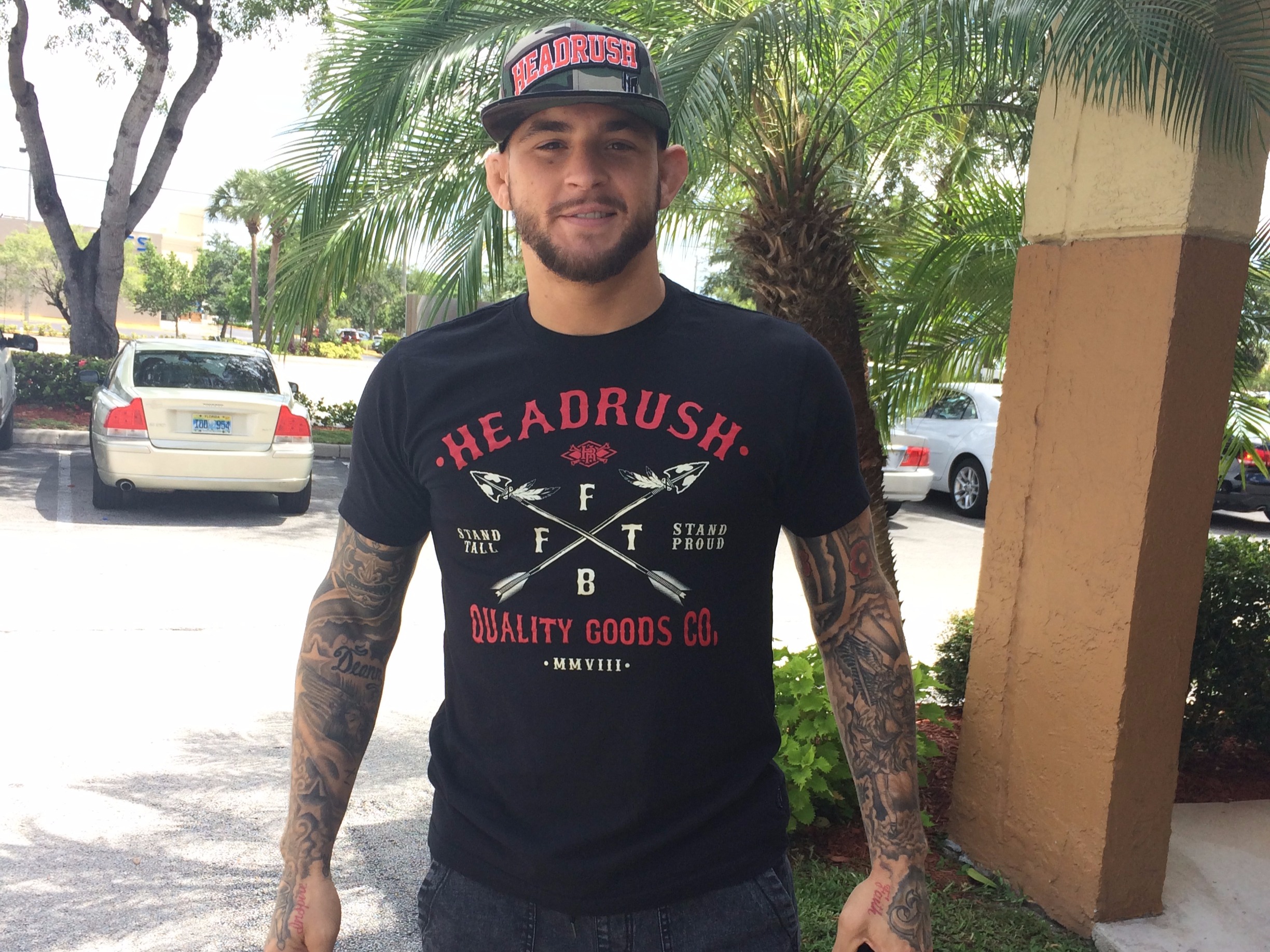 Poirier and his future wife were out on their own at 17, and with their first child--a baby girl--set to arrive in a matter of weeks, the road traveled bears reflection. They were there for one another through thick and thin, and now with their own beautiful home, a growing family and Dustin's career hitting high points at every turn, two kids in love have found their own piece of the world.
And while Poirier is a tough human being with a genuine and courteous presentation, his face washes over with adoration when talking about his life in the here and now.
"I've overcome plenty of adversity but who hasn't?" Poirier says folding his hands in front of him. "I've literally fought to have a nice life and my wife and child are what motivate me. [Jolie] was almost finished with school, but we couldn't deal with being in different places. She came here and we've made this our home.
"My daughter is due in August and I'm so excited, man. We are getting one of those 4-D images done later today and it just all feels so surreal. Jolie has been doing great and this is the start of another great chapter in our lives. I'm also glad my fight is over and done with so I can get in on some of this pregnancy food because I love to eat. I'm nice in the kitchen too so that helps."
Competing at the highest level of the fight game is an all-encompassing situation, but Poirier has several hobbies to keep his mind from the rigors of training. He's an aspiring chef with a wide range of cuisines in his wheelhouse, but he's quick to admit Bayou staples are guaranteed home runs.
So deep is Poirier's love for the culinary arts that he aspires to have his own cooking show on The Food Network someday. And a passion in his life means destination to be reached.
"I'm dead serious about wanting to have my own show someday," Poirier says from behind the wheel of his white pickup truck as it zips south on I-95. "I have so many ideas and it would be a lot of fun. I am a huge fan of Anthony Bourdain and I think it would be incredible to do a show like his where you travel around to different places and dive into the culture. 'Dinner with The Diamond' has a nice ring to it right?"
Poirier's other hobbies may be further down the excitement scale, but not everything in his life can run at full-tilt hustle.
"I like to mow the yard," he laughs. "I don't know why that's so peaceful to me, but I actually love mowing the lawn. Cutting grass, man. That's about as badass as it gets."
The clear skies overhead allow the Florida sun to blast like microwaves into the cab of Poirier's truck and despite the temperature kicking up toward triple digits, he appears non-affected. The same can't be said for his passenger, and once Poirier takes notice he kicks the A/C up a few notches.
Once again that knowing smile creeps back across his face.
"The humidity in the south is no joke," Poirier says. "I've lived in it my entire life, but there are still somedays it even gets me. Today is not one of them though, but I'll give you a pass. You have time to go get some ink done?"
Unfortunately a tight travel schedule didn't allow for tattoos or a crawfish boil, but a rain check and Poirier's red-hot winning streak is a guarantee for future adventures. There were planes to catch and thanks to the wonders of modern technology a beautiful baby girl to see, but the time spent with Poirier left a lasting impression.
[tweet url="https://twitter.com/DustinPoirier/status/745763584928522240" hide_media="0" hide_thread="1"]
His rise through the ranks of the UFC have come with twists and turns, but Poirier's ability to adapt and adjust have propelled him to become a force of nature inside the Octagon. Poirier is still as fierce as ever, but the rage once outward has settled into a quiet storm where he's at full control at the helm.
Poirier can unleash his power in a split second when the perfect moment presents itself, and that is a testament of the man himself. He's grown, matured and evolved into a fighter and businessman in the most unforgiving of games, and each time he steps out to compete under the bright lights, his motivations are anchored in the chance for something better.
Poirier is no longer a kid trying to fight away his past. He's a man fighting for his future.