Breaking Down Tyson Fury's Upset Of Wladimir Klitschko
Breaking Down Tyson Fury's Upset Of Wladimir Klitschko
By Connor RuebuschThere is an unfortunate trend in the world of boxing to polarize. Experts and fans alike tend to think of the sport in dichotomies. A figh
Dec 2, 2015
by Flo Boxing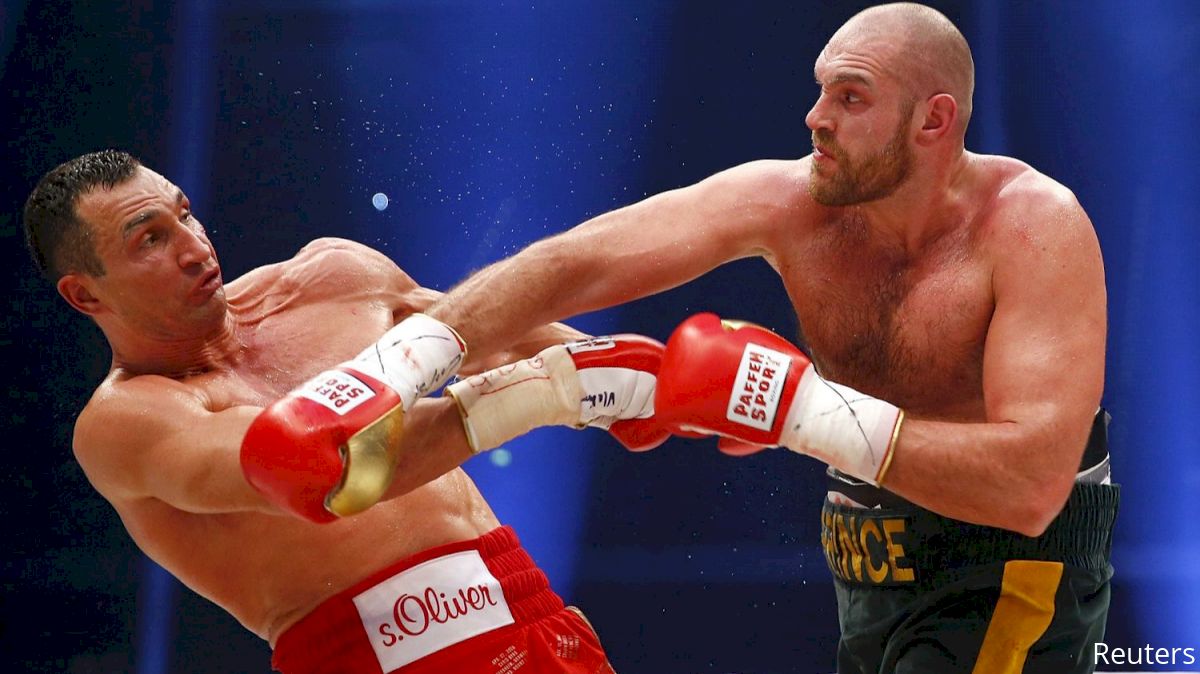 By Connor Ruebusch
There is an unfortunate trend in the world of boxing to polarize. Experts and fans alike tend to think of the sport in dichotomies. A fighter is either a champion, or a bum; a fight is either a slugfest, or a snoozefest. Those who disagree, praising the scientific skills of the Mayweathers and the Rigondeauxs, are merely pedants and contrarians.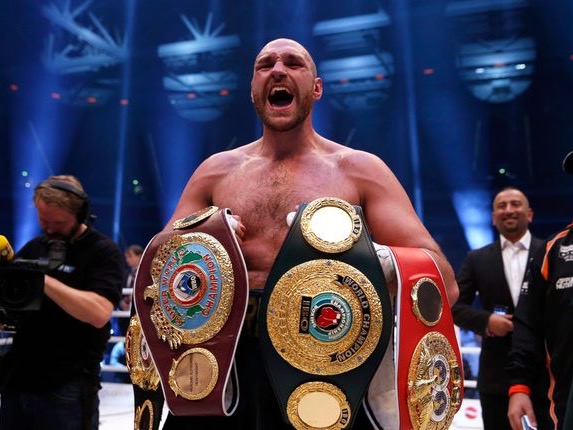 Heading into the heavyweight title fight between Wladimir Klitschko and Tyson Fury, these misconceptions were in full effect. Nor have they let up in the aftermath of the bout, in which Fury confidently outworked one of the most dominant champions in the history of boxingÂ's most prestigious division. Before the bout, Klitschko was an unstoppable force--not always an entertaining one, but virtually invincible nonetheless. Fury, by comparison, was an untenable farce, written off by most experts because of his bizarre antics and so-so record. A close look would have revealed that Fury had both the frame and the style to trouble Klitschko, but few were interested in analyzing the young challengerÂ's skills. In boxing, you are unbeatable until the day you are beaten, and then the usurper has a long hill to climb just to prove that he actually deserved the victory.
Such will be the case with Fury. What should have been hailed as one of the greatest upsets in modern boxing is instead being called "disappointing," "boring," and ". Shortly after the start of the 8th round, HBO's Jim Lampley quipped: "If you look at . . . the unofficial scorecard from Harold Lederman--if you just joined us you may be thinking, 'What a great performance from Fury.' No. It's a dreadful performance from Wladimir Klitschko."
While it is true that Klitschko put up some truly dreadful numbers, throwing 231 punches to FuryÂ's 371 and landing only 52 to FuryÂ's 86, Tyson Fury was undoubtedly the man responsible for his lackluster performance. You could stretch that logic to say that Tyson Fury was responsible for a dull fight, but consider the context: Wladimir Klitschko hadnÂ't been defeated in over 11 years. In that time, only six opponents were fortunate enough to go the distance, with the other 15 being stopped. KlitschkoÂ's dominance may be the result of a somewhat weak division, but the same could be said of Joe Louis, and Louis is rightly regarded as a legend. Very few heavyweights in history stand clearly above Klitschko in terms of sheer greatness, and only the Brown Bomber himself reigned longer.
And Tyson Fury turned this magnificent champion into a man that his brother, former heavyweight champ Vitali Klitschko, called "unrecognizable" in the ring. Credit where credit is due.
The first step to denying Klitschko his usual success was twofold: lateral movement, and feinting. No one has ever fed Klitschko as steady a diet of feints and fakes as Fury, and the effect was telling from the very first round of the fight.
Fury feinted with his body, selling each and every twitch as a reason for Klitschko to be cautious. It helped that Fury, unlike most challengers to KlitschkoÂ's crown, actually has the longer reach, but more important was his willingness and ability to use his length effectively. Touching Klitschko early and often with his left hand, Fury otherwise kept it hanging low, often below his waist, as in the GIF above. As a result, Klitschko was unable to see FuryÂ's left hand until it was already snaking out at him, which made it easier for Fury to threaten the jab and the hook by simply twitching his upper body.
Fury wasn't content just to make Klitschko jump, either. If nothing else, the self proclaimed "Gypsy King" is renowned for his footspeed and graceful movement, uncanny attributes for a man of his stature. Whenever Klitschko leaned back or pawed at a jab that wasn't there, Fury put these talents to use, moving side to side and making full use of the large ring. By forcing Klitschko to hesitate and then using that as an opportunity to move, Fury prevented the Ukrainian knockout artist from planting his feet and uncorking a heavy punch. Without his power at the ready, Klitschko was forced to box with Fury, and that proved a more lopsided contest than most expected.
One reason for KlitschkoÂ's failure to land at range was FuryÂ's defense. Unlike Klitschko, who relies almost entirely on his height and reach to avoid incoming punches, Fury used excellent head movement to protect himself. Rather than leaning back or trying to push Klitschko away (as Klitschko repeatedly did to him) Fury bent at the hips and got low, coming in under KlitschkoÂ's punches and keeping himself balanced and in range to counter.
Fury's defense seemed the product of smart, systematic training. Despite an awkward, unorthodox style, he never seemed to find himself in a position from which he had no readily available escape route. The great Archie Moore would have described this process as "building bridges." In the GIF above you can see the bridges being built as Fury sees and reacts to each of Klitschko's incoming punches. When he slips a jab, he is ready to slip another one in the opposite direction. From there he knows to look out for the right hand, which he rolls under, after which he is prepared to roll the opposite direction under a follow-up left hook. When Klitschko comes back after the reset and tries to throw Fury off with a lead right, Fury calmly slips outside the punch and weaves easily under an anticipated hook, winding up in an advantageous position in the clinch.
More than merely putting prefabricated pieces together, Fury demonstrated an ability to improvise in the midst of heated exchanges, even managing to catch the notoriously stiff Klitschko with a crushing left hook near the end of the ninth round.
Fury was one of the first Klitschko opponents to really make use of the clinch. Kubrat Pulev threw about a thousand rabbit punches per round, and Bryant Jennings chopped away at KlitschkoÂ's ribs, but neither of them possess FuryÂ's in-fighting skill. In the sequence above, you can see Fury using a jab to bridge the gap between himself and Klitschko, sliding in under KlitschkoÂ's counter jab in order to escape the path of his right hand. Expecting a routine tie-up, Klitschko relaxes, before suddenly realizing that he has no control of FuryÂ's body. Indeed, Fury stands up tall the moment he passes under KlitschkoÂ's arm in order to shuck off WladÂ's usual headlock, and finds himself standing behind the champion.
There is little Fury can do to stop Klitschko turning around, but he is more than willing to hit him while he does so, and Klitschko barely has time to see the left hook coming before it crashes into his jaw.
ThereÂ's nothing particularly wrong with calling this a boring fight. It was slow paced, and FuryÂ's gameplan was that of a calculated boxer, which he is, and not a gung ho brawler, which he is not. I would expect the magnitude of the upset to override the lack of violent action, but critics are welcome to like or dislike a fight at their whims.
What is not acceptable, however, is the widespread suggestion that Wladimir Klitschko didnÂ't show up to win, or simply elected not to fight. Through careful planning and near flawless execution, Tyson Fury kept Klitschko from fighting the same fight heÂ's been successfully replaying for over a decade, and that is no mean feat.
There is a new heavyweight champion, folks. And heÂ's very, very good.