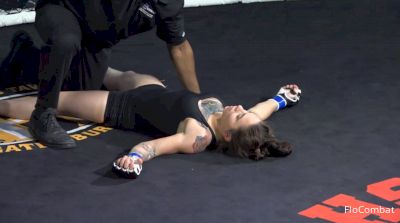 WATCH: LaNeisha Vinson Scores Devastating KO At Valor Fights 40
May 4, 2017
LaNeisha Vinson doesn't play with her food inside the cage.

Taking on Jennifer Clausius at Valor Fights 40 on FloCombat, the woman they call "She Hulk" showcased her sheer ferocity, speed, and power—and the result was devastating. Watch her finish above, then catch her in action against the undefeated 19-year-old strawweight prospect Hannah Scoggins LIVE at Warfare MMA 15 Saturday, May 6, right here on FloCombat.




How to Watch Warfare MMA 15




On TV: Now Available on Roku & Apple TV 4
STREAMING: Available only on FloCombat. Yearly FloPRO access gets you premium content and events from ALL FloSports sites, including FloWrestling and FloGrappling.




SIGN UP HERE

Full Fight Card*
Pro Card

Derrick Kennington vs. Wesley Golden
Marvin Skipper vs. Jordan Mitchell
Amos Collins vs. Eric Calderon
Cody Jones vs. Tony Davis
Jeremiah Scott vs. Da'Mon Blackshear

Amateur Card

Kenny Porter vs. Charleston Pou (for SC bantamweight state championship)
Jordan Weeks vs. Miles Belk (for SC welterweight state championship)
Luke Merritt vs. Quitin Thomas (for SC lightweight state title)
Hannah Scoggins vs. Laneisha Vinson (for SC female strawweight state championship)
Clay Chestnut vs. Julius Brown
Fotini Kandris vs. Kaylee Maynard
Zack Sanders vs. Shaun Middleton
Otis Chisolm vs. Alec Lomard
Joel Madak vs. Corey Grooms

*Bouts/bout order subject to change