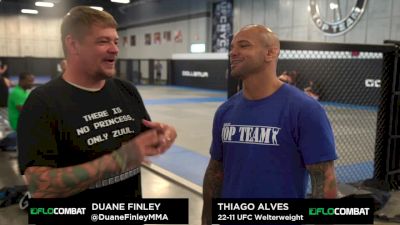 Thiago Alves Calls For Mike Perry At UFC 218 In Detroit: 'I Want To Beat His Ass'
Sep 29, 2017
UFC welterweight Thiago Alves is ready to bust skulls.

Make that "skull," singular. The American Top Team mainstay was slated to fight Mike Perry Sept. 16 at UFC Fight Night Pittsburgh, but the effects of Hurricane Irma in South Florida prompted Alves to stay home and be with his family rather than travel north to Pennsylvania.

Perry still competed on the card, winning via devastating knockout against UFC newcomer Alex Reyes. To Alves, that's all the more motivation to reschedule the fight. There's a score to settle, and Alves is chomping at the bit.

"Fighting, beating that boy's ass, it wasn't as important as being with my family at that time," Alves told FloCombat during the recent FloCombat Road Trip 2. "But don't talk yourself out, buddy. Yeah, I'm talking to you, Mike Perry. Don't talk yourself out. Let's do December 2, and let's put your money where your mouth is. Let's see what you got.

"I want to beat his ass. And nothing against him. He's selling himself. It's just the way it is. It's a fight, we gotta see this thing through. So that's the fight that I want. I think he got a gift over the weekend with that kid, [but] the party's over. Time for a reality check."