Tony Ferguson's And Kevin Lee's Coaches Reflect On UFC 216 Main Event
Tony Ferguson's And Kevin Lee's Coaches Reflect On UFC 216 Main Event
Fighter's coaches give an in-depth look at the UFC 216 main event clash between Tony Ferguson and Kevin Lee.
Oct 10, 2017
by FloCombat Staff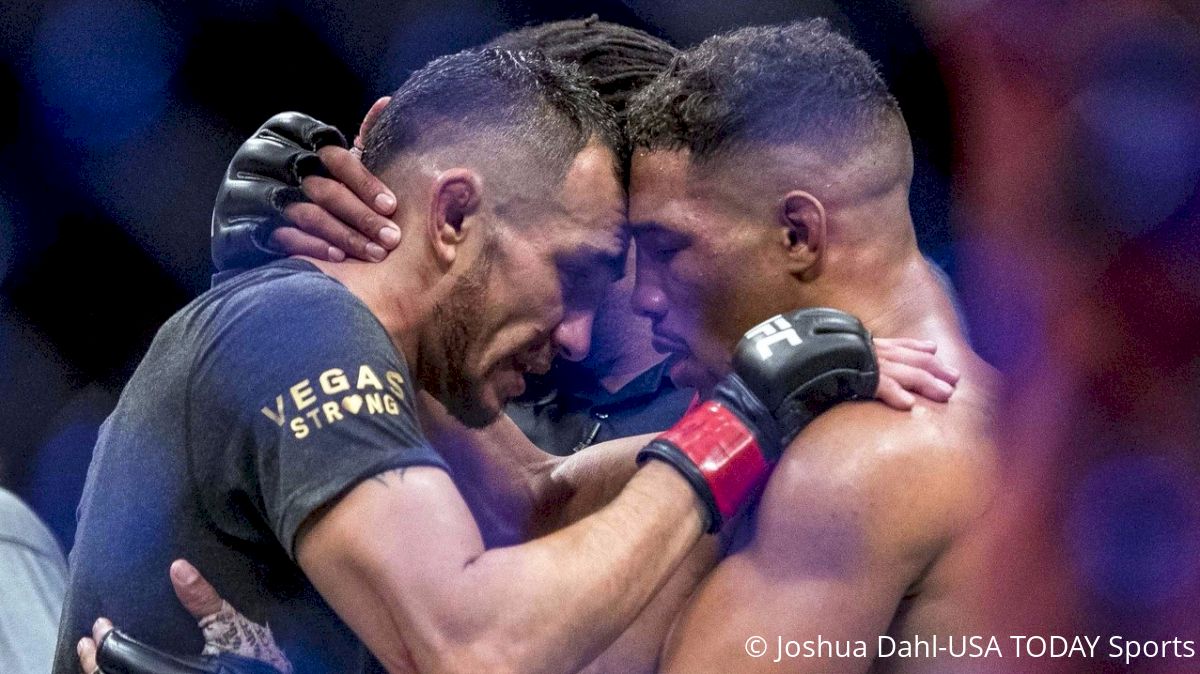 By Elias Cepeda
Lightweight contender Kevin Lee came up short in his pursuit of UFC gold last weekend at UFC 216 in Las Vegas after going through an apparently tough weight cut and reportedly suffering from a staph infection. Still, Lee's coach Robert Follis doesn't blame either the infection or the weight cut for his charge's third-round submission loss to new interim lightweight champion Tony Ferguson.
"The staph infection came up toward the end of camp, close to the fight," Follis told FloCombat. "We thought it was going down with medicine, but the weight cut probably turned it up a notch. But if you ask me how much it affected him, how do you measure that?
"Physically, he was ready to go five rounds. But, he got tired quick. Now, how much of that was stress, how much of it was exertion in the first round trying to finish the fight, how much of it was Tony surviving and coming out pressuring right away afterward? It's hard to measure any of that. Something like staph is an anomaly thing that happened. People ask, 'Why didn't you pull out?'
"Coaching athletes for the past 18-20 years do you know how many times injuries pop up in fights? You can't pull out every time something like this happens. You've got to go through it and fight."
Follis said he hates that weight-cutting is such a big component of MMA, calling it the biggest health concern for fighters aside from getting knocked out.
The coach added he'd like to see much more done to "either get rid of weight-cutting or make it about dropping a negligible amount" because he thinks it is "silly that part of being the better fighter is how well you sweat. Is this really what we care about?"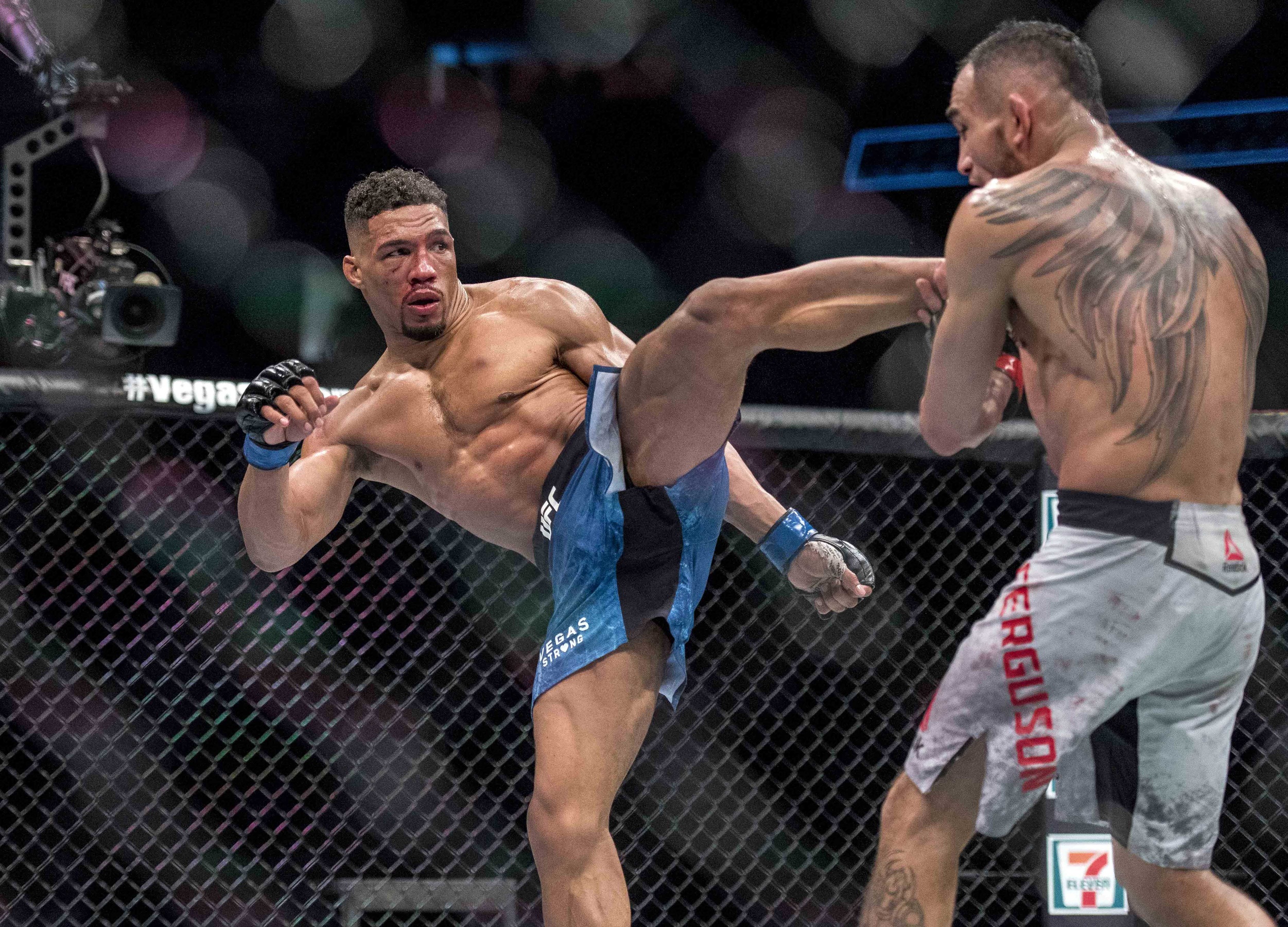 Photo Credit: © Joshua Dahl-USA TODAY Sports
Still, Follis is clear in also saying that he doesn't assume Lee's weight cut for UFC 216 was any worse than his opponent Ferguson's. So, once again, Follis has no excuses for Lee losing in his first title bid.
"Tony had a tough weight cut as well, I'm sure," Follis said. "He's a big guy. He didn't look like a spring chicken up on the scales, either. I remember someone telling us after seeing Tony weighing in, 'Tony looks rough.' I said, 'Yeah, well we will, too.'"
Though "The Motown Phenom" and his team prepared to and expected to win at UFC 216 and are understandably now a bit disappointed, the 25-year-old's coach believes that Lee still managed to prove something.
"[Lee] made a great showing. Now, it's back to the drawing board," Follis said, plainly. "One of the things I got asked at open workouts was whether Kevin was in over his head in this fight. We beat the No. 6 guy in the world, even though people didn't give us a chance. In fact, Kevin did it pretty easily. So, he made a pretty strong case for being in this place.
"In this past fight, how he fought showed that Kevin is fully ready to be at that level, in my opinion. There is no one in the division that we're afraid to fight. Tony won that belt and he's one of the toughest guys in the division, for sure. I don't think we match up badly against anyone."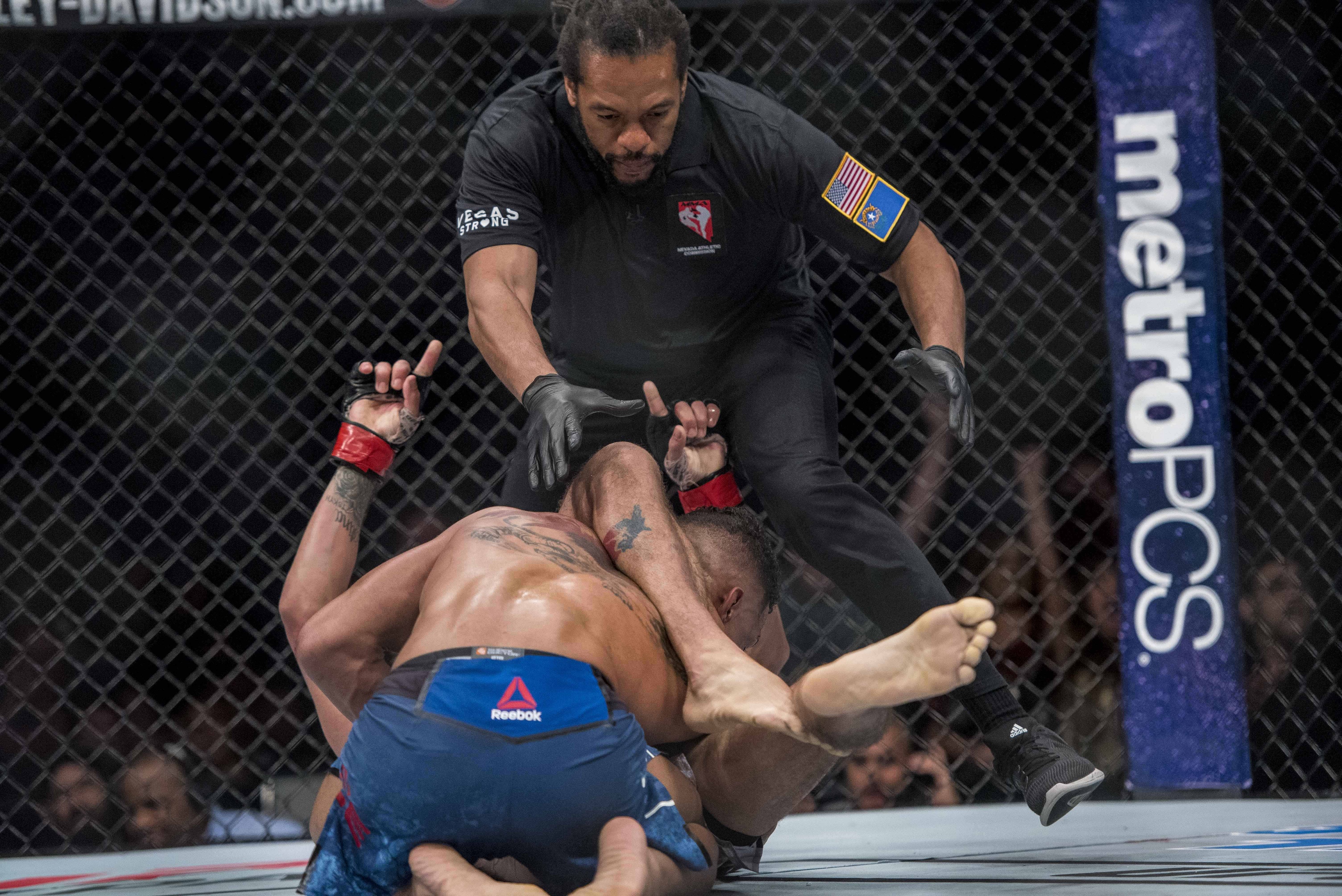 Photo Credit: © Joshua Dahl-USA TODAY Sports
Ferguson and his camp certainly expected the hard time they got from Lee before "El Cucuy" got the third-round submission win. For example, even though Ferguson has an extensive wrestling background like Lee, the Californian's coach Eddie Bravo told us that he expected for Ferguson to have to fight off his back.
"Absolutely. Kevin Lee has been taking everyone down. He's powerful and big," Bravo said.
"This was kind of an extension of our Khabib [Nurmagomedov] camp. We were planning for takedowns, passing, and body triangles from the back."
The 10th Planet Jiu-Jitsu head then wasn't surprised that Ferguson was ready to effectively fight and finish off his own back against the dominant wrestler Lee. Not only did Ferguson train ceaselessly on working from bad positions during camp, but the new champion may also be one of the smartest and hard-working people Bravo has ever trained.
"Tony is the most disciplined person I've ever seen," Bravo said. "He also gets so much better from camp to camp. Tony doesn't forget things you show him. You don't have to tell or show him something twice, so we can concentrate on building. He's a machine. He is always drilling, always making notes. He has pages and pages of notes on every aspect we go over."
Many fighters in Ferguson's dominant position of winning 10-straight bouts and holding gold may be tempted to ease off the gas a bit in training or at least to assume that they can impose their will at every juncture of the fight. However, Bravo's account of Ferguson's UFC 216 camp draws a decidedly humble and hungry picture.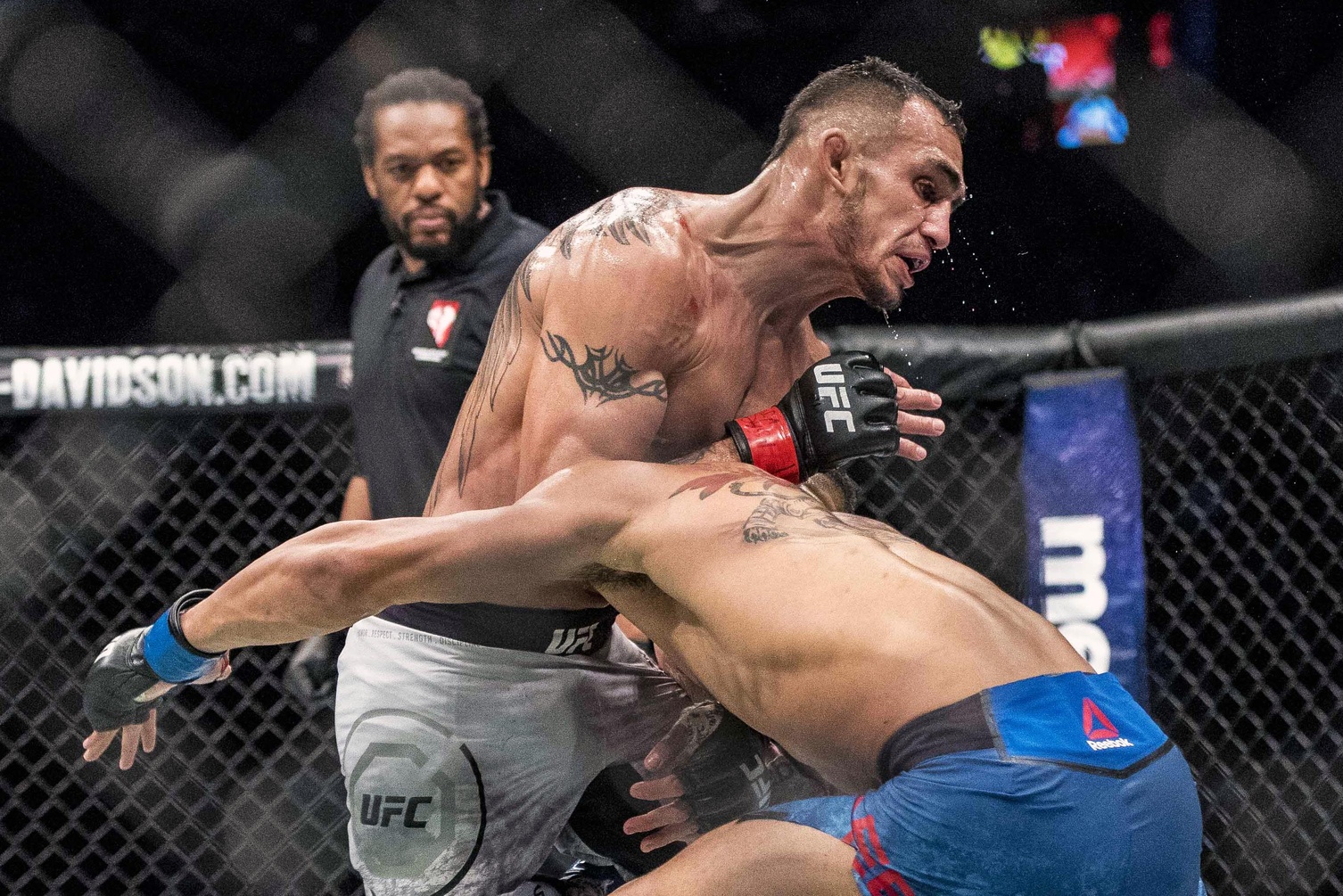 Photo Credit: © Joshua Dahl-USA TODAY Sports
Far from Ferguson assuming he'd dominate Lee at every juncture of their battle, Bravo said his fighter doggedly worked through worst-case scenarios in training, planning to have to come from behind just as he did.
"We worked everything, from the worst positions to the tap, every day," Bravo said. "We went into deep, dark waters every day. We worked on escaping the back, escaping the side mount, escaping the mount. Luckily Lee didn't get his back so we didn't need the body-triangle back escapes (laughs) but just about everything else we did."
The lens Bravo looked through to train Ferguson in his grappling had a lot to do with striking, both on the ground and on the feet.
"The most important moment in the fight for Tony were his elbows in the third round," Bravo said. "Earlier in the fight Tony went for an arm bar off his back but didn't set it up with elbows and Lee escaped. But when Tony went for the triangle, he set it up with hard elbows, first. He just brutalized Lee with those elbows. It was those elbow strikes that secured the triangle choke for Tony.
"A lot of that also has to do with how the fight was going on the feet. Tony was winning the stand-up striking part of the fight so Lee wanted no more of that. When Lee was on top of Tony right before the triangle and taking the elbows, his best option was to stand up and back away but then he would have had to deal with Tony on the feet, again. So, he just postured up a bit but that's where he ate those elbows. You can tell he was hurt from them, and then Tony locked on the choke."
Photo Credit: © Joshua Dahl-USA TODAY Sports
Bravo explained that Ferguson drilled ground elbows in camp every day so as to be ready for exactly that type of scenario. By consistently working on techniques that others are not usually as prepared for Bravo believes that Ferguson was subsequently able to smartly scrap his way to the decisive victory.
"Tony is the rare wrestler that is comfortable on his back, for example," Bravo said. "He's unorthodox. He's not just a normal double-leg and single-leg guy. He'll go for ankle-picks, he'll go for Imanari rolls. He loves to invert, he loves spinning stuff. He's comfortable fighting everywhere, because that's how he trains."