FloCombat Road Trip 2 (#FCRoadTrip2) - East Coast
Aljamain Sterling On Jimmie Rivera: 'I Got That Motherfu*ker To Respond'
Aljamain Sterling On Jimmie Rivera: 'I Got That Motherfu*ker To Respond'
UFC bantamweight Aljamain Sterling goes all in on Jimmie Rivera in this #FCRoadTrip2 interview.
Sep 21, 2017
by FloCombat Staff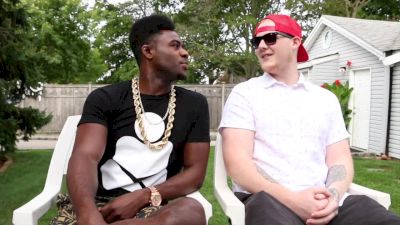 Surging UFC bantamweight contender Aljamain Sterling knows what he wants, and he's not afraid to launch a campaign to get it.
Taking to social media and various interviews alike, Sterling made his intentions clear earlier this week: He wants to see No. 3-ranked UFC bantamweight Jimmie Rivera across the cage from him.
During the FloCombat Road Trip, Sterling addressed the issue at length, sounding optimistic about his chances.
"I finally got that little motherfuc*er to respond," Sterling told FloCombat. "He responded today, he's like, 'Keep mentioning my name.' I'm like, OK, great. I'll keep mentioning your name because that's the fight I want.
"What am I going to do? You claim you're the best in the world. I think I'm the best in the world, so let's find out. Let's throw down and see who's going to be the next guy to challenge for that world title."
[tweet url="https://twitter.com/JimmieRivera135/status/910490721270018048" hide_media="0" hide_thread="1"]
For Sterling, the bout with Rivera goes beyond its immediate implications. While a win over Rivera would provide Sterling a platform to make a case for UFC gold, it would also grant him something else: bragging rights. Sweet, sweet bragging rights.
"[Our rivalry] was at a point where he called me out on the regional circuit," Sterling said. "I was like next in line to get picked up by the UFC, the No. 1 prospect in the world in the rankings system. And he was No. 2, you know? No. 2. I guess that didn't sit well with him."
"The Funkmaster" then drew a comparison to paint the picture more clearly.
"It's kind of like that ex, you know? You leave and you level up," he said. "When I got to the UFC, he was still chirping, running his mouth, and I'm over here, I'm trying to evolve my game. I want growth for my life, and you're trying to bring me back down.
"That ex is always trying to bring you back down and keep you in that same circle, that same bubble. And right now he's in the position where he's 5-0 in the UFC. I guess he's trying to show the world that he reinvented himself, and I'm going to have to show him that, you know, you're still the ex and I'm going to show you why. What I have now is still better than what you have."
Should Sterling get his showdown with Rivera finalized as expected and should he win -- also as expected -- he sees only one option for his next tilt.
"I 100 percent do think so [that Rivera is a No. 1 contender's bout]," Sterling said. "I think right now [Dominick] Cruz is sitting in the wings for the title shot. I think one of those guys [champion Cody Garbrandt and challenger TJ Dillashaw, fighting Nov. 4 at UFC 217] do get hurt, hopefully not, [but] Cruz is going to step in and take that shot.
"And I think that just leaves Jimmie and I to tussle. I know [Raphael] Assuncao's got a fight with Matthew Lopez. So then who else is he going to fight? John Dodson's got an opponent. [Thomas] Almeida just came off of a loss to Jimmie. Eddie Wineland doesn't really make any sense. There's nobody else to fight but your boy here."
Catch the full coverage of the FloCombat Road Trip 2 right here.
Sign Up For The FloCombat Newsletter
Don't miss breaking news, feature stories, event updates, and more. Sign up for the FloCombat mailing list today.