UFC 213: Amanda Nunes vs. Valentina Shevchenko 2
UFC 213 Fallout: Joanna Jedrzejczyk Is Awesome, But Let's Be Real
UFC 213 Fallout: Joanna Jedrzejczyk Is Awesome, But Let's Be Real
The rumored UFC 213 matchup between Valentina Shevchenko and Joanna Jedrzejcyzk was fake news from the jump.
Jul 8, 2017
by FloCombat Staff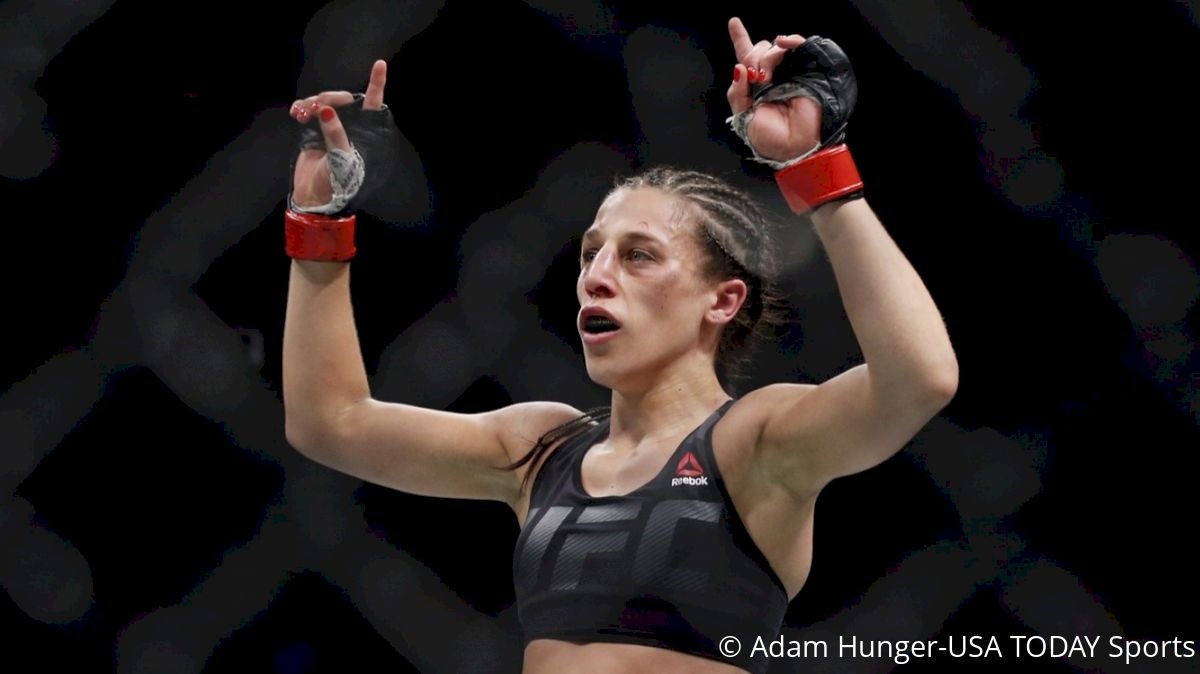 The MMA world is one where Lord Chaos reigns supreme and Saturday afternoon before UFC 213 saw the mystical one's hand at work.
The sport's passionate fan base was shaken up to learn of UFC women's bantamweight champion Amanda Nunes being forced out of her championship tilt with Valentina Shevchenko at UFC 213 due to illness.
FloCombat confirmed the initial reports, then received word from sources close to the situation that Nunes experienced difficulty regaining weight after a difficult cut down to the bantamweight limit.
Yet, while the jeers and disappointment hit social media platforms, there came a stir from the back, as UFC President Dana White announced women's strawweight champion Joanna Jedrzejczyk had offered to step up and take the fight in Nunes' absence.
"Joanna Champion" later doubled down on the notion with a social media post of her own, which served to spawn a heroic narrative of how the scrappy Polish champion was doing her damndest to step up and save the day.
[instagram url="https://www.instagram.com/p/BWTEG3AF8rM/?taken-by=joannajedrzejczyk&hl=en" hide_caption="0"]
[tweet url="https://twitter.com/Patrick_Wyman/status/883778114467135488" hide_media="0" hide_thread="1"]
[tweet url="https://twitter.com/BitaNick/status/883770386198007808" hide_media="0" hide_thread="1"]
The notion was awesome and easy to buy into. A dominant champion only in Las Vegas to do promotional work decides to strap on the gloves and fight up two weight classes against a woman who already owns three victories over her outside the UFC.
That's storybook sports fantasy shit right there folks. In fact...that's all it is--fantasy.
The tweets by White and Jedrzejczyk Saturday afternoon with the clock ticking down gave us a glimpse of the promotional game operating at its slickest. There were myriadreasons why the Nevada State Athletic Commission would never allow the strawweight champion to step in on less than 24 hours notice, but those were details that didn't seem to stick with most fight fans.
Furthermore, FloCombat confirmed with NSAC Chief Bob Bennett the UFC never even attempted to get a bout between Jedrzejczyk and Shevchenko pushed through. They knew plenty well this wouldn't happen, but throwing out the social media bits they did served a greater purpose in the larger game.
In the entire lemons-to-lemonade scenario, pushing the Jedrzejczyk-stepping-up narrative only served to further the gangster reputation the Polish fighter has earned with fists, blood, elbows, knees and sweat.
Furthermore, there's no doubt in this writer's mind Jedrzejczyk could have very well been serious about agreeing to fight Shevchenko, but there was no way that bout was taking place on Saturday night in Las Vegas, and it's hard to imagine the women's 115-pound champion wasn't aware of that fact.
But she played the game, and why not? There is no downside to this for "Joanna Violence" and the move could very well set up a pivotal showdown down the road if she makes the jump to the 125-pound weight class the UFC has been rumored to open in the coming year.
Pushing the "save the day" narrative only helps to further her mystique, and that should absolutely be applauded.
And for fans who jumped on the excitement of the moment they hoped would unfold...it's good on your part as well. Fight fans pay money, tune in, operate on Twitter to watch, love and stay connected to the fight game. No one can blame the eager masses for wanting some flatout badassery when a dumptruck of bad news was dropped moments before.
It's the passion that makes fight fans special. And to that, I say never relent.
That said, watching those who should damn well know better push a fake story is troublesome.
MMAFighting.com's Marc Raimondi
put out a tweet
from NSAC killing that idea, just as our own
Elias Cepeda got quotes
from Mr. Bennett echoing the same notion, but new headlines kicked up, and more tweets fired out crediting Joanna Jedrzejczyk for attempting to save the day.
And for this I'll once again quote NSAC's Bob Bennett, "The UFC did not request a replacement for Nunes."
There you go. That's a look behind the Wizard's curtain. The great game continues.
Play on.