UFC 212: Jose Aldo vs. Max Holloway
Max Holloway Says 'It's Time To Get Paid', Details Next Step
Max Holloway Says 'It's Time To Get Paid', Details Next Step
UFC featherweight champion Max Holloway says it's time for him to get paid and details the road ahead to defend title.
Jun 8, 2017
by Duane Finley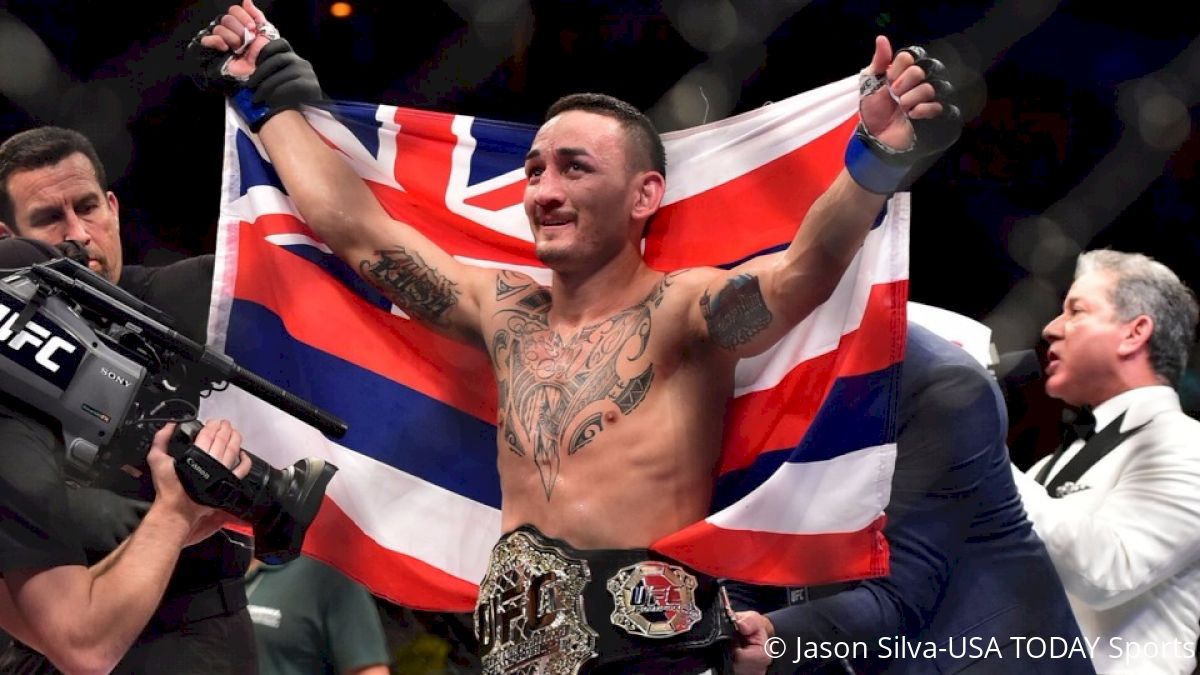 Max Holloway has never held back from calling his shot and telling the world one day he would be king of the UFC featherweight division. And while there were stretches where few seemed to listen, and his ambitions were written off and cast aside, the talented young Hawaiian warrior never compromised.
Holloway continued to push forward with all he had to give, and when the smoke cleared in the main event at UFC 212 in Rio de Janeiro, a man who not only completed a mission, but a mission that was against all odds in the larger scheme of things stood tall.
The 25-year-old Waianae native scored a TKO finish over former 145-pound king Jose Aldo last Saturday night in what was undoubtedly one of the most impressive performances of his career. And while Holloway turned up the volume late in the second and cut loose in the third, the onset of the fight saw the Brazilian phenom doing damage in the early stages of the scrap.
The Nova Uniao leader showed from the jump he'd brought his best, and that set the stage for Holloway to clean out his fight game bucket list in one fell swoop. "Blessed" proved to be just that as he closed the distance at every turn, released crisp combinations and killed the king before the eyes of his countrymen.
"I told these guys in the press conference and plenty long before that these guys are out here playing checkers and I'm playing chess," Holloway told FloCombat. "It's as simple as that. I watched the fight and listened to the commentary and they were saying, 'Why isn't Max doing this and that?' I'm over here playing chess and I wanted to prove it, man. I wanted to prove that I'm smart and I'm no guy to play around with.
"Different fights with different fighters we approach differently. We had a great game plan for this fight and it came to our favor and showed in the fight. I got the finish and finished a guy who had never been finished in that way before.
"That thirteen second thing happened and whatever, but I stepped in there and got what I asked for," he added. "I asked for the best Aldo and that's what he gave me. And that's who I finished. At the end of the day it was my night in there. Aldo is the GOAT and he's done a lot of great things and I'm sure he'll do many more great things, but it's the Blessed era now."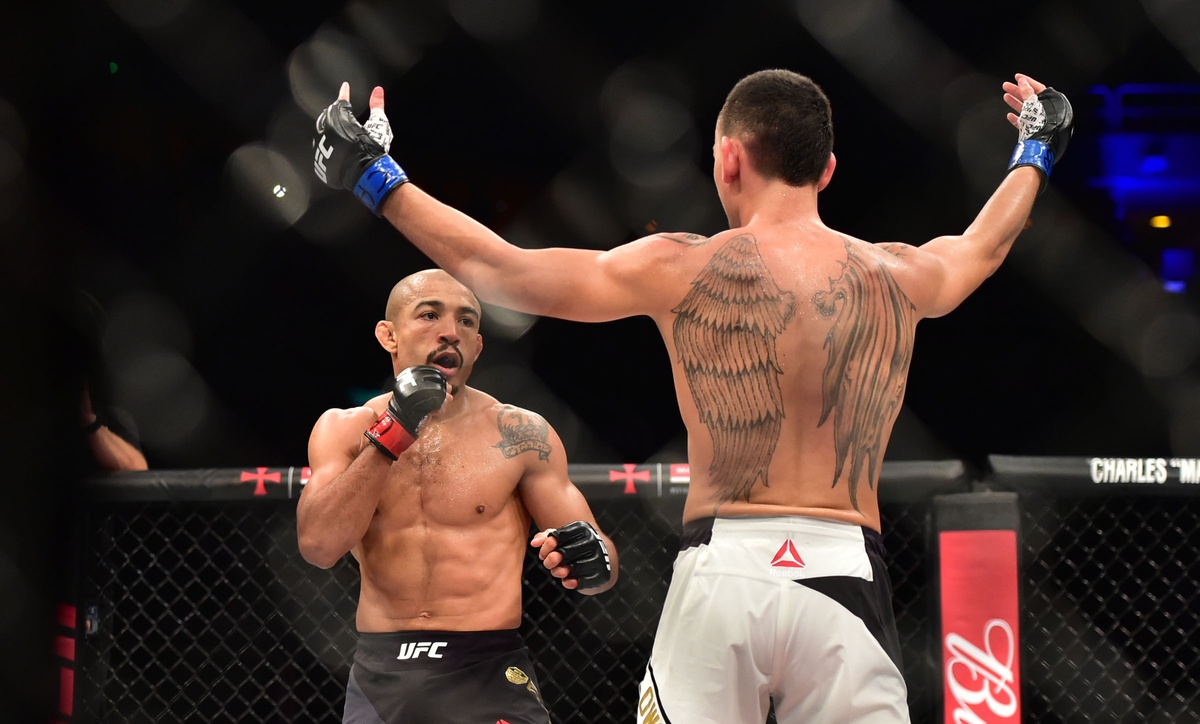 Photo Credit: © Jason Silva-USA TODAY Sports
And while one ruler rising and another falling is perfectly fit for a storybook, Holloway wants to make clear "The Blessed Era" has only just begun. Although Holloway began calling his race to the top of the division shortly after his arrival to the UFC back in 2012, it was a campaign that didn't pick up serious steam until he was well into his current 10-fight winning streak.
Now that Holloway has undisputed gold around strapped around his waist those who were once naysayers and doubters have come to call, and despite the champion's urge to serve crow hot and ready, he's still leaving the doors open for all who want to come correct on his standing in the bigger picture.
That said, second chances are gifts and blessings many don't receive. Holloway made sure to paint a clear picture that those who are riding with him now will have his loyalty and support in kind, and those who refuse to recognize the future of the featherweight division are going to be left in the dust.
"Everything comes full circle, man," Holloway said. "I love having the belt and all the things that come with the belt. I told these guys and everyone else before this fight--hell before the Anthony Pettis fight--to get on team Blessed when it's on ground level. I told all the sponsors and people to get in when things are on ground level because in a couple of fights things are going to skyrocket and they are going to be paying a lot more than if they'd just listened to begin with.
"There were some people who listened and got in at ground level but now it's time to pay the man. There were people and sponsors I reached out to many fights ago who didn't believe and didn't do anything but everything comes full circle and here they are now. That's cool and all, but they could have gotten in early and received all the loyalty that would have come along with it.
"You wanna play with fire well you're going to get burned sometimes," he added. "But we are here now and going to continue moving forward."
While Holloway's crowning moment at UFC 212 in Brazil was a window in time he'll never forget, it was his official homecoming in Hawaii that will forever stand out as the flesh and blood feeling of a dream come true. Holloway and fellow fighter and friend Yancy Medeiros received hero's welcomes upon their return to the Hawaii and the entire day was filled with moments neither man will soon forget.
"The homecoming has been crazy, man. I loved it," Holloway said. "I've had three parades and the one in Waianae was over a thousand people at least. There were people all over and it was crazy. I've said it before but Waianae is a place not many tourists want to come and people from the island don't want to come either. They talk about it being a dangerous place with drugs and fighting, but it isn't that.
"Yance [Medeiros] and I both got to show it's a lot more than people give it credit for and that's what it's all about. This is not only for Waianae and not only for Hawaii either; it's for the world. It's not where you're from or where you start the race, it's about how you finish. I'm living proof of that because I'm not even supposed to be here right now. I went against all odds and did the damn thing because of hard work, dedication and sacrifice.
"You can do anything you want to do in this world on prayers and belief," he added. "Believe in your damn self when no one else will and work hard toward your goals. Don't ever let anyone tell you that you can't do something. Believe in yourself, work hard toward your goals and always keep striving to achieve them."
In signature Holloway fashion bringing UFC gold to Hawaii wasn't an honor he was going to keep to himself as the husband, father and family man let all who love and support him take part in the day. In fact, during the interview with FloComabt, Max's son Rush--A.K.A. Mini Blessed--jumped on the call to share his thoughts about the day his daddy returned home as a hero and a champion.
"Awesome!" Rush shouted when asked what he thought of his father's welcome home parade. "I'm so proud of my Daddy."
[tweet url="https://twitter.com/BlessedMMA/status/872192381445066752" hide_media="0" hide_thread="1"]
Although the buzz of Holloway's victory over Aldo has yet to wear off and the bags from his trip to Brazil have yet to be unpacked, that hasn't stopped the contenders who are jockeying for the next shot at his crown from pumping up the conversation. Frankie Edgar and Cub Swanson have both vocalized their intentions to land the next title opportunity, and each have made interesting cases as to why they should be next to face Holloway inside the Octagon.
And while Holloway admits the next scrap has yet to enter his mind, there's a few things about the situation he wants to make crystal clear. The newly minted king wants anyone and everyone in the elite tier of the 145-pound fold to know they'll get what's coming eventually, but Holloway was adamant nothing will happen until a conversation with the UFC and President Dana White takes place.
The way Holloway sees things he's just notched the biggest trophy possible in the featherweight ranks, and a prize kill means prize money at a larger clip. He just finished Aldo in brutal fashion, marked a new era and finally got the featherweight division back on track after nearly two years of confusion and disconnects and for that he wants to get paid.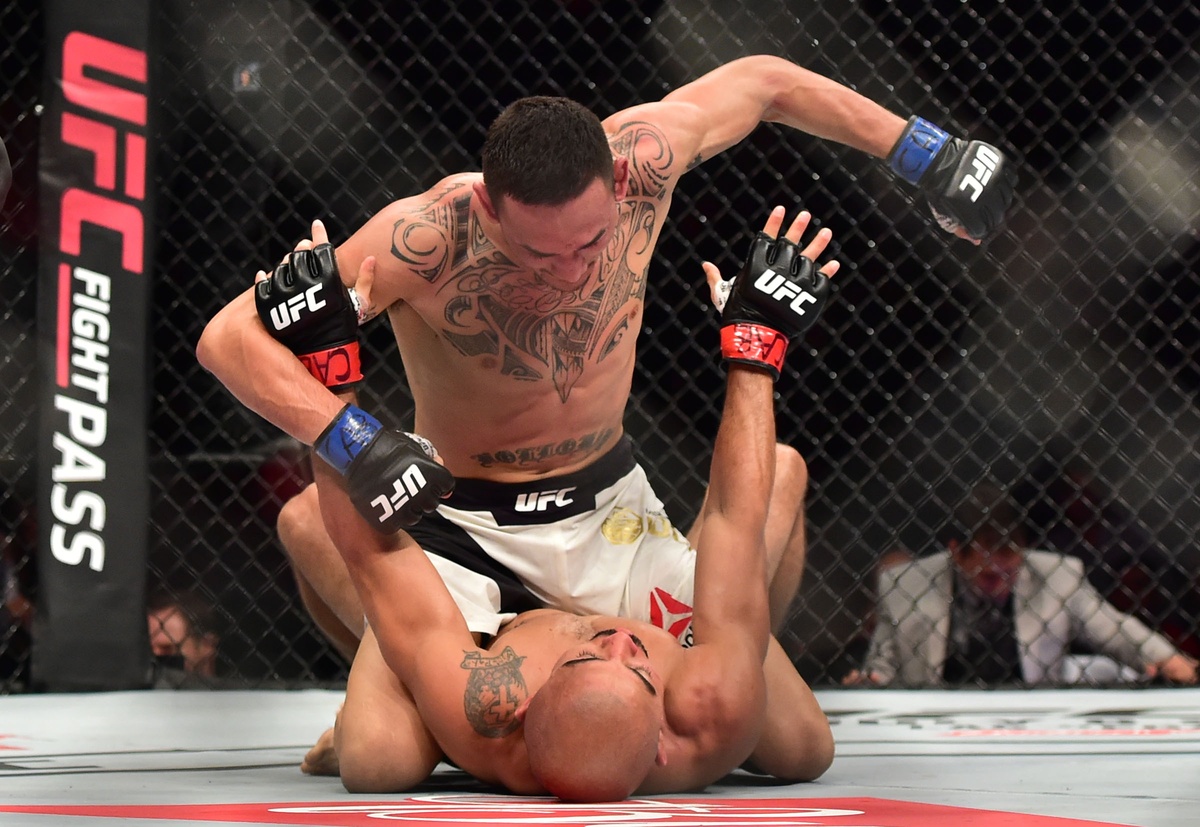 Photo Credit: © Jason Silva-USA TODAY Sports
"Everybody keeps talking about what's next, but I want to sit down with my manager and Dana White and have a talk," Holloway said. "Dana told me to go big game hunting and I got a head for his fireplace so it's time to pay me. I went big game hunting and got two of the biggest kills out there so it's time to pay the man.
"Don't worry guys it's coming. If I haven't fought you yet then get ready because it's coming. Get as ready as you possibly can because I'm about to bring it to you. And if I did fight you already then go ahead and get ready for the inevitable because you know what is going to happen. You know what's coming so go ahead and get ready for the storm to hit you again.
"I'm not racing through this division I'm cleaning it out," he added. "You guys don't have to worry. Let me sit down with my management and Dana, have this good ole talk and we'll go from there."
With a crown long hunted now on upon his head and a status many never gave him a chance of obtaining solidified, Holloway is preparing for a change of focus. He spent years being the featherweight division's most prolific bounty hunter, facing top name after top name, dangerous fighter after dangerous fighter, all of which were done on his personal quest to become champion.
Holloway is now the official undisputed titleholder of the stacked 145-pound division and the target he once placed on top contender's heads will be put on his back by fighters aiming to make their own dreams come true. Holloway loves the fact his fellow fighters will be gunning for him because that is a perk that comes with sitting on the mountain top.
Those are benefits of being the man and Hawaii's warrior king is ready to rock n' roll with anybody who wants to take a shot at the throne.
"I've been ready to wear that target," Holloway said. "I've been the king here in Hawaii I just didn't have my throne and now I have it. I've always had the belief in myself but now everyone is knowing. A great saying I love to hear is, 'Play like you're in first but train like you're in second.' That's the damn truth and that's what I've been doing my entire life. That's what I've been doing my entire UFC career and since I was 17 years old.
"Go back and watch the UFC Countdown shows and I was telling people I was going to beat Aldo. A couple of days after losing to [Dustin] Poirier in my first fight with UFC I was telling people I was going to beat Aldo because my self belief was that strong. The only difference now is that it's not a secret anymore. Everyone knows what I can do and how much I believe in my skills. It's a new era starting now--the Blessed Era--and it's time to tune in and become a part of it."