Jose Aldo Angered Over Anderson Silva's Remarks On UFC 212
Jose Aldo Angered Over Anderson Silva's Remarks On UFC 212
UFC featherweight champion Jose Aldo fires back at fellow countryman Anderson Silva for comments on UFC 212 refunds.
May 18, 2017
by FloCombat Staff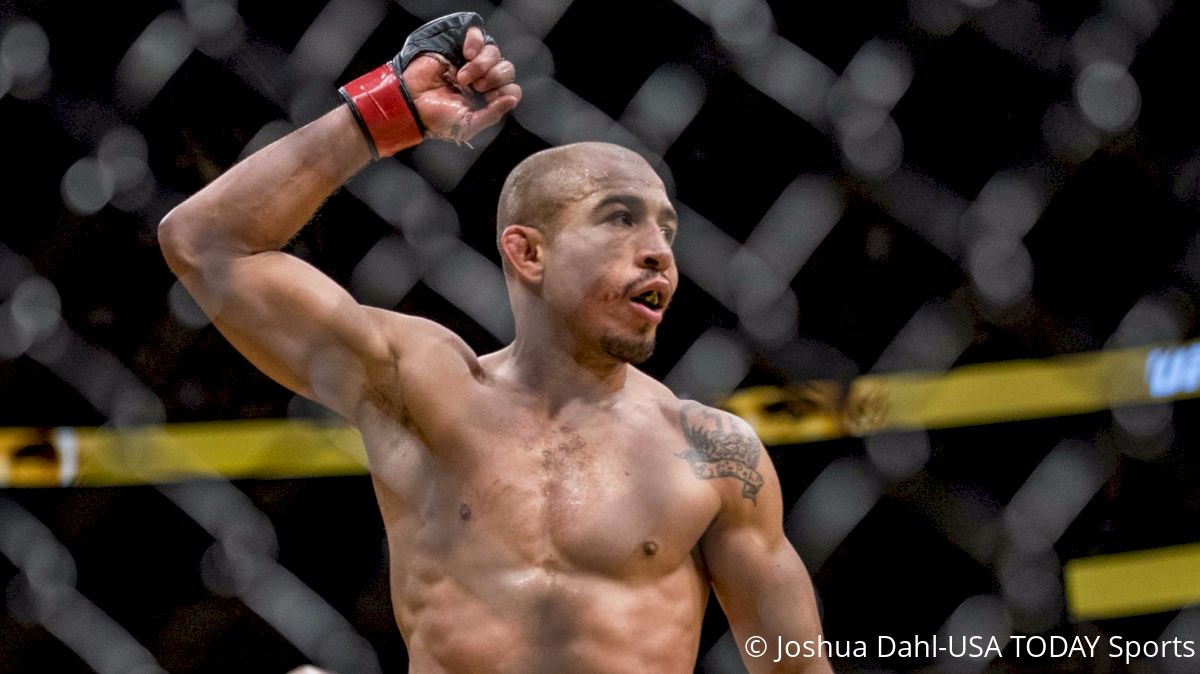 For FloCombat via A.G Fight
It appears Anderson Silva is all about lighting fires in 2017.
After being stripped out of June 3's UFC 212 card, the Brazilian ordered his fans to claim their money back and to not attend the show. Obviously, the Spider's speech was not well taken by UFC President Dana White. Yet another Brazilian, responsible to star in the main event, was upset with the former middleweight champion's attitude.
Expected to defend his featherweight title against Max Holloway in the city where he built his career--Rio de Janeiro--José Aldo is confident he fight in a crowded arena--even though the Spider tried to persuade some fans to return their tickets.
"I didn't know about this, I don't read on the internet, that is not my focus," Aldo told AG. Fight for FloCombat. "When he left the card in Curitiba, there was no fan thinking on not attending the show. I am the one who is going to fight in the main event, the show is going to be held in the city I live in and where I have a legion of fans. Everyone is going there to watch José Aldo vs. Max Holloway. I'm sure no one will return their ticket because he was not fighting in the main event."
At the age of 30 and the owner of one of the most successful careers in MMA, Aldo only met true fame after defending his belts a half-dozen times, including two wins over Chad Mendes at the very same arena where he will face Holloway. And with that in mind, "Scarface" disapproved of Anderson's attitude.
"I would never do such a thing," Aldo said. "The UFC played an important role in shaping me [into] the athlete I am today. I have my merits, I worked hard and I deserved this. But I would not have achieved this by myself. I had to leave fight cards in less than a month also, and still, I encouraged the fans to attend the show. You can't put the fans against the organization--doesn't matter what happens. When everything is doing well, you are good, but whenever things change, it is everything against you."
Like Silva, Aldo already had his issues with the UFC throughout his career. Still, the Brazilian made it clear he would never campaign for something that could affect other fighters directly.
"I always tried to defend the athletes that are in the beginning of their careers, the ones I thought were treated unfairly," Aldo said. "I had a lot of problems with the UFC and I was punished many times for stepping up for other fighters. The UFC always made it clear that I should defend myself in order to grow in the organization. But, when you care less about other fighters and only think of your own gain, you show the fans who you really are, your real character. When you are doing fine, you are one kind of person. When things are going bad, you change your personality. I will never be like that, no matter what.
"If we were talking about any other athlete, no one would ever say that, especially an American. I've been in this spot already. I was going to fight [Anthony] Pettis in Rio and he injured himself. I was going to face Erik Koch and he withdrew also. Again, with Frankie Edgar, no one said a word about that. Americans don't have this kind of attitude, they look for their own. It is what it is. I'm not saying it is wrong, each one knows what is best for them."
After the controversial situation on his Instagram, Silva made a new post where he tried to explain himself. The Spider made it clear he has respect for all the fighters that will be in action on UFC 212, and he guaranteed he was only answering his fans.
[instagram url="https://www.instagram.com/p/BUH9LaJFvXw/?taken-by=spiderandersonsilva&hl=en" hide_caption="0"]
FloCombat's hottest content, delivered to your inbox
Don't miss breaking news, feature stories, event updates, and more. Sign up for the FloCombat mailing list today.