UFC 211: Stipe Miocic vs. Junior dos Santos II
Frankie Edgar: 'I'm A Persevering Motherf*cker'
Frankie Edgar: 'I'm A Persevering Motherf*cker'
Former UFC featherweight title challenger Frankie Edgar returns to championship contention after smashing Yair Rodriguez.
May 16, 2017
by Duane Finley
Frankie Edgar isn't going anywhere, ladies and gentlemen.
The former UFC lightweight champion turned two-time featherweight title challenger has been fixed on championship aspirations since he arrived on the sport's biggest stage, and those dreams haven't faltered in the slightest. If anything, the 35-year-old New Jersey native has only grown hungrier, and that tenacity has translated to his recent performances.
This was especially the case last Saturday night when Edgar stepped in to face surging striker Yair Rodriguez at UFC 211 in Dallas. "El Pantera" had been on the receiving end of a significant promotional push, and rightfully so due to a highlight-reel-filled six-fight winning streak that drove him to the brink of title contention.
The only thing necessary for passage into the championship tier would be a victory over a certified elite, and Edgar was the name chosen for that scrap.
"The Answer" publicly stated he knew the score from the moment the bout was signed, and true to the fighting pride of Toms River's words, Rodriguez stepping in with him turned out to be a bad decision. Edgar worked an aggressive and tactical game which allowed him to put the 24-year-old on the canvas, then battered and bloodied the up-and-comer with a brutal ground-and-pound attack.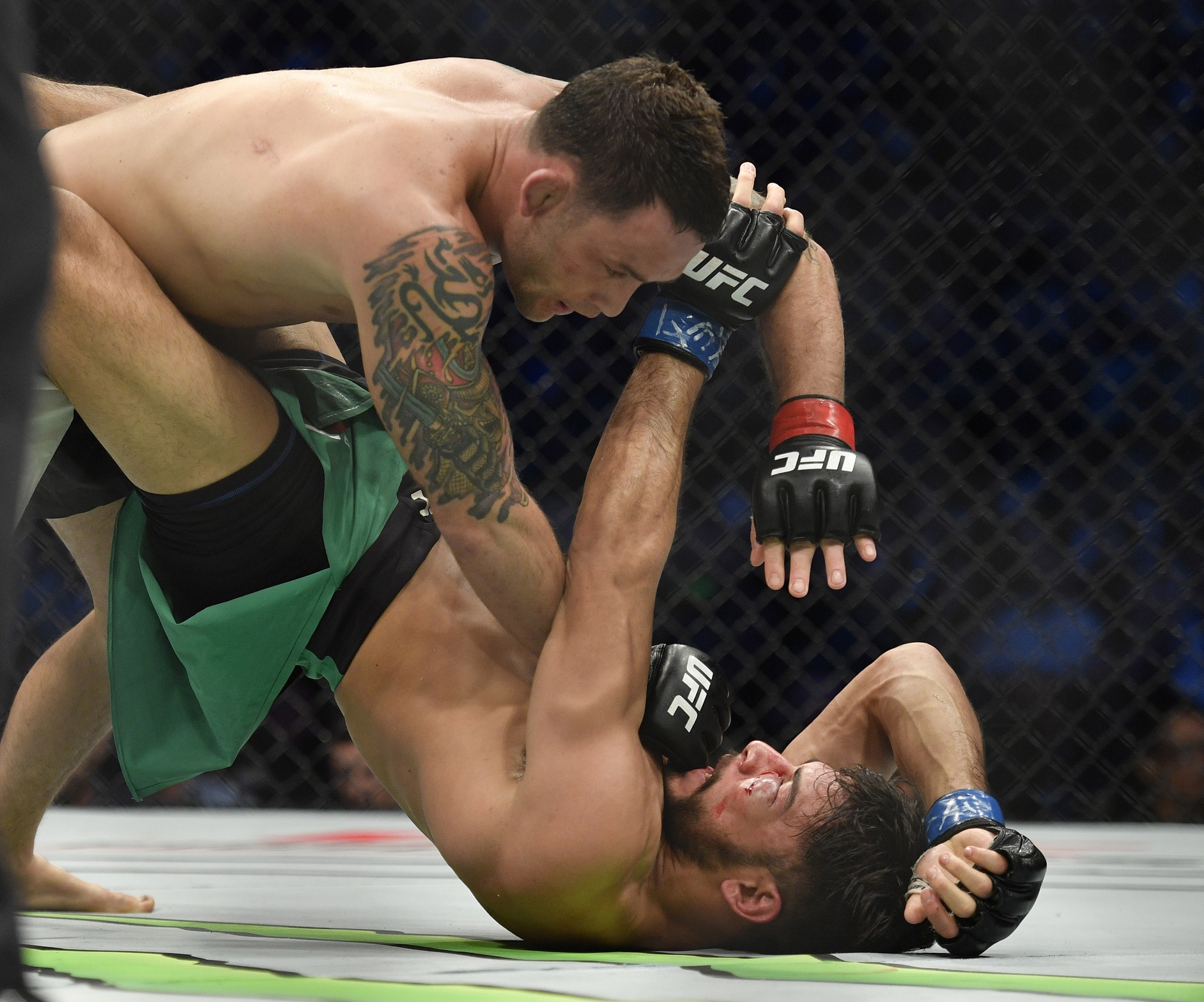 May 13, 2017; Dallas, TX, USA; Frankie Edgar (red gloves) fights Yair Rodriguez (blue gloves) during UFC 211 at American Airlines Center. Mandatory Credit: Jerome Miron-USA TODAY Sports
Rodriguez's eye was a mess after the second round, and cageside doctors called the bout before the the final frame could start, giving Edgar another signature win and reminding the MMA world "Frankie Scraps" isn't going anywhere anytime soon.
"It's always great to go in there and prove someone wrong, especially when they are saying sh*t like they are going to go in there and knock me out," Edgar told FloCombat. "He was saying all these things and writing me off, so anytime I can shut these dudes up it feels good.
"A minute or so into that first round I knew I was going to be dominant on the ground. He was trying to stay busy and throw some things from off his back, but I kept pouring it on him the entire time. I wasn't going to let up and it was only going to get worse for him in there. It felt good to prove my point and put on a dominant performance the way I did."
With the victory over Rodriguez, the perennial contender once again stamped his spot in a divisional title picture that has been nothing short of murky for the past year and change. Jose Aldo became the titleholder when Irish star Conor McGregor was forced to vacate the strap, and he'll face interim champion Max Holloway in a unification bout at UFC 212 June 3 in Rio de Janeiro.
While Cub Swanson is also lingering in the title picture, Edgar defeated "Killer Cub" handily when they squared off at UFC Fight Night 57 back in 2014. That said, Edgar has been in this situation before and isn't going allow himself to get too worked up about anything regarding a potential championship opportunity. He's simply going to continue doing what he does, and that is fighting with the body and mind of a man 10 years younger than his birth certificate shows.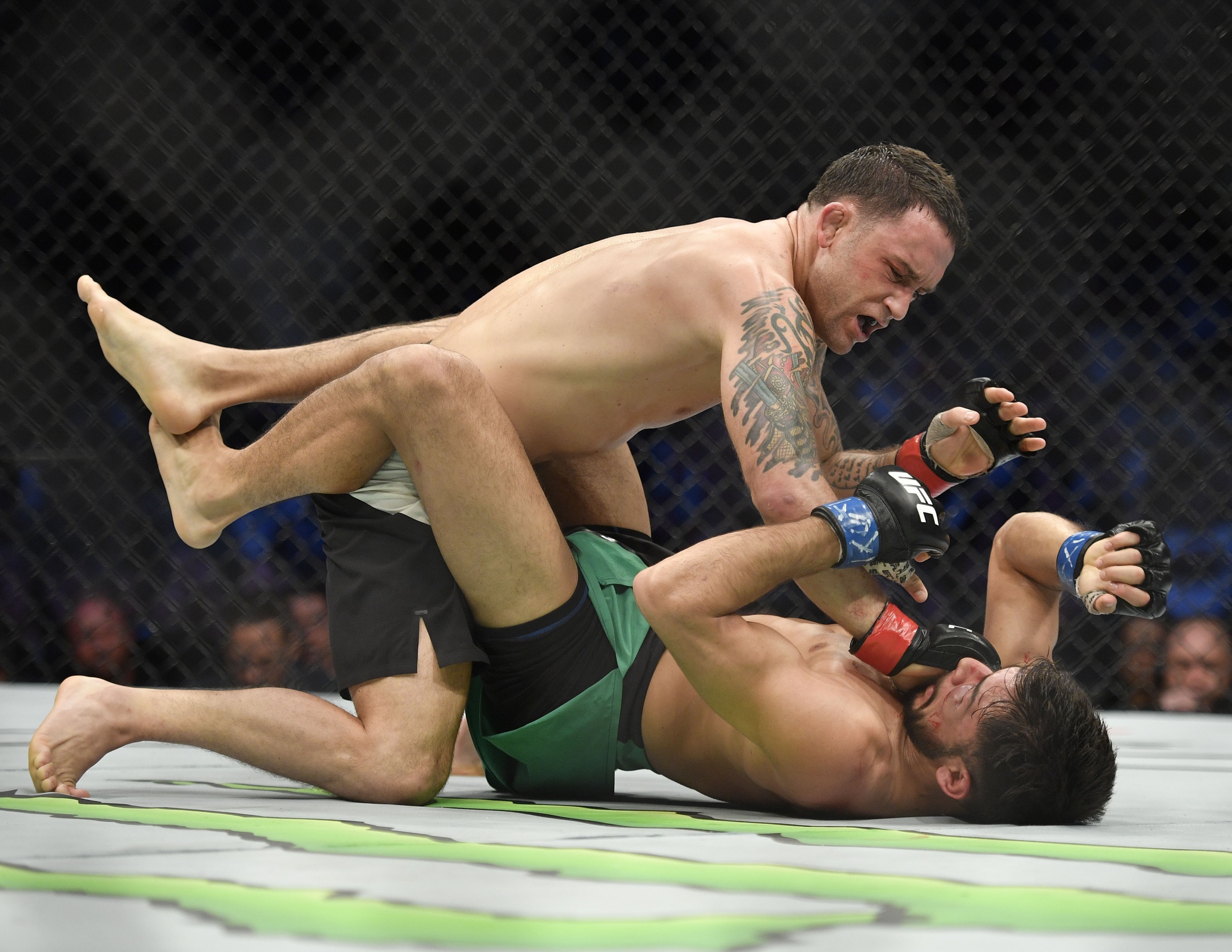 May 13, 2017; Dallas, TX, USA; Frankie Edgar (red gloves) fights Yair Rodriguez (blue gloves) during UFC 211 at American Airlines Center. Mandatory Credit: Jerome Miron-USA TODAY Sports
"It's good to be back in the conversation, but to me I never really left it if that makes sense," Edgar said. "I'm always hunting to get to the title because that's what fighting is about for me. I'm in this to be the champion and that's always going to be the goal, but this is a situation I've been in before. I'm going to stay positive, but I'm not going to get upset about anything.
"It's not the end of the world if it doesn't happen, and I'll keep moving forward and doing what I do. Of course I'm hoping for the best though.
"Consistency is key, man," he added. "I'm in the gym working all the time and giving my best effort every time I step through those doors. When you work that way you are going to have consistent results. I'm a persevering motherf*cker I guess you could say."
Although Edgar is taking a measured approach for what could potentially happen in the coming months, there's a simmering beast below the surface that begs to be fed. He's going to be in the arena when Aldo and Holloway step in to settle their business, and Edgar would love nothing more than to be standing there to welcome the newly crowned undisputed champion into the next challenge.
Yet, until those things transpire, Edgar is going to keep a positive outlook on a situation that hasn't always worked out in his favor. He's going to keep pressing forward to improve his skills and keep his mind locked on the ultimate prize. Edgar will also take time to enjoy the fruits of his labor, but getting his hands on championship gold once more will always be the driving force behind all he does in the fight game.
"I'm getting right back into the gym because that's who I am and this is what I do," Edgar said. "I have to help my teammates who have fights coming up, but I'm hoping I get the next shot. I'm going to be in Rio with Marlon Moraes for his fight so we'll see what happens. I'm in the building though and right back in that conversation. I'm definitely a player in the game.
"I'm right back in that conversation where I want to be. I want the next title shot and ready to go. Give me the winner of the Holloway and Aldo fight and let's f*cking do this."