UFC 211: Stipe Miocic vs. Junior dos Santos II
Jessica Andrade On Joanna Jedrzejczyk: 'She Can't Put Power In Her Hands'
Jessica Andrade On Joanna Jedrzejczyk: 'She Can't Put Power In Her Hands'
Jessica Andrade previews her upcoming title fight against Joanna Jedrzejczyk at UFC 211.
May 4, 2017
by FloCombat Staff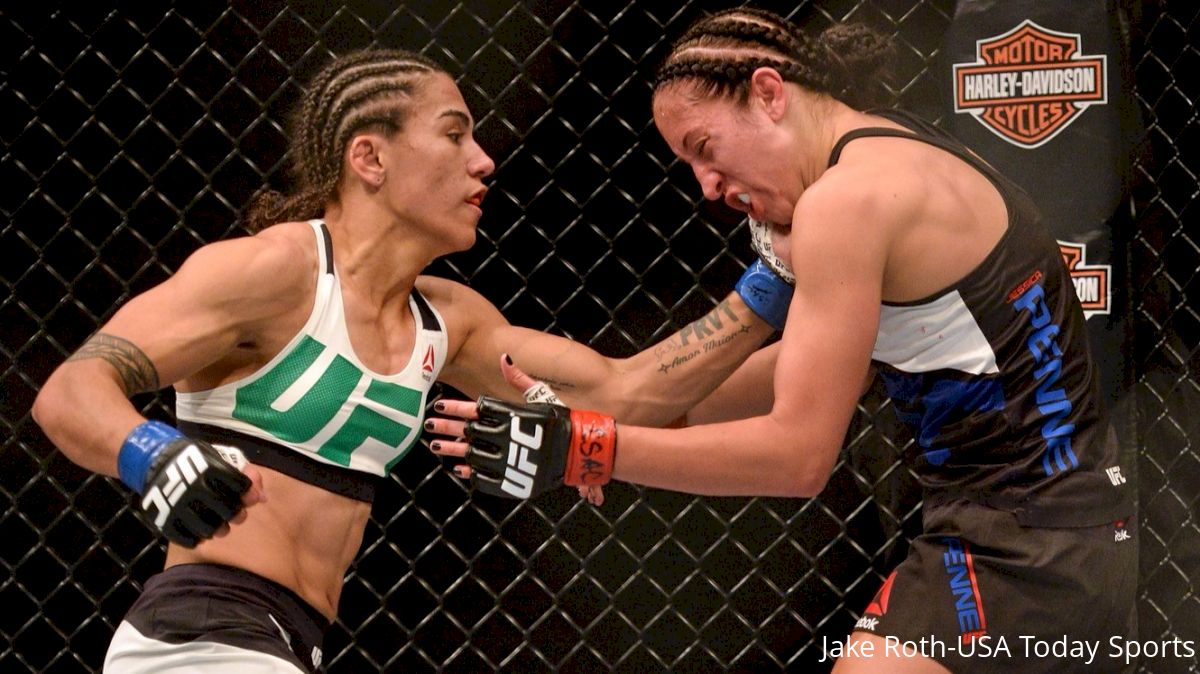 For FloCombat via AG. Fight
In just over a week, Jessica Andrade will enter the UFC Octagon in Dallas, Texas, for the most important fight of her life.
The Brazilian is set to touch gloves with strawweight champion Joanna Jedrzejczyk May 13 at UFC 211, a stacked show also featuring a heavyweight title fight rematch between champ Stipe Miocic and former champ Junior dos Santos.
And with only a few days to go until the bright lights are turned on, Andrade took time out of her day for a conversation with AG. Fight for FloCombat.
"I'm very calm, I'm training hard and my first concern now is the weigh-in," Andrade said. "It's the first big war, but I'm very calm, well focused and I'm sure I'll get there and put on a great fight.
"Also, for this fight I'm going to take my wife with me, so it will be a lot easier and better."
In order to bring the UFC's strawweight belt to Brazil, Andrade studied hours of video of Jedrzejczyk's last fights. The lesson learned in front of the computer: The clearest path to victory is a stand-up fight against the striking specialist -- at least for a while.
Known for her physical strength and bulldozer-like fighting style, Andrade believes her forward pressure in either dimension of the fight will be the right recipe to knockout or take down the technical thaiboxer.
"All the fights we've seen from her we realized that she has a lot of speed, but she can't put a lot of power in her hands," Andrade analyzed. "I think I hit harder and at the same speed. This is what sets me apart from the other fighters (laughs). The elbows and the kicks are her best weapons, she has a good kick.
"(But) I think that if I put her on the ground, I can keep it going," Andrade continued. "I'm looking forward to ending the fight soon. "
Still only 25 years of age, Andrade sports a record of 16-5 in her MMA career. Since leaving the bantamweight division and competing at 115 pounds, "Bate Estaca," which translates to "Pile Driver," is still undefeated, winning all three contests at the lighter weight.
Beating Jessica Penne, Joanne Calderwood and Angela Hill, Andrade built a strong case for her title shot, earning "Performance of the Night" and "Fight of the Night" honors in her last two bouts.
Jedrzejczyk, meanwhile, remains unbeaten 13 fights into her pro career. Most recently, the former thaiboxer defended her UFC belt against Karolina Kowalkiewicz at UFC 205 last November.