Liz Carmouche Campaigns for Women's Flyweight Division in UFC
Liz Carmouche Campaigns for Women's Flyweight Division in UFC
Former UFC women's bantamweight title challenger Liz Carmouche wants the promotion to open flyweight division.
Mar 20, 2017
by Duane Finley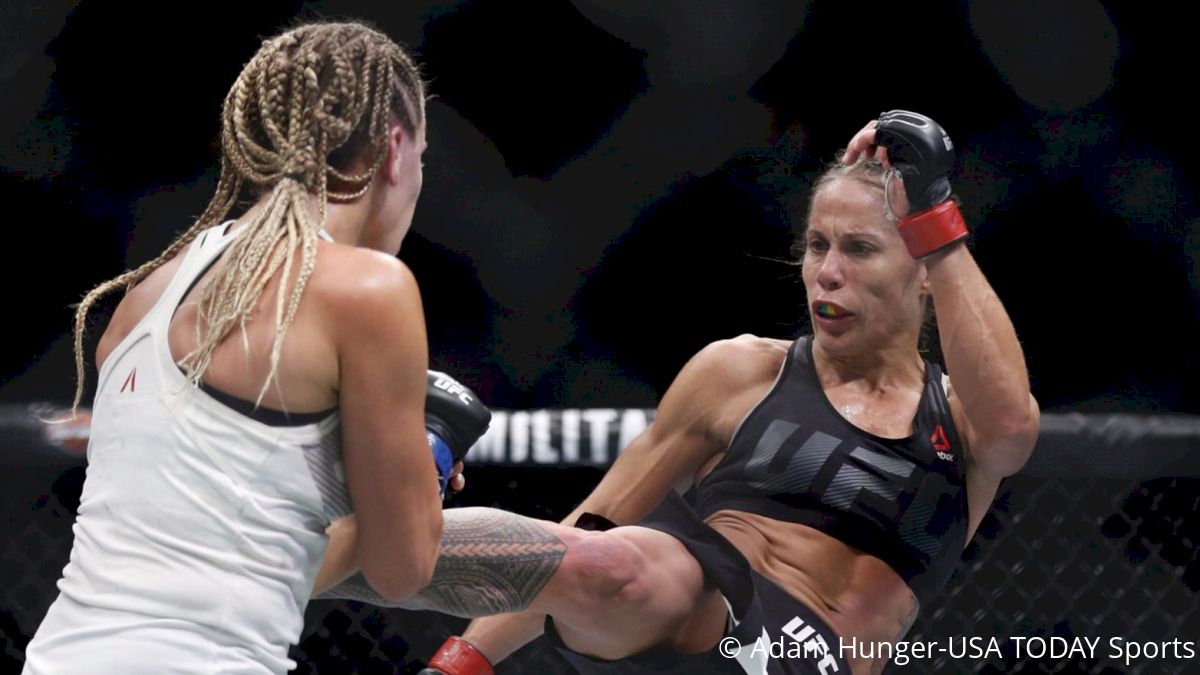 There isn't much Liz Carmouche hasn't done in the UFC's women's bantamweight division. And that's why the "Girlilla" wants to take her talents to unexplored territory.

The divisional staple and former title challenger has faced a who's who of competition in the 135-pound ranks, finding success and adversity at an even clip. Nevertheless, the Team Hurricane Awesome representative has notched back-to-back victories over tough competition and is ready to jump into a new divisional setting.

The only problem standing in her way is the fact the UFC has yet to install a women's flyweight division. Carmouche would love to get that call, and better yet, to be one of the first fighters selected to compete for the 125-pound crown.

Carmouche has been all about making history in her career, and there's only one way she sees to make it again.

"It's going to have to be the first person to win the 125-pound belt and making that history," Carmouche told FloCombat. "If they actually include 125 in the UFC, then having that belt will be the next significant historical marker I can make.

"Every time I do an interview or get the chance to pick [the UFC's] brain I'm constantly lobbying for 125 because I'm so tiny at 135, [so] it just doesn't make sense. In the same turn, 115 pounds is too small so I'm just going to take what they have."

When it comes to the prospect of fighting down a weight class, Carmouche is more than confident she could tear up her competitors. In her own words, she's been fighting up weight for years and has been forced to overcome the size disadvantage in nearly every fight she's competed in during her time with the UFC.

The only thing she wants is a level playing field, and Carmouche is confident she'll get that at flyweight. That said, Carmouche isn't going to wait around for a day that may never come. Instead, she'll just keep on task and stay in search of championship gold.

"I can make 125 no problem," Carmouche said. "Right now I basically just manage to make the weight on fight week, but getting down to 125 I can do easily. If they open that weight class and let me in, I'm confident I can absolutely murder that division.

"I'm just going to keep it moving. The UFC knows to call me if and when that division opens up. I'm in their ear all the time about it. I hope they include 125, but I'm not going to miss an opportunity. A fighter only has so long to have a career, and the longer I sit on the shelf, the less likely it is I'll be able to keep going. I'd rather just stay active instead of waiting a year or two down the road before I can fight again.

"Getting that belt changes everything for me," she added. "I feel having a belt would give me a little more bargaining ground with the UFC as far as things you want to do. If I won the bantamweight belt then I feel like I could go to them and say, 'Open up the 125 division and let me take that belt as well.' If nothing else….let me get this belt to open up that 125-pound division."