Stephen Thompson Lets Tyron Woodley Know the Head Games Won't Work
Stephen Thompson Lets Tyron Woodley Know the Head Games Won't Work
UFC 205 will host three title fights, including Stephen Thompson challenging Tyron Woodley for the UFC welterweight title.
Oct 4, 2016
by Jim Edwards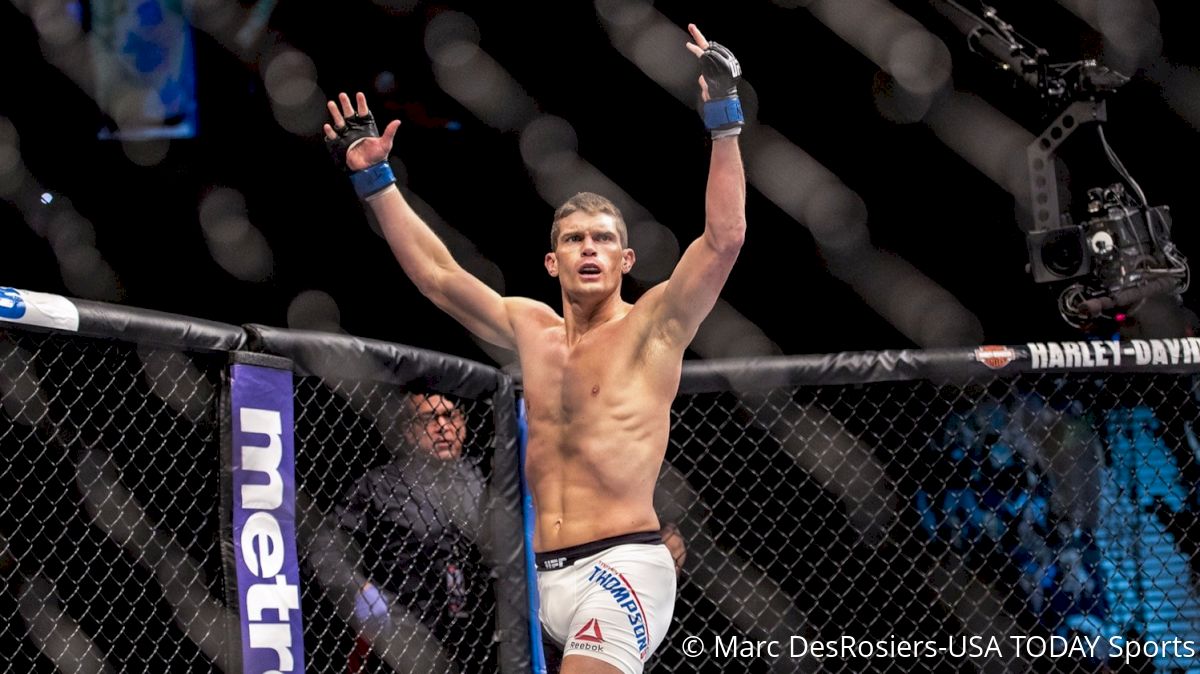 UFC 205
will host three title fights, including Stephen Thompson challenging Tyron Woodley for the UFC welterweight title.
Woodley's preference for a money fight with either Georges St-Pierre or Nick Diaz meant negotiations were never plain sailing, but after a bit of back and forth in the media, the deal finally got done and the date was set for November 12 in Madison Square Garden in New York City.
Last week, the two went on a media tour around New York City together and then locked eyes at the press conference for the first time. Speaking earlier this week, Thompson described what the experience was like.
"During the social media things that we had going on last week, I think he kind of came out and realized that I actually didn't know that we were going to be fighting, that I found out that night, and he kind of backtracked a little bit," Thompson told Submission Radio. "Yeah, everything was cool during last week, during the media. We were talking to each other, shaking hands.
[instagram url="https://www.instagram.com/p/BK4jncVgxJ9/" hide_caption="0"]
"Like I said, it might have been like a scare tactic or something he was trying to do to get in my head. And obviously, I let him know real quick it's not going to work. Looking in his eyes, I don't know if there was a little disappointment there that I saw. I figured that he might've thought that the fans maybe would've had his back.
"He was a little surprised that they were booing him and I could tell that, and I think that's in his head a little bit. But you know what, he's going to be the best Tyron Woodley when he steps in there November 12 and that's the guy that I want to be prepared for."
Having already defeated the likes of Rory MacDonald and Johny Hendricks, Thompson has shown that he can overcome established grapplers. Off the back of those victories, the No. 1 contender is filled with confidence that he can get the job done against Woodley, but he won't be taking him lightly.
"If you look back at his fights, he doesn't throw a double or go for the takedown very often. Tyron wants to put those hands on you and wants to try and knock you out," Thompson said. "I think once he gets a little frustrated, obviously he's going try and do that, just like everybody else that I've faced. I think pretty much the hardest opponent in the division is Rory MacDonald. I mean, Rory pretty much schooled Tyron Woodley.
"But I can't take this guy lightly and that's how I go in looking at this fight. A lot of people are like, 'Oh man, you're gonna crush this dude and Tyron Woodley, he smoked him' and you know what, I don't think like that. I'm not the type of guy to do that. Because I want to prepare for the best guy, and that's Tyron Woodley. That's the guy standing in front of me. I'm preparing myself as if this is going to be the hardest fight that I have ever faced -- and it possibly could be. I want to be ready for five, five-minute rounds."
While showing respect for Woodley's style and physical capabilities, Thompson also maintains he has a lot of respect for the champion outside the Octagon and that he didn't understand why Woodley had ever thought differently.
"I respect Tyron, and for him to say he doesn't respect me as a man, I don't know what I've done to him for him not to respect me," Thompson said. "I don't know if it's the fact that I really didn't know that (we were fighting). He said that the fight was set like weeks and weeks ago, and it wasn't. I think he's just trying to get in my head and it is what it is. I don't care what he thinks of me. I'm just going to go out there and do my thing."