Mike Perry Warns Danny Roberts: 'I'm Going to Kill You, Be Ready to Die'
Mike Perry Warns Danny Roberts: 'I'm Going to Kill You, Be Ready to Die'
Mike "Platinum" Perry exploded onto the UFC scene with a fight week to remember last month at UFC 202.After giving several entertaining interviews, a classi
Sep 22, 2016
by Jim Edwards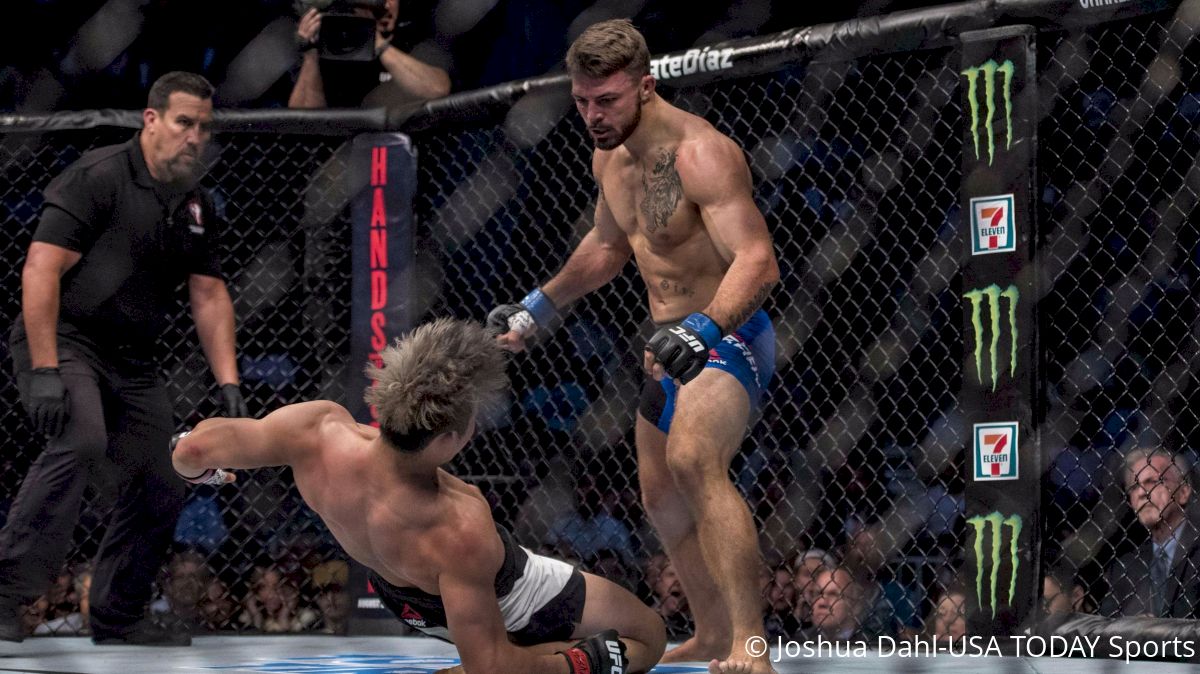 Mike "Platinum" Perry exploded onto the UFC scene with a fight week to remember last month at UFC 202.

After giving several entertaining interviews, a classic weigh-in staredown, and a stunning knockout finish of Hyun Gyu Lim, Perry came away from the highest ever selling UFC pay-per-view of all time as one of the names to watch.

Speaking one month after UFC 202, Perry is enjoying life more than ever and he's chomping at the bit to get back into action and make some more money.

"Rolling the dough, that's what I'm trying to do," Perry said. "I've been fighting for years making little to no money, but now the money is here, I'm ready to just fight, fight, fight. I'm ready."

Perry won't have to wait long for his next outing in the Octagon. He will face British welterweight Danny Roberts at UFC 204 on October 8. Suffice to say, Perry can't wait to get back in there and keep his momentum going.

"I'd never heard of Danny Roberts before," Perry said. "I'm just a big fan of Dan Henderson, so it's an honor for me to be fighting on the same card as him. He's a legend of the sport, and I even took a picture in the back with him after UFC 202.

"They offered me a fight with this guy Roberts, and of course I said yes, because I'm willing to fight any man at 170 pounds."

With just over two weeks left until UFC 204, Perry had a message for Roberts. Perry delivered it after a long pause for contemplation and with a chilling sincerity.

"Man, f**k him," Perry said. "I'm going to kill you; be ready to die."

[instagram url="https://www.instagram.com/p/BKYW3KLBkKO/" hide_caption="0"]


He's done his homework

Despite not having heard of him before, Perry has since done his homework and knows that Roberts has some weapons.

"He's got some finishes and some decisions," Perry said. "He won't have to worry about his cardio though. No one has ever gone 15 minutes with me -- they get knocked out. He can talk all he wants, but the proof is in the pudding.

"I see a few things he's got -- he's a grinder and he's obviously got talent. The thing is though, I'm better everywhere. Wherever it goes I'm comfortable. If it goes to the ground, I will submit him. If it stays on the feet, I will rip his head off his shoulders. I don't get to punch people as much as he does. He hits them with six or seven punches and they stay there in front of him. I hit them with one or two and they fall."


Heading to UK to get a knockout, make fans

While excited to take on Roberts, UFC 204 will offer another exciting experience for Perry, who has never travelled outside of America. Perry knows he may walk into the Octagon as the "bad guy," but he's hoping his performance will win over the home crowd.

"I can't wait to get over [to Manchester] and meet some of the fans," Perry said. "I know I will win them over. I'm going to just do what I do and get the knockout. People may hate me or love me, but the fight will go only one way -- my way.

"I'm looking forward to getting over there to England, getting in the hotel, cutting weight, seeing England -- I love it. I feel so blessed to live a life like this. Danny, as far as I'm concerned, is a traitor to England. He left. He left England, and he came to America to do his training.

"I'm flying out to England to knock him out, but then I'm going home. He ain't fighting for home, he's just fighting for himself. And while I also fight for myself, I fight for many other things that he does not."


Putting the past behind him

Perry has always been open and honest about his life outside of the Octagon and maintains that all his prior difficulties are all now in the past. The American attributes the turnaround in his life to MMA and said that ever since he signed for UFC, life has been nothing but good to him.

"Man, life is so good right now," Perry said. "Signing for the UFC really changed my life and nobody is going to take that away from me. I've been working at this for such a long time. You will have to kill me if you want to take this away from me. My happiness is so important to me, and I will die for it."

[instagram url="https://www.instagram.com/p/BKO57ebhbZQ/" hide_caption="0"]