B.J. Penn Says He Will Finish Ricardo Lamas in Manila
B.J. Penn Says He Will Finish Ricardo Lamas in Manila
One of the true UFC legends of the sport will return when BJ Penn takes on Ricardo Lamas in the main event of UFC Fight Night Manila on Oct. 15.
Sep 19, 2016
by Jim Edwards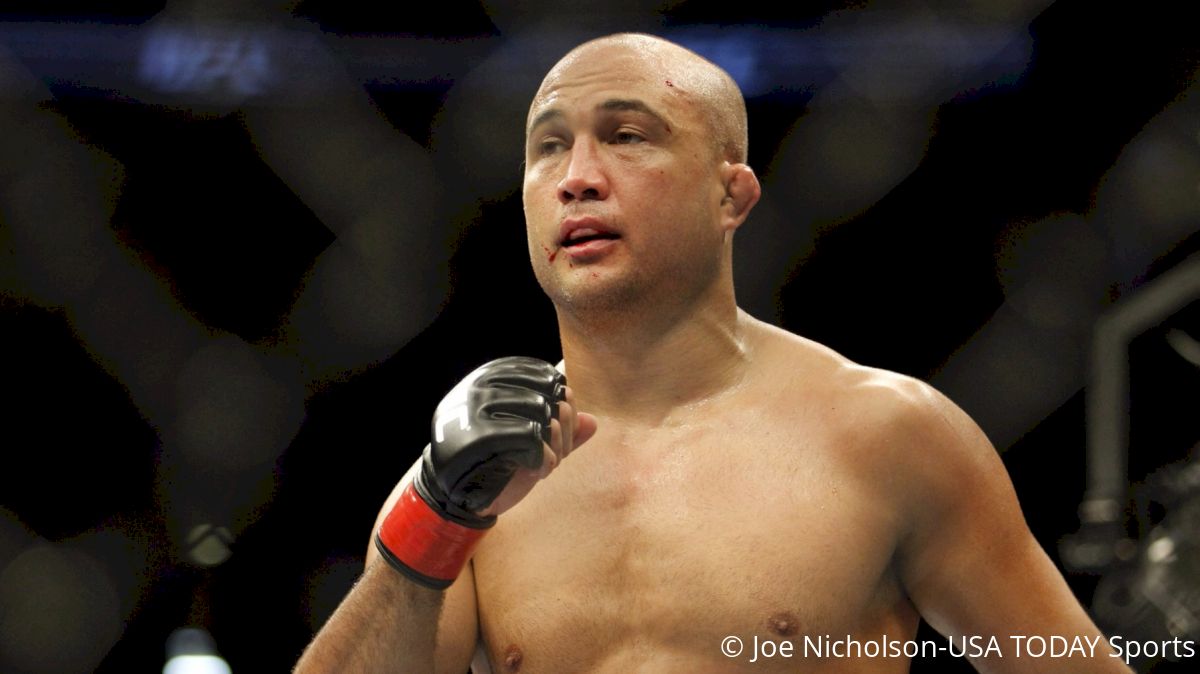 One of the true legends of the sport will return to the UFC Octagon when BJ Penn takes on Ricardo Lamas in the main event of UFC Fight Night Manila on Oct. 15.
Penn's comeback has been much talked about since it was announced earlier this year. While some doubt the Hawaiian can ever return to being anything like his best, the multi-time UFC champion believes he can become the first-ever fighter to be the champion of three different UFC divisions.
"I want to be the 145-pound champion," Penn told
AXS TV
. "That would be an amazing feat and an amazing goal. For me to fight my way to the top of the 145-pound division and to get three belts in three different divisions, I know a lot of people talk about getting belts in different divisions and stuff, but truly I'm the only one hunting this third title. I want to go out there and fight as hard as I can to make a case that I'm a serious contender in this division."
Penn then outlined why he still believes he can still hang with the best inside the Octagon. He alluded to his recent experiences inside the gym with some of the younger, up-and-coming fighters.
"I've had a lot of time to sit down and think about it and think about martial arts and training and different things," Penn said. "You go to the gym and you start training with the young guys and you are like 'Oh really huh? This is what the contenders are like, huh?' You ask yourself 'Why am I not in there fighting? Why am I not in there?' and 'Why aren't I making an honest living and going after those goals that I dreamed about my whole life?'"
'Comfortable' weigh-in
When he makes his return in October, Penn will be fighting for the second time in UFC at featherweight. The Hawaiian explained that at this point in his career, this was a weight he could make easily.
"I feel comfortable -- the last time I made the weight I actually woke up on the day at 143 (pounds) and just wanted to put a little bit of fluids back in the body," Penn said. "I feel comfortable at this weight and time will tell for you guys, but I feel ready for anything.
"In California, I've been working with Jason Parillo. Me and him are no stranger to one another," Penn said. "We've been together a long time and I've been working with him trying to get my striking as crisp as ever and my movement. ... We got one month to turn it up and to turn up the heat. One month to turn it up and get some explosive stuff going. Nothing ever changes, from day one no matter how you look at it, it's a fist fight and you gotta get out there and do something good if you want to win."
Looking to finish
Penn couldn't have been given many tougher tests for his return than Ricardo Lamas, the former title contender and No. 4 ranked man in the division.
"I think Lamas has great kicks and he can move around the ring well," Penn said. "I know he's going to try do that, but I will fight him anywhere you know. I'll fight him standing up. I'll fight him on the ground, I'll take him down. I'm not going to be emotional about any position. Whatever comes will come."
Despite many people saying the task will be too big for him, Penn is adamant he will not only beat Lamas, but he will also do it inside five rounds.
"I'm here to finish Lamas," Penn said. "I'm saying it right here that's what I'm going to do, and that's what I've always been going there to do.
"You are only as good as your last performance and people are going to remember that I lost. Everybody who doubts me -- go take all your money and go put it on Ricardo Lamas. The day before the fight I'm going to go bet on myself, and I'm going to make a lot of money."