Rematch With Dominick Cruz Only Fight on T.J. Dillashaw's Mind
Rematch With Dominick Cruz Only Fight on T.J. Dillashaw's Mind
Former UFC bantamweight champion T.J. Dillashaw has his sights set on a rematch with Dominick Cruz.
Sep 12, 2016
by Jim Edwards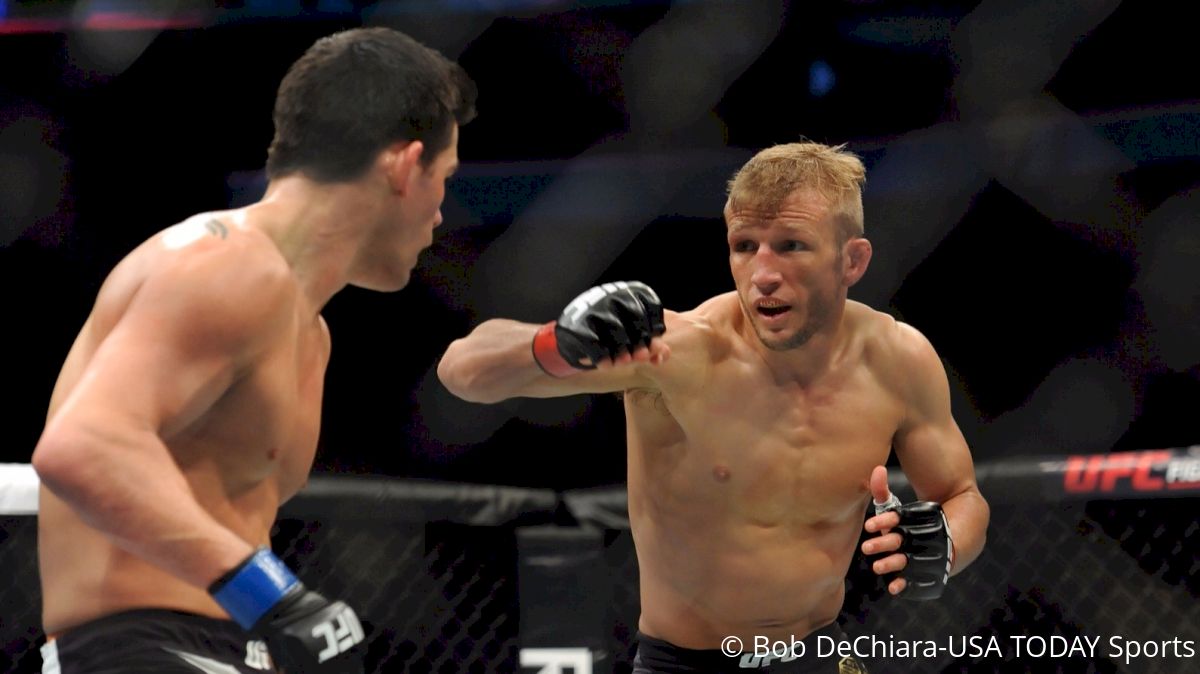 T.J. Dillashaw has his mind set on one thing only and that's reclaiming the UFC's bantamweight title.
Having been overlooked for a title shot rematch last June, Dillashaw went on to avenge a defeat earlier in his career to Rafael Assuncao at UFC 200. Having beaten the number two-ranked fighter in the division, Dillashaw believes he's earned a shot at the champion Dominick Cruz, but he feels that Cruz is now doing anything he can to avoid them meeting again.
"You know, it's funny – so as soon as Cruz was calling out Faber and didn't want to fight me, I understood," Dillashaw told
Submission Radio
. "As soon as that fight was over, Cruz is talking about how he wants to do a super fight against Aldo. Well, Aldo wants McGregor, so that's not going to happen. Then he was saying he wants to do a super fight against Demetrious. But Demetrious was hurt and already had a fight lined up, so he couldn't do that either.
"So if he couldn't run away from the weight class and not fight me, what's he going to do? Jump to number eight? Would he rather fight the number eight-ranked guy instead of fighting the guy he should fight? He doesn't want to fight me, man."
Dillashaw believes Cruz doesn't want to fight him because he wants to maximize his time as the champion. The former champion however, believes it's just a matter of time before the two meet again and he reclaims his title though.
"He knows how tough that first fight was and he knows that I have a legitimate chance at kicking his ass,"Dillashaw said. "He just doesn't want that to happen. He wants to try to make as much money as he can, while he can and stay on top. But I'm motivated now more than ever to get my belt back and he knows that, man. I'm coming for it."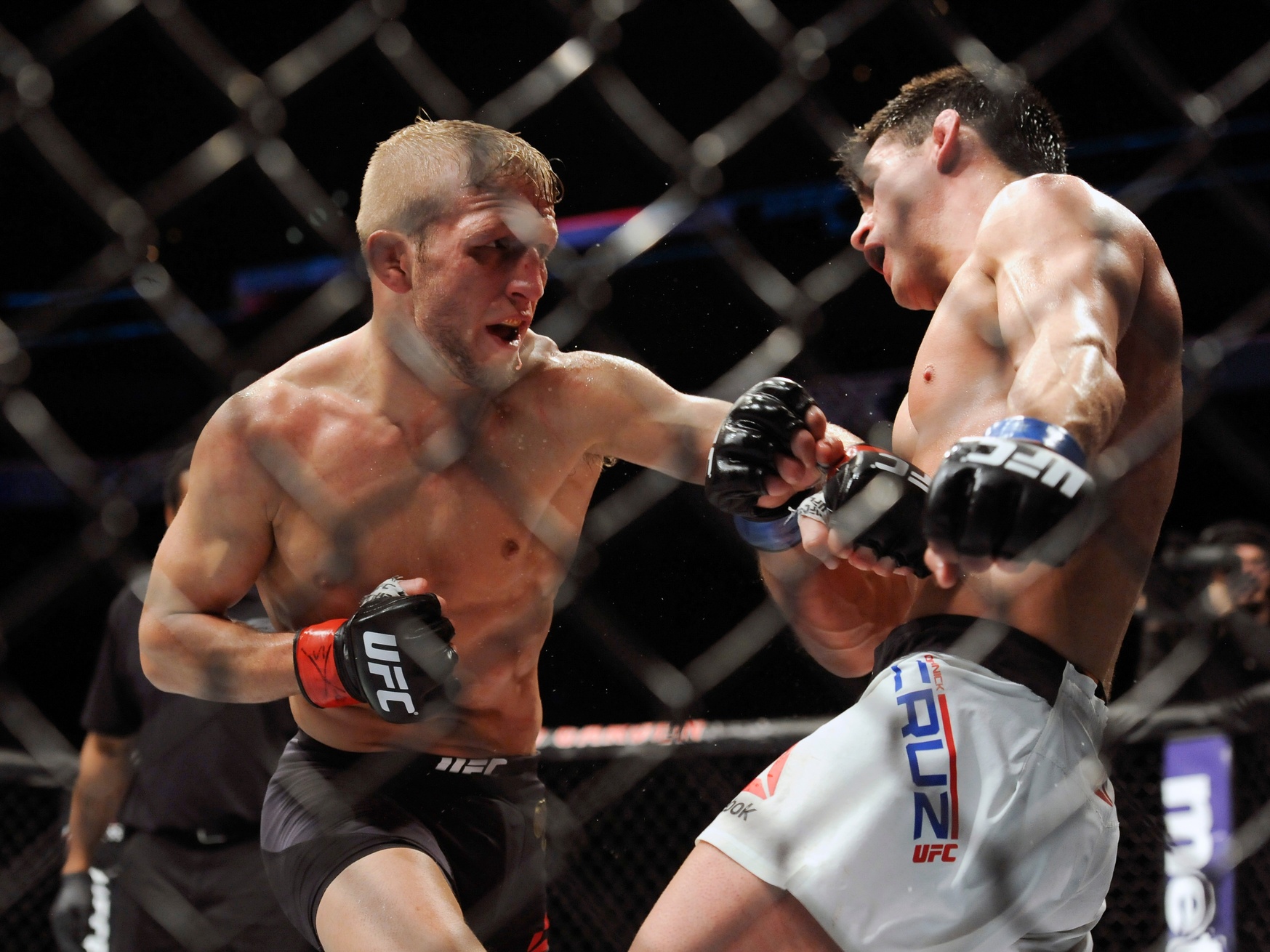 Jan 17, 2016; Boston, MA, USA; TJ Dillashaw (red) punches Dominick Cruz (blue) during a world bantamweight championship bout at UFC Fight Night at the TD Garden. Mandatory Credit: Bob DeChiara-USA TODAY Sports
While Dillashaw believes he's rightfully the number one in line for the title shot, he's aware that he will face stiff competition from his former Team Alpha Male teammate Cody Garbrandt, who has also recently been talked about in the title picture.
"So I think that's the biggest thing that worries me the most," Dillashaw said in regards to Garbrandt getting the next shout. "He [Cruz] is going to do as much trash talk as he can to try and entice people to want this Garbrandt fight so that he can try to stay on top. He knows he's going to be able to take Garbrandt apart as well too.
"That guy [Garbrandt] is a little bit too flat footed for Cruz. Cruz knows what he's doing. He's smart, man. He gets under people's skin; he picks the fights that he wants. I mean, he just got to fight Urijah Faber, made him look like a fool, and he knew that fight was going to go that way when he should have been fighting me instead."
If he is going to miss out on the next title shot, Dillashaw made it known that he'd only consider a return to action if it was an interim title fight.
"The only way I'm going to take another fight is if it is for the interim title because Cruz can't come back,"Dillashaw said. "If Cruz is healthy, that's the only fight I want. If for some reason they're going to give up an interim belt, then yeah, I mean, I'll fight and I don't care who it is. The thing is, I just want my belt back."