Richard Perez Reveals the Extent of Nate Diaz's Injuries at UFC 202
Richard Perez Reveals the Extent of Nate Diaz's Injuries at UFC 202
UFC superstar Nate Diaz's striking coach Richard Perez sheds light on his fighter's injuries going into UFC 202
Sep 6, 2016
by Jim Edwards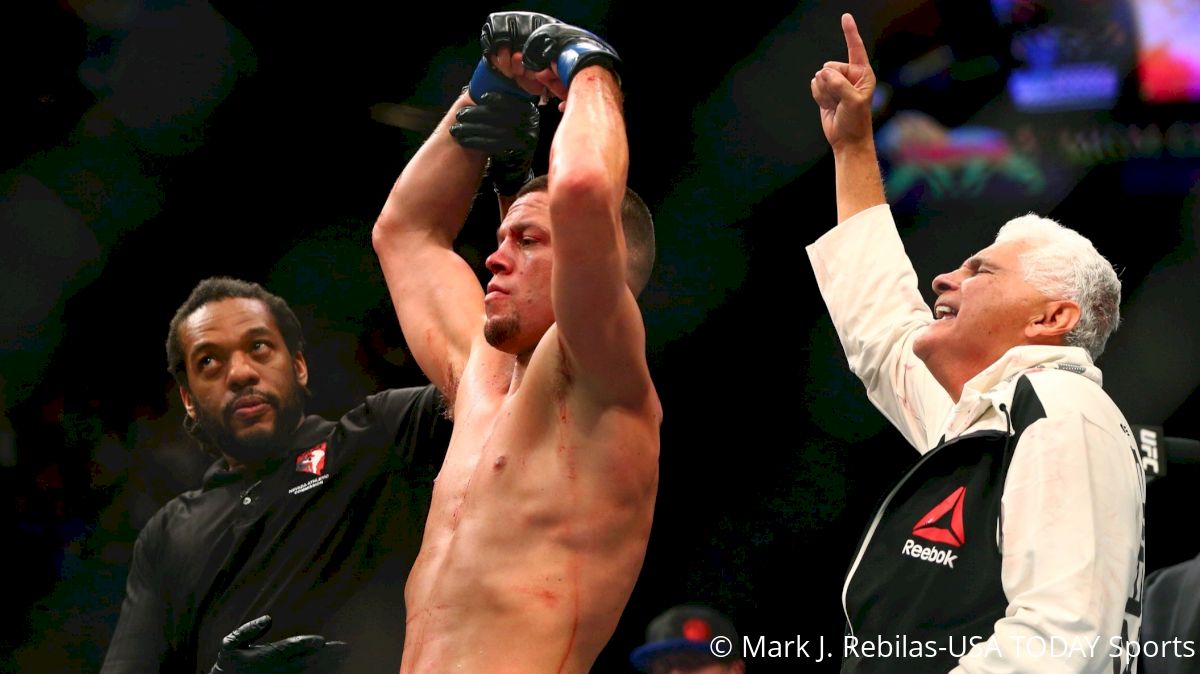 Weeks have passed since UFC 202, but people are still talking about the intricacies of McGregor versus Diaz II and what might have been.
Speaking to
Submission Radio
earlier this week, Diaz's boxing coach Richard Perez spoke in detail about one of the issues still be widely debated--the physical fitness of Nate Diaz. Perez revealed the extent of the American's injuries, and how he thought the fight would've gone differently had he not been hurt.
"Oh they were bad—the knee was bad and the ribs were bad," Perez said. "With his knee he just couldn't run. When it got a little better he started to want to do sparring and he wasn't in shape because he wasn't doing much. He worked a little bit on the mitts and he did a little bit of sparring and he got better and better, but when we got Sanchez in there they went a good four hard rounds and he was doing real good, but he got a little tired and then that's when Sanchez caught him in the rib.
"That then put him out for a while. He can't back out of a fight--if he hadn't been injured, you know McGregor would've got stopped and he wouldn't have been hit so much in the first round because he was really sharp and he was sparring with guys McGregor's size and whooping on them.
"That's why I know it wouldn't happen that way, but it did. It came out the best fight of the night, but he got cut and if there had been another 30-seconds he would've tapped him out—McGregor was ready to go anyway."
Diaz also mentioned during the post-fight presser that he felt his preparations were worse than when he was called up to fight on just eleven days notice for the first fight back at UFC 196 in March. Perez certainly was disagreeing with his student.
"The nine days we really trained [for the first fight] he went all out and he wasn't injured," Perez said. "It was good just trying to get in shape and he did get in a little shape than he was then [UFC 202]. He was in good shape the second time, but then he got the injury with the knee so it set him back."
"He couldn't almost train the last three weeks before the fight," he added. "That sets you back—way back. The other one [UFC 196] he was training all the way through to the fight. That makes a difference."
Perez was asked whether he spoke to Diaz about ever pulling out the fight because of the injuries. As you would expect he said that was never going to happen.
"No," Perez said laughing. "I've said that before and he said 'Richard we can't do that—they will put me to the side. I have to fight'. It makes sense though you know. If he'd said he can't do it like dos Anjos then they would've rebooked him [McGregor] and then he [Diaz] wouldn't have got that shot again.
"I think he did good—I thought he won three, four and five. I went back home and watched it again and I thought he beat him. You can't win a round by running. Sure McGregor threw a lot of kicks in the first round. Second round I give to McGregor, but three, four and five no."
Perez also said that he knew the fight would always be scored for McGregor if it went to the judges because of the commercial value a third fight would represent. He does however, believe the rubber match will be the biggest UFC fight of all time.
"I knew they were going to give it to McGregor," Perez said. "I knew that at the end when Nate asked me that they were going to give it to McGregor because I figured they wanted that third fight. I felt that McGregor didn't win that fight—a lot of people know that. I thought that they did give it to him so they can have the third. This time, it will be at 155 pounds, which is better for Nathan, but we don't know yet. I hope it happens."
"In the cage I said they are probably going to give it to him because I figured that they probably wanted that third fight that everybody wants to see. They don't realize Nathan was hurt, but still Nathan made a great fight out it. Being out of shape, he made a great fight out of it."