Stephen Thompson: St-Pierre Didn't Ask to Fight Me Because of Friendship
Stephen Thompson: St-Pierre Didn't Ask to Fight Me Because of Friendship
UFC welterweight contender Stephen Thompson may get bumped from title shot by the return of Georges St-Pierre
Sep 5, 2016
by Jim Edwards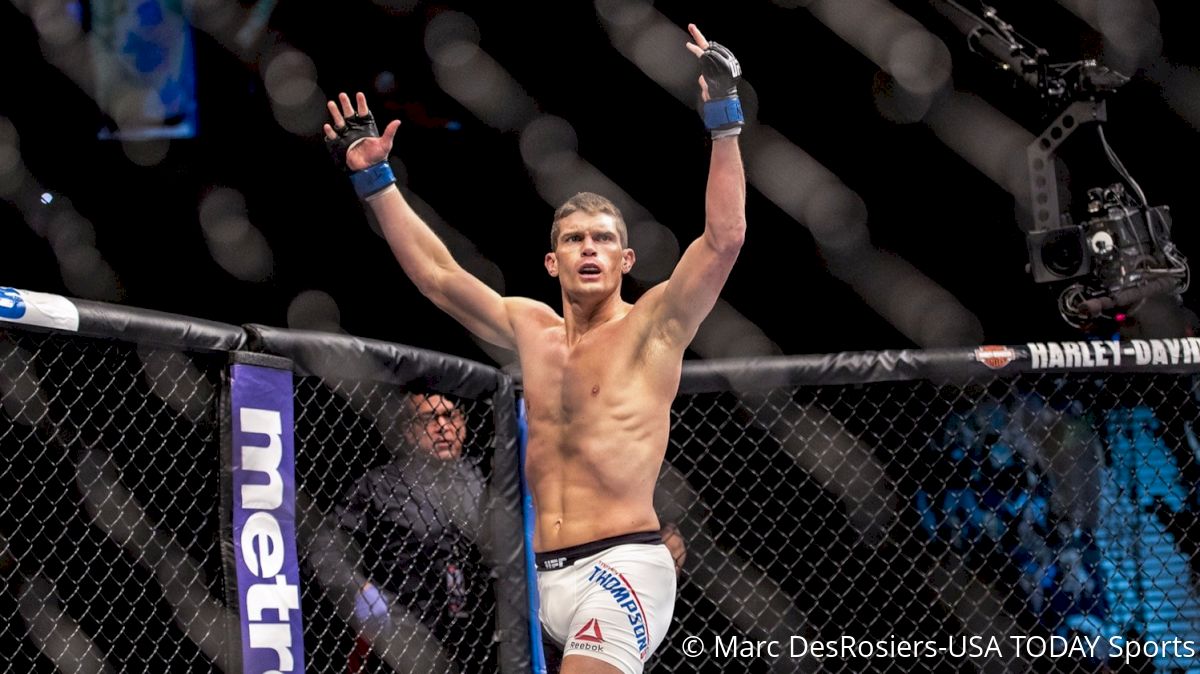 The UFC welterweight title picture seemingly gets more complicated by the day.
The No. 1 contender, Stephen Thompson, is currently awaiting to hear from the UFC as to whether he will get the next shot at the champion Tyron Woodley. As the days go by though, more and more names seem to be thrown into the equation. George St-Pierre is the latest man to signify his interest in a showdown with the champion.
Having previously said he would be willing to fight someone else if he was overlooked for the next title shot, Thompson explained his reasoning to
Submission Radio
earlier this week.
"They know that I really deserve that shot," Thompson said. "This was only really said if they did overlook me. I'm not going to sit back and wait a year like some people were doing before. I'm a fighter, man, that's what I do. I'm not going to sit there and stay back and wait for things to happen. You got to stay relevant in this game and I just love to fight. That's what I've been doing for a very long time.
"I was never the trash talker or the bully that was going to bully someone into fighting me or anything. I got 600 kids here in Simpsonville that look up to me and they watch every move I make out there on social media, on TV, on FS1 and the fights. I just want to be a good role model for them and I've worked very hard to get where I'm at and I deserve that fight."
"Me answering that, It's the truth man. I think they are crazy if they don't give me this fight," he continued. "I want to thank all the fans out there who have been backing me up. UFC fans out there have been like 'Give it to Stephen 'Wonderboy' Thompson—he deserves it. He should get the next shot. He should be fighting for the title now."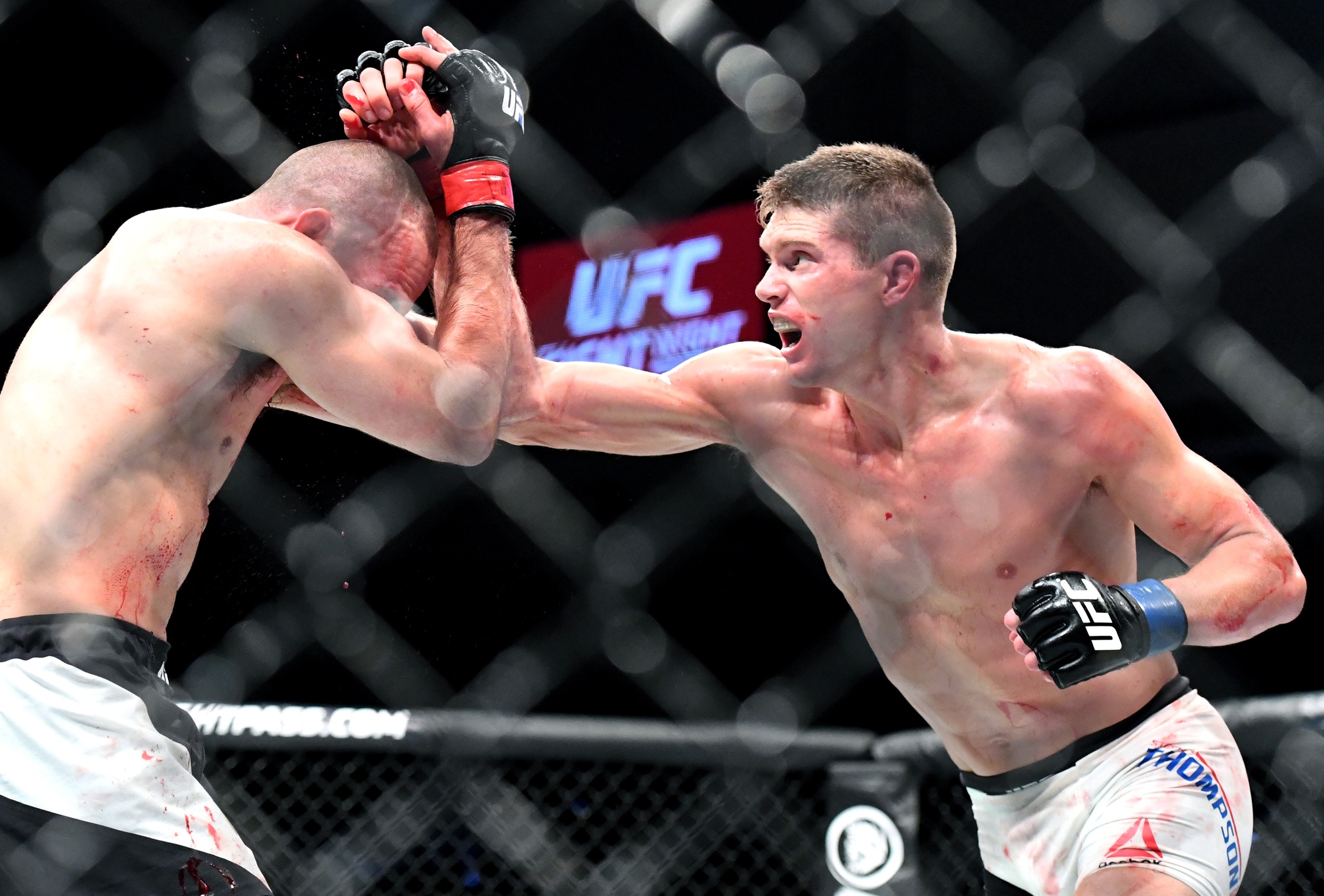 Jun 18, 2016; Ottawa, Ontario, Canada;(EDITORS NOTE: GRAPHIC CONTENT) Stephen Thompson (blue gloves) fights Rory MacDonald (red gloves) in the fifth round of a welterweight bout during UFC Fight Night at TD Place Arena. Mandatory Credit: Marc DesRosiers-USA TODAY Sports
Thompson then spoke about whether he was concerned with the prospect of St-Pierre scooping him for a title shot. The surging welterweight said that it had crossed his mind, but that he wasn't getting overly concerned with it just yet.
"For a big name like that to come out and say that, yeah it does," Thompson. "Does Tyron want to wait that long—UFC 206 is in December?
"I don't know if they are still going through negotiations with Georges or not. We are just waiting on Dana to know what the deal is. You know what—it doesn't bother me that much. When I heard it I was like 'Man could this really happen?'. Whenever it happened and it cut off I looked at my Dad and I was like—could this really happen? We were like 'Na' it's happening.
"It kinda jabs at you a little bit, but like I said, I'm set for facing Tyron Woodley. That's what Dana White said and that's what I'm going for."
In the same interview where St-Pierre announced his desire to return, the Canadian failed to mention Thompson as an opponent he would like to come back and face. Thompson believes that this was due to the friendship the two have.
"This is just me thinking—it's because we do have a relationship," Thompson said. "He was my inspiration for starting MMA in the first place. Going up there and training with Firas Zahabi, George, Rory, and those guys up there--they were the reason why I am in the game. We do have a relationship and he knows that he was the reason why I stepped out there.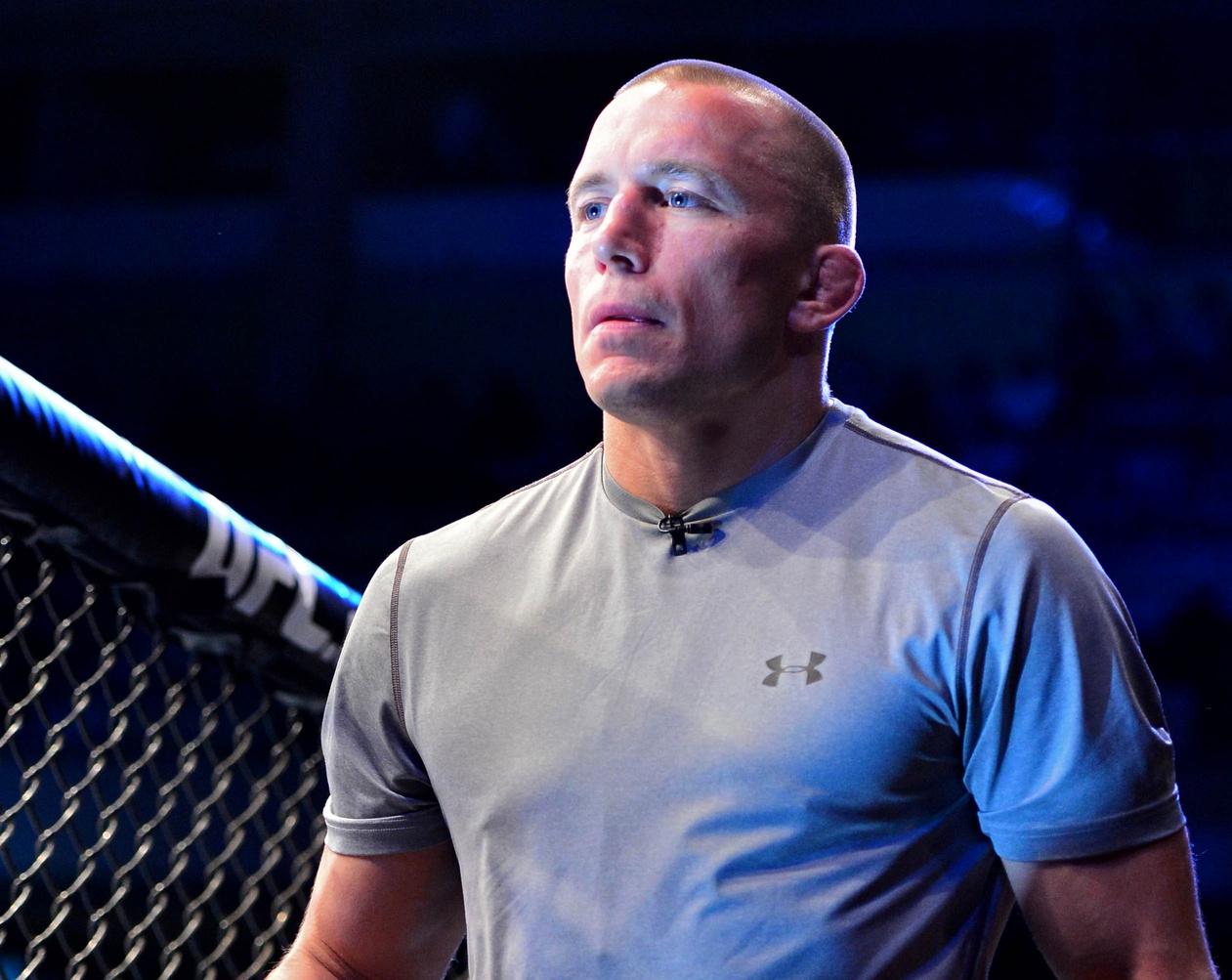 Feb 15, 2014; Jaragua do Sul, SC, Brazil; Georges St-Pierre before a fight between Ronaldo Souza (red gloves) and Francis Carmont (blue gloves) during UFC Fight Night Machida vs Mousasi at Arena Jaragua. Mandatory Credit: Jason Silva-USA TODAY Sports
"I think it's just a friendship thing. I don't think he would've faced Rory MacDonald either. I do believe that so I didn't really sit and say 'Why didn't he call my name?'. I knew why he didn't call it and it's because we have a relationship I believe."
Should St-Pierre go on to win the belt though, Thompson said he wouldn't rule out the idea altogether of fighting him and that it was just the nature of the game.
"That's the way it goes, man," Thompson said. "I'll probably call him first, like, hey man, what's going on son? What's going on? You know that I'm after this title belt? I think we'd have a good conversation. But yes, yeah man. For him to actually say he's going for the title and knowing that I'm going through the same thing – okay. That's just the way it goes sometimes. I wouldn't want to, like I said, but sometimes you gotta do what you gotta do."