Conor McGregor vs. Floyd Mayweather: The Impossible Becomes Reality--Again
In the world of mixed martial arts, there's only one Conor McGregor.
 
The brash-talking, quick-witted, dynamite-left-handed Irishman arrived on the UFC's shores in 2013 with a self-crafted prophecy he'd have the most successful promotion in MMA in a choke hold before long. The Dublin native was scrappy as hell and with solid standup skills to boot, but two losses by way of submission before he ever reached the UFC?
 
It all seemed a bit far-fetched--until it didn't--and by the time the doubters and/or haters could right their stances, the McGregor phenom was well into the stratosphere. The SBG Ireland product rolled through the featherweight ranks like a force of nature en route to a destination showdown with long-reigning king Jose Aldo.
 
Many believed, this writer among them, the McGregor train would halt and reality would settle in once the smoke had cleared against the only man to ever hold the UFC's 145-pound strap because there's an ebb to every tide no matter how strong. Nope. Thirteen seconds, a one-hitter quitter and "King Conor" was crowned.


 
In all fairness that aforementioned ebb would arrive in the form of one of Stockton's finest sons in the next bit of run through, but even when Nate Diaz submitted McGregor in their highly-publicized tilt at UFC 196, there was something different happening in the aftermath. For all the doubters, haters, critics and the like McGregor had acquired along his climb, there wasn't much to say when he made the walk backstage, washed off the blood and sweat, suited up in his finely tailored suit and faced the music.

Even less to say when he bounced out a few months later and edged Diaz at UFC 202 in the distance. But that's sure enough McGregor--a man difficult to categorize by any measure.
 
Rather than defend the featherweight belt, McGregor decided to jump up in weight and face lightweight titleholder Eddie Alvarez in a champion versus champion showdown at UFC 205. Not only was the chance to become a two-division champion a historic opportunity, but to main event the promotion's official debut in the most historic combat sports venue on the planet? That's how Conor McGregor rolls.
 
And he certainly made the most of it.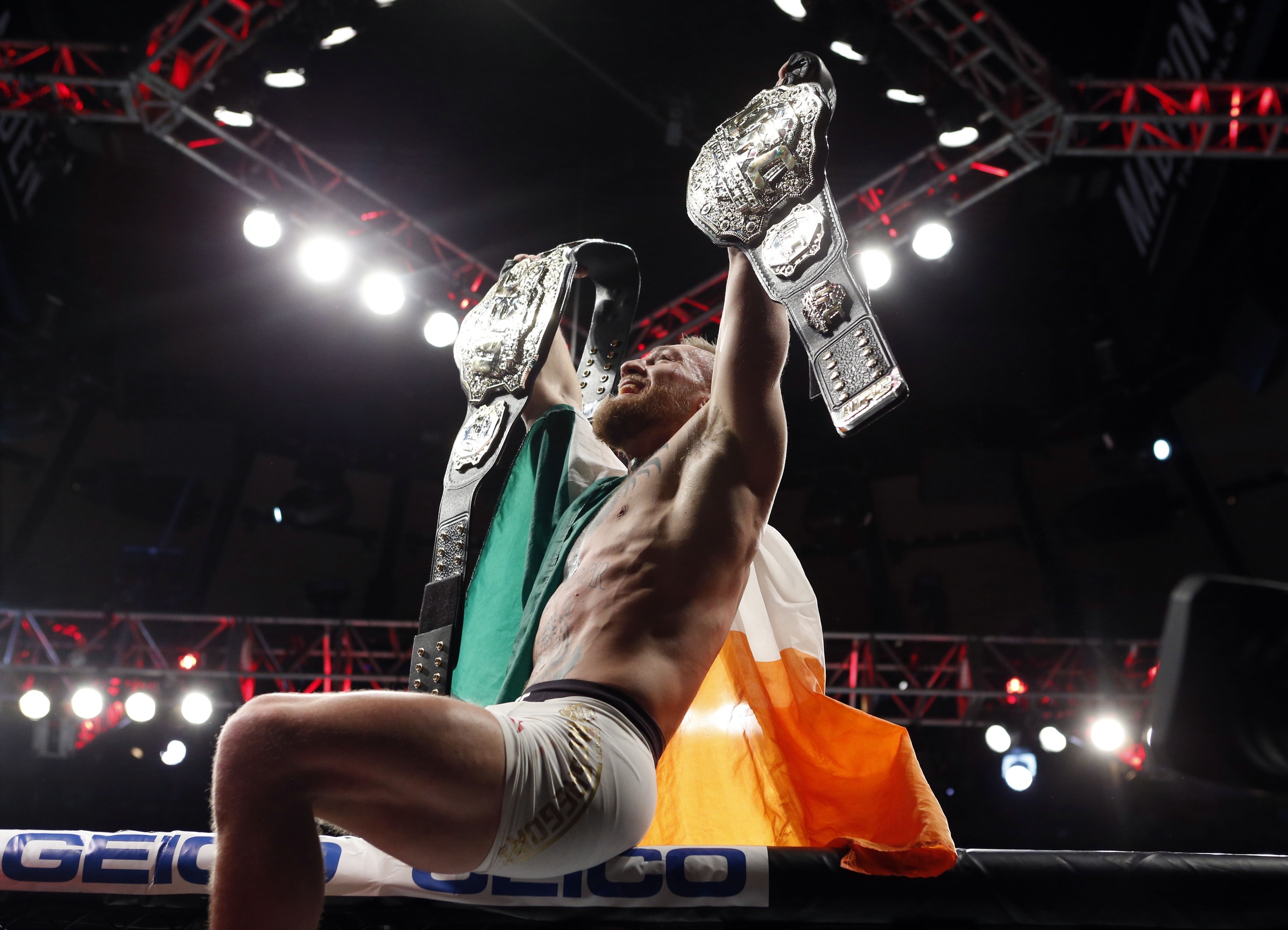 Photo Credit: © Adam Hunger-USA TODAY Sports 

McGregor battered and drubbed Alvarez in a one-sided thrashing and hoisted two titles like it was all meant to be--because it was and always had been that way in his mind. Yet, before the buzz on his accomplishments could fade out, McGregor announced he was taking time off to welcome his first child into the world and take a much needed break.
 
And just like that, Conor was gone. The fight game fell still without him.
 
As time went by, we received glances at what McGregor had been getting up to, whether tree house jams in the early morning hours of a several-day bender, or graciously showing candid looks at his infant son on Instagram, and it became clear his starpower wasn't fading in his absence...it was only growing.
 
It was also during his hiatus when talks of a long-rumored and highly speculative showdown with pound-for-pound boxing great Floyd Mayweather would be his next go in the combative realm, but even that--a boxing match against the best boxer of the past generation and arguably the best defensive boxer of all time--seemed more than McGregor could pull.
 
It seemed that way until it didn't, and on Wednesday afternoon it all became real.


 
Mayweather promotions and the UFC announced a mega-fight between boxing champion Mayweather and MMA's king McGregor for August 26 in Las Vegas. A collision course of two sports--and their top draws to boot--in a fight that will surely yield McGregor enough money where money is no longer a concern.
 
From being on country-issued welfare to a reported $100 million payday in five years is a move not even "Money" Mayweather himself can claim. Oh bet your bottom dollar a hard-knock upbringing that traipsed Michigan winters and bare-bones stint in New Jersey brought up the prodigal son from a family of pugilists to become the reigning king of the sweet science. He's also a millionaire several hundred times over.
 
Yet and still, Mayweather's accomplishment came on a platform where money had been proven to be there for the taking as long as you could swim with the sharks and take it. And Mayweather has done so year after year since he defeated Oscar De La Hoya in 2007.
 
That's a decade-long run of raking in money hand over fist, turning back the best in the world with relative ease. Furthermore those sums Mayweather has acquired will never be seen in the MMA world. Ever.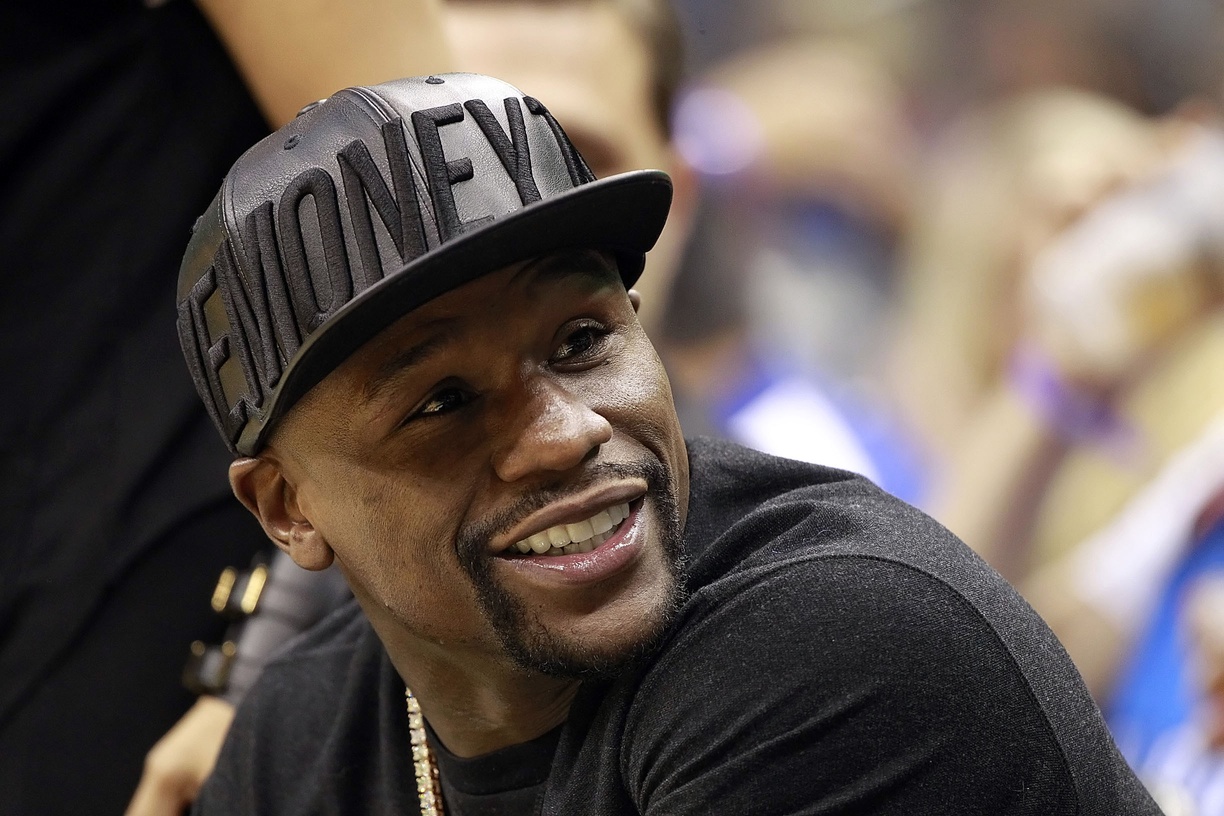 Oct 30, 2015; Orlando, FL, USA; American professional boxer Floyd Mayweather Jr. watches the Oklahoma City Thunder and Orlando Magic during the second quarter at Amway Center. Mandatory Credit: Kim Klement-USA TODAY Sports 

Yet McGregor will see them and that's a fitting turn for a man who shouted his destiny to anyone who would listen from the moment he arrived.
 
McGregor will have the opportunity to walk away from the most unforgiving game on the planet young, rich and with his senses about him. And while I'm not sure "The American Dream" is a real thing anymore, whatever McGregor found in the United States is a distant evolutionary relative of that thing so many of his countrymen and women, my ancestors included, came to America to find.
 
UFC commentator and podcasting icon Joe Rogan once infamously labeled Ronda Rousey as a "Once in human history" type of fighter during her run to stardom in the women's bantamweight ranks. That proved false in a big way, twice over in fact, but I'm not sure Mr. Rogan wasn't onto something with that label. Furthermore, I believe he's off with the number as well.
 
Boxing had Muhammad Ali who will forever sit as the king of showmanship and skill inside the ring, and for the past 21 years, Mayweather has worked to become the sport's biggest star.
 
McGregor didn't have that predecessor in mixed martial arts, yet it's obvious he's taken from the two boxing greats to create his own hybrid style of hype and follow through, which has led him to the biggest payday anyone in MMA will ever see.
 
That's a remarkable feat, but McGregor is prone to such things.
 
On August 26 in Las Vegas the Irishman will step into a fight he has little chance of winning--and rightfully so--as he'll face a slick and agile boxer in that fighter's world. McGregor will have to put his power on a fighter who is famous for not letting opponent's power find a home, and he'll get outclassed every step of the way.
 
But he'll walk away a very rich man, and to that I salute.
 
This is an unforgiving game, brutal in nature and aftermath, and for a fighter to find fortune in that chaos at a young age is a great thing. So many don't and haven't, but there's only one Conor McGregor.