Event Hub
Dustin Poirier: Inside The Circle Where It Matters
Dustin Poirier's evolution through the fight game has taken place in the public eye since he stepped foot in the WEC cage, and his progress has been well-documented through film and highlight reels alike.

At 21 years old, the Louisiana native hit bigger stages in 2010 and has spent the past eight years leveling opposition and scrapping his way up multiple divisional ladders. And while there have been setbacks and adversities to overcome, the bounce back has always been part of what makes Poirier who he is.

The hard-knock struggle forged resilience inside of Poirier, and he's found a way to capture that internal fire to use at will. What used to break loose and produce either a memorable finish or become his undoing is now in his control, and that particular word is at the center of Poirier's world heading into his showdown with Eddie Alvarez at UFC 211 in Dallas on May 13.

Simply put: Whatever falls within his control represents the elements he nurtures with time, sweat and sacrifices. Everything else is just everything else.

"In the past I've gotten worked up with rankings, where I'm at on the card, implications if I win the fight, but none of that matters without the fight," Poirier told FloCombat in an exclusive interview. "That's what I'm focused on, and everything else comes after and is out of my control. That's a big thing I've done these past two camps is keeping anything I can't control out of my mind. I don't think about them and don't worry about them.

"At the beginning of camp I draw a circle on paper and inside of that circle I write the things that can be done, strengthened and grown with work, and that's what I put my energy into and focus on. I also list everything outside the circle that's beyond my control that can have an effect on me but still has nothing to do with me.

"What's Eddie doing? What do fans think? What happens if I win this fight? What happens if I lose? All of those things are beyond my control and I've recognized them as such. I put them out of my mind when I went into camp and haven't thought about them a bit since."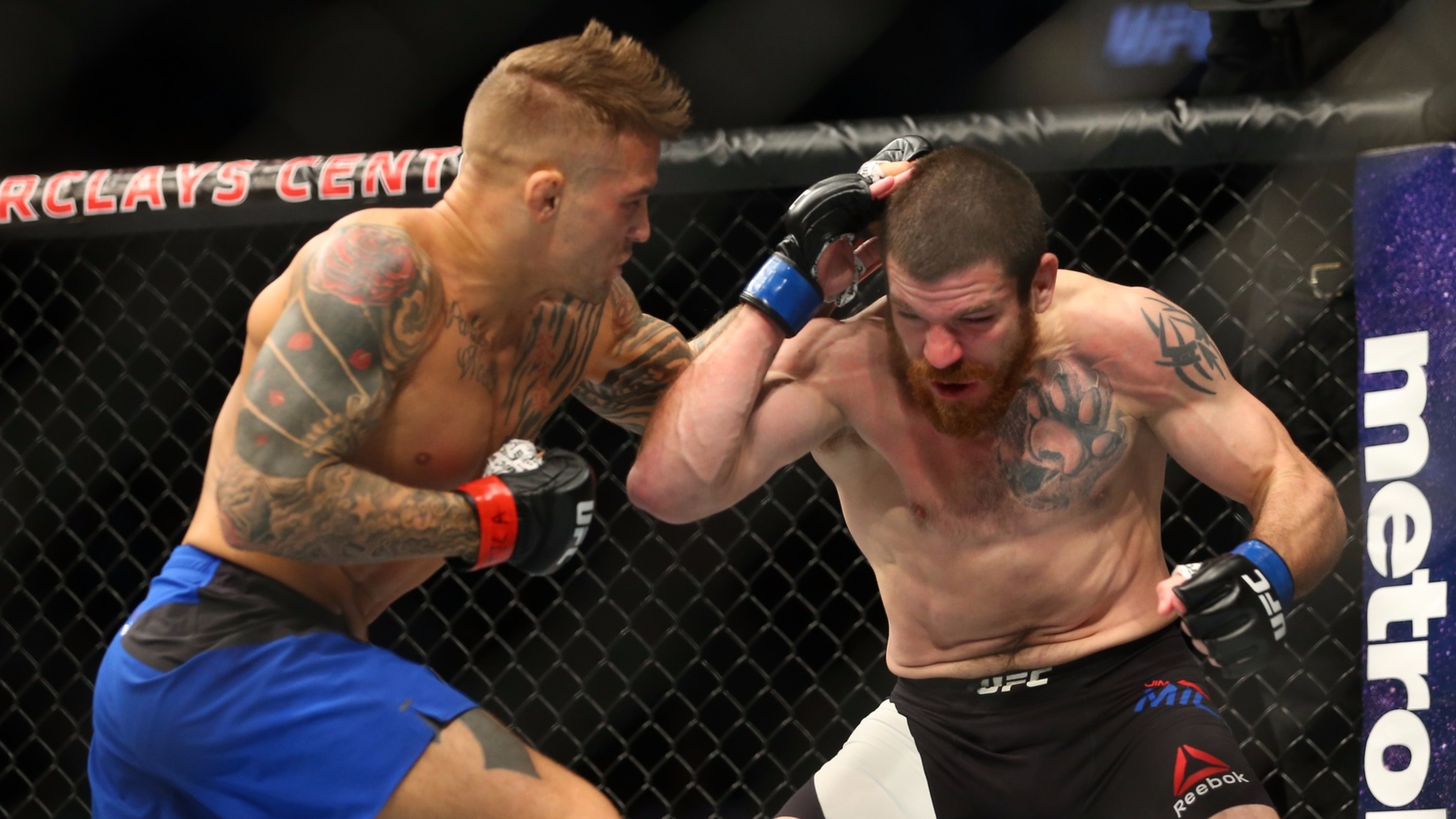 Photo Credit: © Ed Mulholland-USA TODAY Sports

While Poirier's skill has been on display and recognizable since his first fight in the big leagues, the raw emotion that used to fuel his earlier fights had to be tempered. Poirier would look at perfect camps and game plans gone wrong inside the cage, and through intense self-scrutiny, realized his vision continued to get blurred once the primal instincts fired up.

Going into his most recent fight with Jim Miller and now as he prepares to face the former champion, there is a zen in Poirier's world. He's found a way to balance the fire and ice of competing under the bright lights and he's done so through education.

"I'm focused, and this isn't my first rodeo," Poirier said. "I've been getting ready with my coaches and my team. I have Yves Edwards here with me finishing up camp and working on my Thug-jitsu.

"[I'm] visualizing the fight and preparing myself to perform and be the best I've ever been in the moment, but at the same time, experience is playing a big part in this camp for me. I'm doing everything I can do every day to prepare my body and mind. I'm preparing my skill set and pushing everything to the limit. I know if I cover all of those bases the only thing I have to do is perform.

"I'm focused on the work right now. I'm confident of my skills, and I know if I show up, be in the moment and take advantage of every opportunity...I'm walking out of that fight with my hand raised."

Although Poirier admits he's aware of what Alvarez will bring to the table, he's also quick to stress there is no big, technical game plan ahead of their bout at UFC 211. That said, there's one avenue he's fond of seeking out--but assured he won't be traveling in Dallas.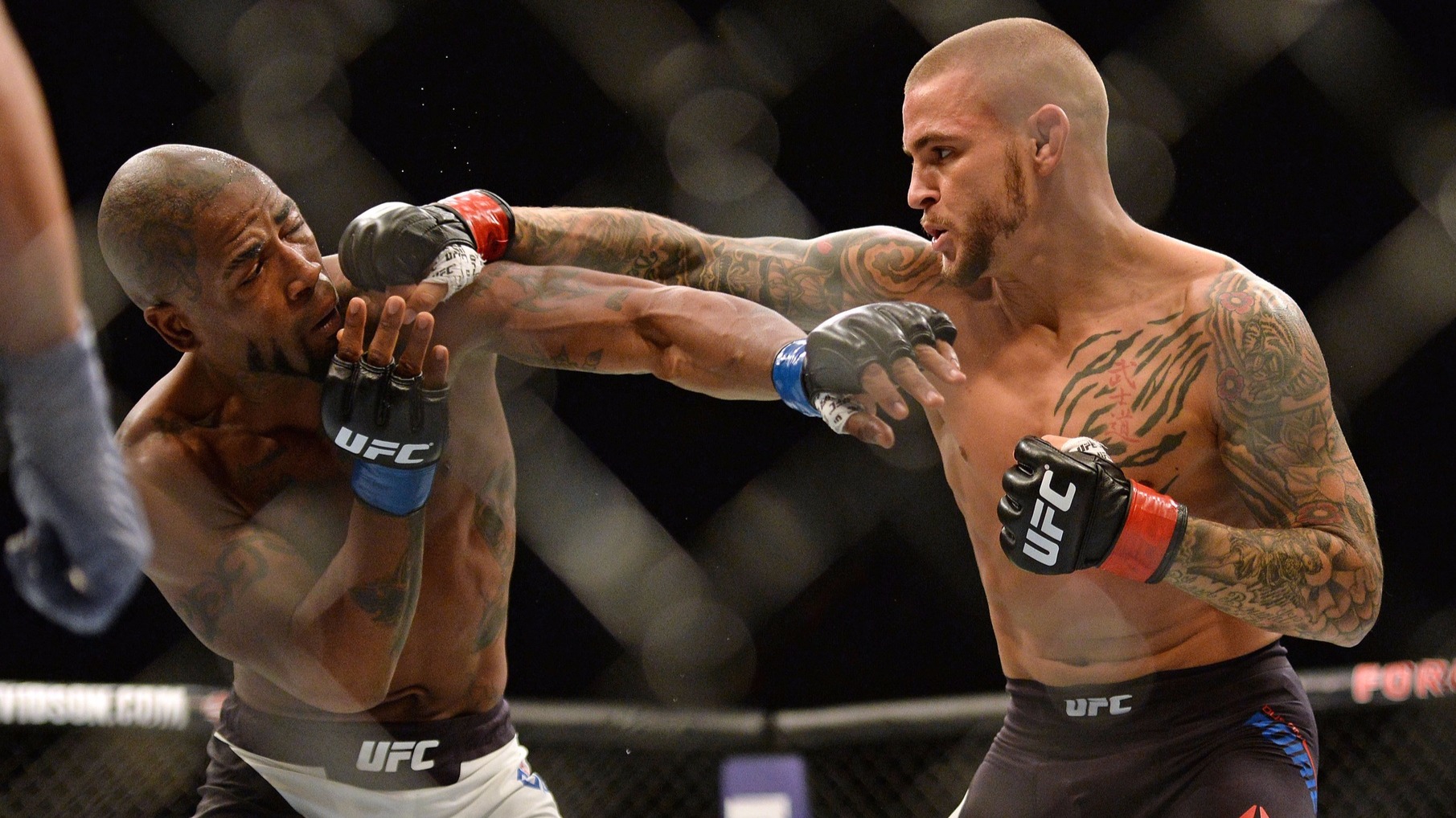 Photo Credit: © Jake Roth USATODAY

"I'm going to avoid the brawl, because while I absolutely enjoy that, it's also the only way Eddie has to win this fight," Poirier said. "Making it a brawl, closing his eyes and throwing a punch and landing a shot that would hurt me or something, so why go to that level and even out the playing field?

"At the same time, it's a roll of the dice for both of us. If I land, he goes down as well. Knowing that, I'm going to try to stay outside and use my skills, but there's no doubt in my mind we are going to end up giving the fans a show."

Poirier has invested the work to ensure his skills will be razor-sharp May 13, and has kept the light shining where it needs to be during the rigors of camp. He's done the multiple sessions daily and bounced back to run it through again day after day. In the process of his progressions, he's not thinking about Alvarez or lightweight title pictures, only the work directly in front of him.

"I have no clue what Eddie is going to do, and I'm fine with that," Poirier said. "I've seen him go out and try to strike with guys, but I've also seen him wrestle guys as well. I'm not sure what he's bringing but I'll be ready for anything. I can wrestle. I can box. My jiu-jitsu is strong and so is my kickboxing. I'm strong anywhere it could go.

"I think Eddie is actually going to be surprised with my wrestling if he wants to try to go that route. It will also set up my jiu-jitsu as well. He's going to have to watch his neck if he tries to wrestle and plenty more if it hits the ground. I feel dangerous, man. I feel I'm a threat in all aspects.

"These hands are heavy and so are these hips," he added. "I'm ready to fight."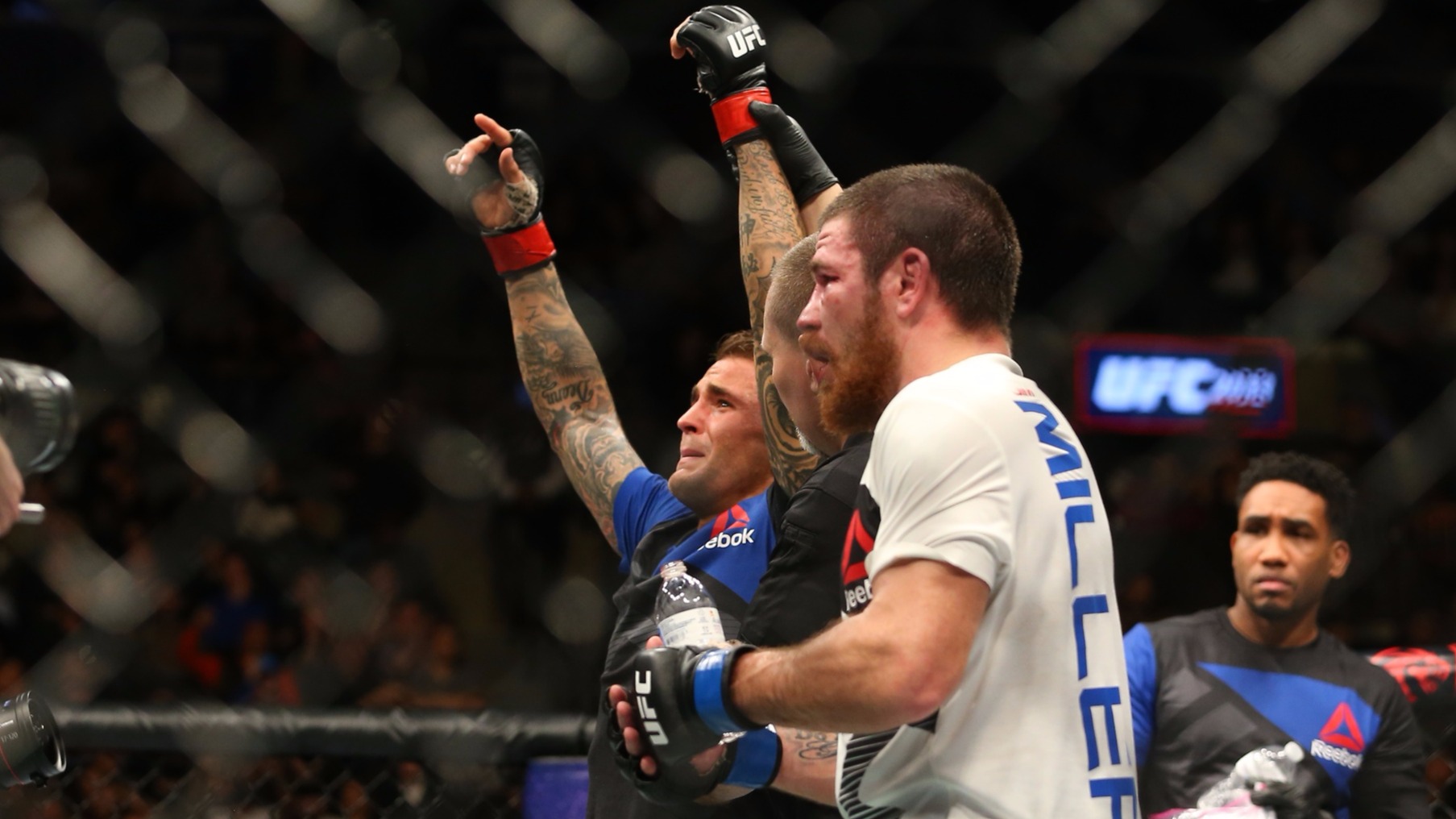 Photo Credit: © Ed Mulholland-USA TODAY Sports

Poirier's focus exists in the here and now, but there is no doubt a victory over Alvarez would cement his place as a legitimate contender in the hunt for the lightweight title. And even though those goals still exist in his universe, anything outside of his immediate scope is silenced for the here and now.

Poirier lists plenty of reasons, but the most poignant is the reality of knowing who he is and why he does what he does.

Cut from the same mold of fighters like Carlos Condit, Frankie Edgar and Robbie Lawler before him, and a contemporary like teammate Jorge Masvidal where athletics fold to tenacity under fire, Poirier is a fighter to the bone. The willingness to get down to the ruckus is in his marrow and pumping through his veins at all times.

While Poirier acknowledges that's always going to be part of him, he's also quick to point out his evolution is still in progress. And the best is yet to come.

"Make no mistake I'm going out there to finish guys, and in doing that you put yourself in jeopardy because you have to fight," Poirier said. "I'm not going out there and throwing jabs and circling the whole 15 minutes hoping the judges give me the points or something. I'm going out there to hurt these guys and finish these guys. I'm going out there to be a real warrior because that's what I enjoy.

"I live in that and genuinely appreciate the grind and the hustle of being in there and breaking another fighter or making his body give up. I enjoy that and that is the art of it for me. But as I get further and further in my career and fight better guys, I have to be smarter and technical.

"I'm still growing as a mixed martial artist. I'm 28 years old, and this is going to be my 20th fight between the WEC and UFC. I have a lot of experience, have been in some big fights, but I think my best fights are still ahead of me."