Cris Justino Wants Germaine de Randamie Or Megan Anderson Next
It's been just shy of 12 years since the first night Cris Justino would step inside the cage for the first time.

That night in her native Curitiba she would tap out to a kneebar in the first round of her professional debut, and she was forced to deal with the disappointment that followed. Nevertheless, the fire to compete and the skills that would emerge would turn her into the most dominant female fighter to ever compete in the sport of mixed martial arts a decade later.

"Cyborg" feels better than ever and is crystal clear about the fight she wants next. Justino believes it's time to make her stamp on the newly minted UFC featherweight division against current champion Germaine de Randamie and prove once and for all she's the queen of the 145-pound collective.

"I have a lot of room to improve and that is why I'm always training," Justino told FloCombat. "The fans like to say I'm the best, but for 10 years I've been training like I'm second best and about to have my first fight for the belt. We are hoping to fight against Germaine de Randamie on July 29 in my backyard of Orange County at UFC 214 in Anaheim, California. This will be my first fight in the USA for the UFC so my hometown seems like the perfect place.

"[De Randamie] already declined a chance to fight me at UFC Rio," she continued. "It would have been nice to win the belt in Brazil, however fighting her in Anaheim will be a great opportunity for all the people who have supported me since my move to the USA to watch me fight live."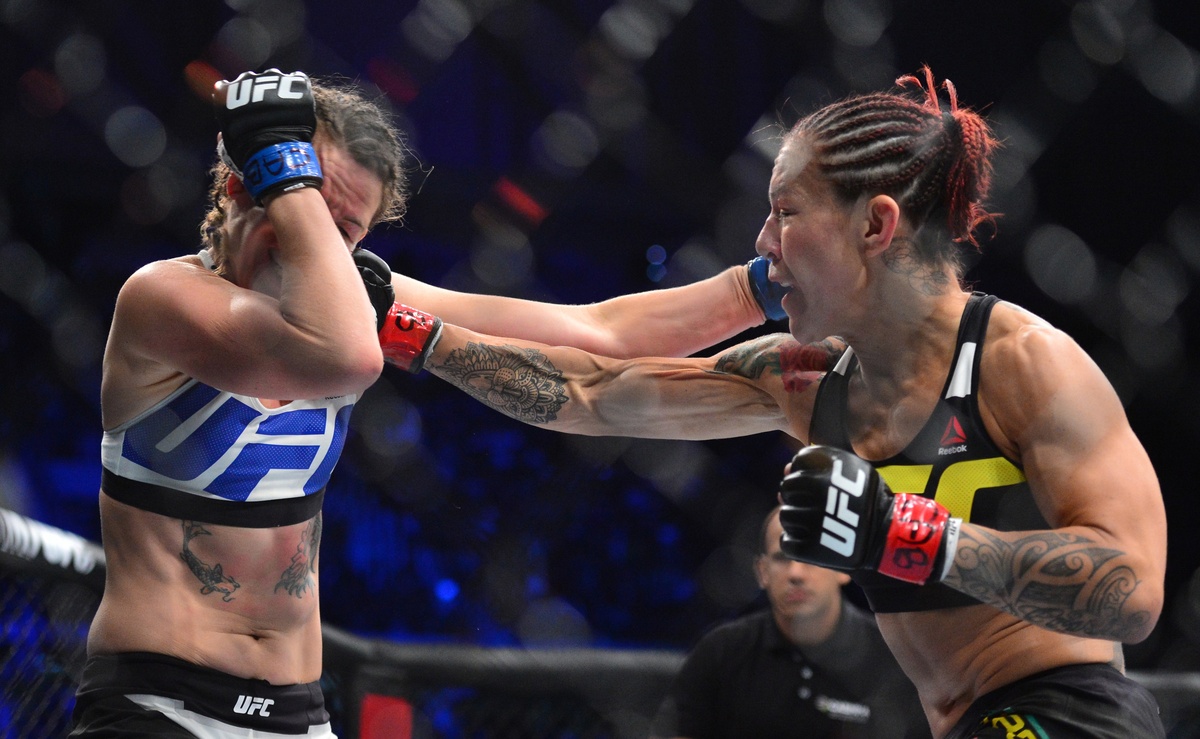 May 14, 2016; Curitiba, Brazil; Cris Justino (red) lands a punch to the face of Leslie Smith (blue) during UFC Fight Night at Arena Atletico Paranaense. Mandatory Credit: Jason Silva-USA TODAY Sports

When it comes to the fight with de Randamie, Justino becomes a bit bristled. After de Randamie defeated Holly Holm to win the inaugural featherweight title, a showdown with Justino seemed to be the next step in the process.

Not so much.

According to Justino, the current titleholder has already turned down a fight against her and seems hesitant to ink a contract at all. Justino believes a champion should want to prove they are the best, but sees reasons to understand de Randamie's hesitancy when looking at her record.

And if de Randamie doesn't want to scrap, Justino has her eyes on welcoming a highly touted competitor to the sport's biggest stage.

"[De Randamie] is UFC champion but in reality she was the tenth-ranked bantamweight and made her first fight at 145 pounds in almost four years against a fighter who has now lost three in a row," Justino said. "De Randamie has lost to both Julia Budd and Amanda Nunes. She is a very good striker, but besides Holly Holm she hasn't beaten anyone in the UFC with a win yet.

"Megan Anderson became Invicta champion when I recently vacated the belt. She has a large fan following with more Facebook, Instagram, and Twitter followers than GDR even though she still hasn't fought in the UFC. I want to fight GDR because it is my fans who want to see me with the UFC belt, but if she is not ready I would like to fight Megan Anderson, a true 145 who has won seven straight and is ranked No. 4 in the world at featherweight."

Justino has had her fair share of ups and downs dealing with UFC brass over the years, but she's hopeful there will be smooth sailing ahead. The organization may have just created the women's featherweight division, but Justino has long been under contract with the promotion and working towards becoming a major player on the female side of their presentation.

That said, there has been very little movement in the women's 145-pound division since its inception, and this has created frustration where Justino is concerned.

"I think there's been some opportunities to build the 145-pound division that might not have been capitalized on yet," Justino said. "A lot of people don't know that even though I only have two fights inside the Octagon I've actually completed five out of seven fights of my current UFC contract. Three of those fights were me defending my belt in Invicta while on UFC contract and two of those fights were at 140 pounds.

"Imagine the type of exposure the division would have had if all five of the fights I've completed were inside the UFC cage. I'm glad they've made the division, if not for me, then for the opportunity it's going to create for other female athletes."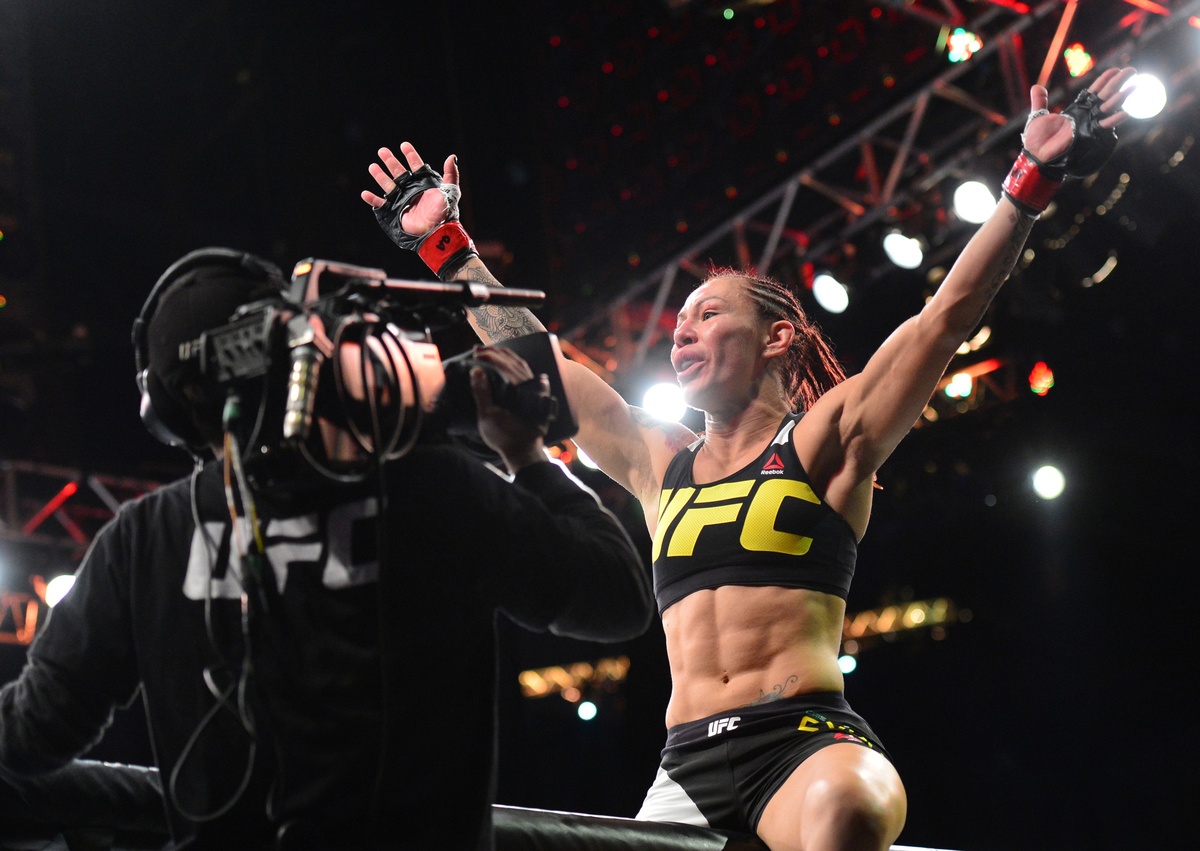 May 14, 2016; Curitiba, Brazil; Cris Justino (red) reacts for the fans and cameras after defending Leslie Smith (not pictured) during UFC Fight Night at Arena Atletico Paranaense. Mandatory Credit: Jason Silva-USA TODAY Sports

And while Justino has been willing to meet in the middle with the UFC and her opposition in past years, those days have officially come to an end. The Former Strikeforce and Invicta champion knows her value, what she brings to the table and has drawn a hard line in the proverbial sand in regard to the direction things go from here.

"My next fight will be at 145 pounds," Justino said. "I have two fights remaining on my current UFC contract. I am lucky that my fans are familiar with my brand and even though I've fought for four different promotions in the USA, I've been able to set ratings records on all of their platforms.

"My last fight was watched by 30 million people in Brazil and with 1.3 million watching on FS1 I broke the record for a UFC fight headlined by a female athlete, beating Joanna Champion's Ultimate Fighter Finale."

While Justino has spent the past decade collecting and defending championships around the globe, the only one missing from her mantle is gold of the UFC variety. And even though a crowning achievement is something she's envisioned, Justino doesn't allow championship aspirations to be her driving force of motivation.

She simply wants to prove she's the best featherweight fighter in the world, and to write a legacy where fans knew she always gave her best against the best.

"The belt is a tool for the promoter," Justino said. "At this point the belt is not the goal. I want to make the fights the fans want to see, I want to be remembered as a fighter who fought the best available."