Finding Ben Askren
Driving north on I-43 the vast green landscape suddenly gives way to a blaze of autumn oranges and reds.

The hills that roll on both sides of the interstate are burning out their final offerings in one extended and beautiful stretch before the inevitable arrival of the bleakness of winter. As the road bends toward Milwaukee I'm positive it won't be long until the farmlands give way to industry, but then I remember where it is Ben Askren lives.

Where some cities have suburbs that have been manufactured as a veil between idealism and city life, Milwaukee is a deep-rooted place where townships thread and weave throughout the grid. Askren's nook is a few twists and turns away from a commercial district, but when driving down his street you feel as if you are somewhere else entirely.

When I pull up to the drive I'm suddenly reminded it's been nearly a year to the day since I last visited the man who could very well be the best welterweight fighter in mixed martial arts, and in those moments of reflection I think about all that has changed.

The day we met in 2015 was one created out of circumstance. An assignment of a different nature brought me to the city he calls home, but when things took a sudden twist, I ended up spending the entire next day in the company of a fighter I'd never interviewed before. I walked away from that afternoon (and a disc-golf ass whipping) wondering why our paths had never crossed and how such a fascinating individual had largely escaped my radar.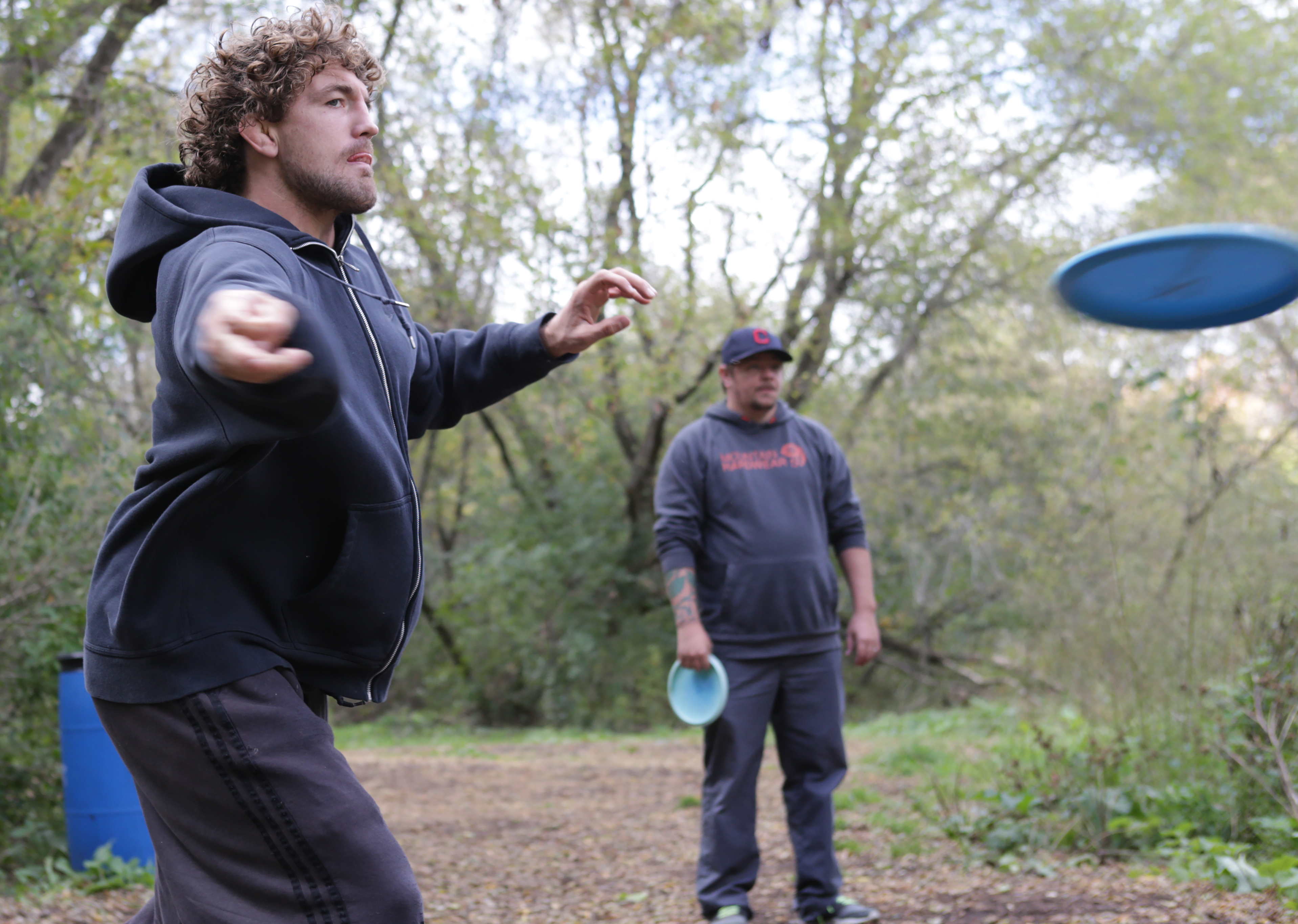 Photo Credit: Chris Yucus

In full disclosure, I knew Askren was good. I knew of his phenomenal amateur wrestling career and the work he'd done since transitioning to MMA, but even though I would never write an athlete off, I absolutely fell victim to the narrative created by the UFC machine. Therefore, by some measure I'd short sold the man, and after getting an up close and personal examination of the man himself, it would be a mistake I'd never make again.

My entire career in MMA has been littered with projects launched on the simple premise of fascination, and the majority of those came with one singular trait being the inspiration. During my time with Askren I found numerous qualities I wanted to know more about and found myself looking at a complex grid suddenly sitting across the countertop from me.

Walking up to his front door this time around, I noticed very little about the setting had changed and was very much interested to find out if the same rang true with Askren.



*****

"Would you like some coffee?"

After being greeted at the door by his wife, Amy, and oldest child, I walked into the kitchen to find it buzzing with daily life. The former Bellator and current ONE Championship welterweight king stood at the sink rinsing random dishes, with his signature mop top ruffled and the faint remnants of bruising around his left eye.

"The fruits of training," I thought to myself. "Or the hallmarks of a man who has no reverse gear."

After meeting his in-laws and a friendly neighbor who had come over to visit, I took a seat at the kitchen bartop the same way I had done a year prior. Askren jotted about as he grabbed his daughter's boots from the entry way and made small-talk about wrestling tournaments and the latest news around the MMA world.

The last time I sat in that kitchen it was just Askren and I chopping up conspiracy theories and politics, but now with his life in full scope, it was comforting to see he was the same man regardless of his surroundings. We both knew somewhere during my visit a formal interview was going to happen, but there was no rush to get to that point even though Askren was facing a packed day ahead.

There were training sessions to grind out and business calls to jump on for his wrestling academy and his fighting career alike, but for that first 30 minutes it was just comfortable chit-chat. And even though this was very much the case, it's in those minutes where some of the most telling details of a fighter's character can be found.


As I sat chipping away and warming my hands on the cup of coffee, the couple's infant daughter was positioned directly to my left, gnashing on chopped up fruits. Her tiny hands were sticky from the banana chunks she was grappling, but this didn't stop Askren from catering to her wishes to get the keys to his vehicle.

"They'll wash off," Askren joked nonchalantly when he noticed the touch-key sensors get banana-ized, and judging from his tone he could have just as well meant his daughter's hands.

Smiling, he then leaned over and put a skull cap from one of his sponsors he'd been given for training in low temperatures on her fuzzy head, knowing full well that too would become fruit covered. Sure enough, two seconds later the cap had banana bits all over it, and Askren's smile grew larger.

Spending time around Askren it becomes clear he enjoys the process of things, which even includes the more obstacle-ridden labyrinths. All truths being told, the man downright loves challenges in any shape or form.

"I've always believed in hard work," Askren said. "You can have all the talent in the world, but if you don't have work ethic behind it there will never be long-term success. I know what I'm capable of and know how hard I work, which is why I'm confident of my abilities. I know I can push further and harder than anyone in this game, because I've been in the training room or cage with nearly everybody who is considered elite at my weight. Of course anything can happen in a fight, but let's just say I like my chances."

And when that particular word "chance" gets put on the table, Askren sharpens his focus a bit. While there once was a time when competing in the UFC and his natural competitive drive pushed him toward showing and proving, that ship has passed in the night.

Askren may very well be all about facing up to challenges and trudging ahead to meet his goals, but once he becomes aware of the end result being one that can be manipulated and altered, the former two-time NCAA Division I national champion wrestler locks down into a central focus.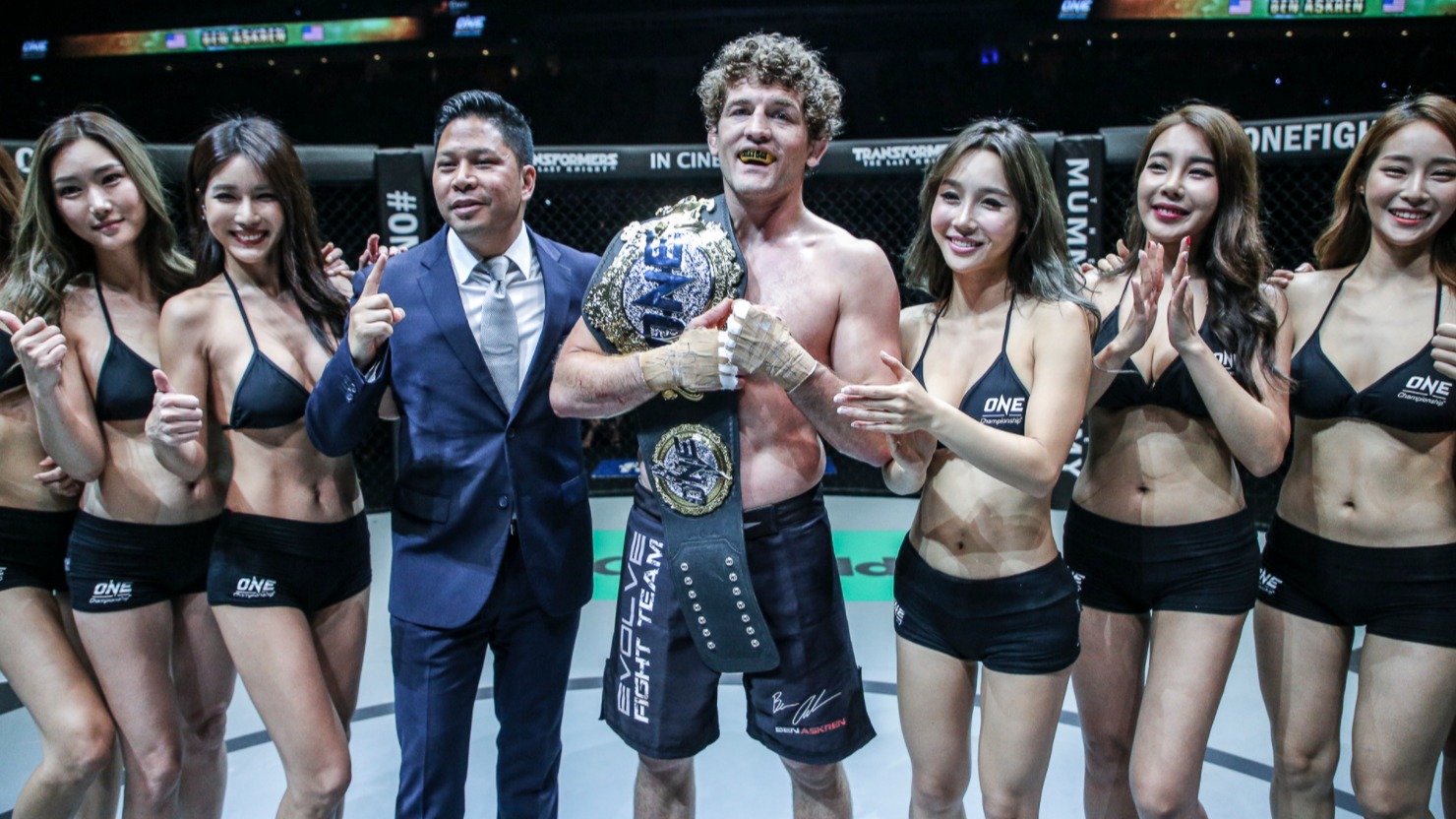 Photo Credit: ONE

"There once was a time when signing with the UFC could have happened, but everything wasn't as it seemed in that situation," Askren said. "I come from a world in wrestling where talent and merit mean everything, but that wasn't the case in that scenario. There were people in that organization who wanted me there and others who didn't, and I'm not going to pander to a popularity contest.

"I know what I'm worth, and the lure of those three little letters doesn't make up the difference on a paycheck. Especially when those three little letters don't mean what they once did and haven't in a long time.

"I know there will always be that debate, and I'm honestly content with that," he added in regard to his legacy. "As I said before, I know how I stack up and how people's perceptions get twisted isn't my concern. My focus is providing for my family and doing everything within my control to be successful in all of my endeavors. If I continue to work hard and put all of my effort into those things, I'll continue to have a happy life."

We would eventually move into his office and get down to a proper video interview that covered a wide range of topics across the MMA spectrum. Askren attacked each and every subject with his signature wit and humor, only leveling off and taking deeper dives on matters which hold larger personal interest for him.

A potential matchup with former UFC welterweight king and recognized pound-for-pound great Georges St-Pierre being one of the more prominent examples of where his attention fell. A bout between the two 170-pound stars has been high on the list of dream fights for MMA fans for quite some time, and with St-Pierre's apparent fallout with the UFC in full swing, Askren hasn't been shy on his pursuit of the French-Canadian.

In his eyes the chance to settle that particular debate is coming to the forefront, and a fight with St-Pierre is something Askren absolutely believes is worth pursuing.



Once the formalities were said and done, we made our way back into the living area and rejoined the chaos of a happy family fixing to launch into their daily lives. Askren shared some insight on his upcoming plans to defend his ONE crown, but with nothing being finalized as of yet, there wasn't all too much to share.

"I think I'll get into the cage one more time before the end of the year. That would be ideal. There have been a few things come up with potential opponents and dates, but there isn't anything solid to report at this time. Should be soon though."

After one final exchange of pleasantries and interview setups with a few up-and-coming fighters he trains with I could visit while I was in town, I made my way back down the sidewalk toward my car. Much the same as the walk up to the house, I pulled my hooded sweatshirt overhead to nip the crisp October breeze cutting through the neighborhood and did my best to avoid the swirling red and gold leaves rustling around my feet.

Wisconsin would only be beautiful for several more weeks, and who was I to shorten nature's already limited lifespan?

A few moments later, I was out of Askren's neighborhood and onto a million other things. As my mind started to re-open to the sounds of non-stop notifications and messages, the one element I couldn't put my finger on all this time with Askren finally started to take shape.

In the midst of several fascinations, easily the biggest point of intrigue is Askren's consistency.

In both life and competition, being consistent is the hardest trait to master, and it's one he pulls off so impressively it looks effortless at times. You take all the accolades and titles away and what is left is a man who has based his entire approach on his willingness to show up and give his best. Time and time again he's jumped headlong into the rinse, wash, and repeat cycle that has broken even the sturdiest of men and always come out on the other side ready for more.

Askren simply will not fade, and when the day he has pre-set in his mind arrives and he walks away from professional fighting, he'll be consistent in the next endeavor he commits himself to.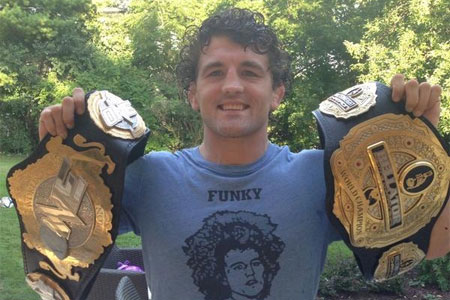 That's the Askren way, and knowing that helped gauge the time that had passed in the year between our visits.

During the chaotic bustle of driving through Chicago and the long slow turn down state that took me back into the heart of Indiana, it was all I could think about. Plenty had changed in my personal and professional lives since my first visit to see Askren in Milwaukee, and in some of those turns I wasn't quite sure how things materialized the way they did.

In some cases I hadn't given myself the proper due for reaching a successful conclusion, but realizing Askren's greatest gift helped me understand some of the same qualities in my own trajectory.

I walked away from our interview knowing consistency is the key success in any endeavor. Even though that same knowledge had been bestowed on me by another great man several years earlier, it took seeing the finer points of the complex puzzle that is Ben Askren for me to truly understand it.

They say great interviews are stories where fans and readers are able to learn something they didn't know about a person they hold interest in. Because of Ben Askren, I was able to learn something about myself, and it will forever change the way I see things.

**To catch Ben Askren vs. Zebaztian Kadestam tune into FloCombat this Saturday for ONE: Shanghai.**




How to Watch ONE: Shanghai (U.S. only)




On TV: Now Available on Roku and Apple TV 4--download the FloSports app now.
STREAMING: Only on FloCombat in the U.S. only with a PRO subscription. A yearly PRO subscription provides access to ALL FloSports sites.